Stadium District now being served by Downtown Ambassadors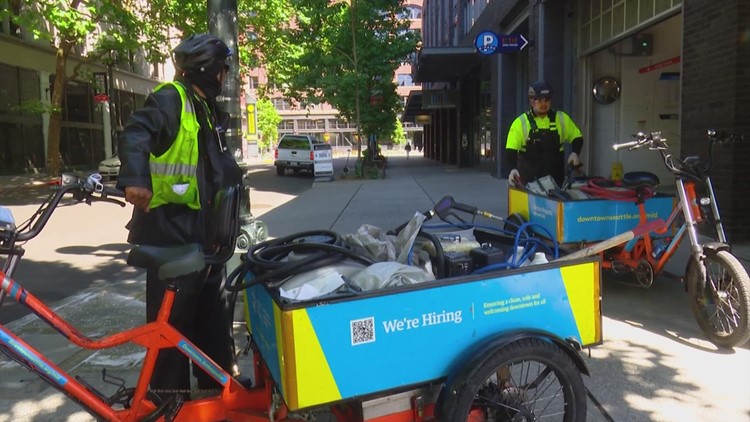 The Downtown Ambassadors serve the Metropolitan Improvement District, which was expanded to include South Pioneer Square to T-Mobile Park on July 1.
SEATTLE — If you have gone to a Seattle Mariner's game over the past month, you may have seen Downtown Ambassadors dressed in yellow, lending a helping hand. 
The ambassadors serve the Metropolitan Improvement District which, as of July 1, was expanded to include south Pioneer Square to T-Mobile Park. This 15-block addition now makes the coverage area of the Metropolitan Improvement District a total of 300 blocks of Downtown Seattle. 
"When I started, we didn't even do Belltown and the Belltown community now has the resources that it didn't have before," said Moe Dima, who has been working as an ambassador and supervisor for 10 years. "Now Belltown is clean and is cared for, and we will bring the same energy down here by the stadiums as well."
Seattle City Council unanimously approved the expansion in May when they renewed the Metropolitan Improvement District contract for another 10 years. This is a move the Downtown Seattle Association said was wanted by business owners in the Stadium District, who now help fund it through taxes and can receive services offered by the ambassadors. 
"They're essentially taxing themselves to get this work done," said James Sido with the Downtown Seattle Association. "That means they believe in it. They believe in the job these people are doing."
Over the past year, approximately 100 ambassadors in the Improvement District have cleaned 1.2 million gallons of trash, removed 53,000 graffiti tags and stickers, done more than 6,000 business check-ins, and checked on 10,000 people on the streets to supply resources. 
In addition to the above services, in just the first six months of 2023, they administered Narcan to 108 people who were overdosing. 
"It's not part of the job description, but it is an unfortunate reality that they encounter pretty much on a daily basis," said Sido.