Steve Smith admits Nathan Lyon's calf injury does not look good for Australia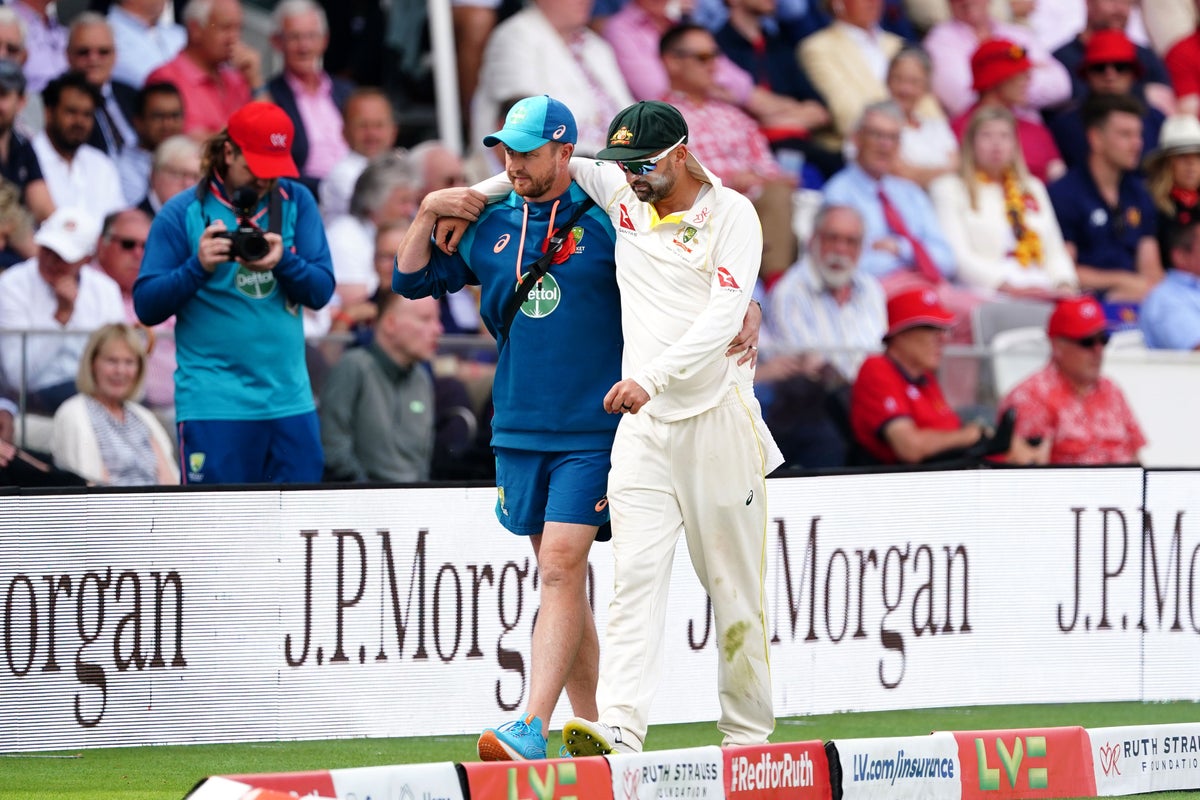 Australian centurion Steve Smith admitted Nathan Lyon's calf injury is not looking good as the tourists prepare to face the remainder of the second Ashes Test without their frontline spinner.
Lyon injured his right calf trying to make up ground to catch Ben Duckett's throw from Cameron Green in the 37th over of England's innings.
The sight of Lyon pinning his calf and being forced to limp off the field brought back memories of Glenn McGrath's broken ankle on the eve of the second Ashes Test of the 2005 series.
A spokesman for Cricket Australia later confirmed that Lyon is under investigation and although no scan has been booked his chances of appearing in the rest of Lord's Test are over and his entire run may even be in doubt.
"Yeah, I haven't been up to the shed yet, but obviously it wasn't looking good," Smith admitted.
"I mean, it doesn't look ideal for the rest of the game. I'm not sure how he's actually doing, but if he's not doing well it's obviously a big loss for us.
"He's playing his 100th consecutive Test match and I know he was really looking forward to taking part and playing a role."
"I'm keeping my fingers crossed that he's ok, but obviously things weren't looking good.
"It's not ideal, especially your spin bowler. A player with a role. Batters, I guess there's a lot of us there, so it's a little different.
"Nathan, if he weren't good, it would be a great loss. However, Todd Murphy is waiting in the wings, who bowled beautifully in the nets and bowled really well in India when he got his chance.
"I'd be confident he would do a great job for us if he came along, but I'm keeping my fingers crossed Nathan is fine."
Smith, who hit 110 times in Australia's first innings (416 overall), prepared for this English summer with a three-game appearance for Sussex, where he scored two for 55 in his last appearance against Glamorgan.
But the part-time leg spinner insisted: "I haven't worked on my bowling at all.
"I bowled a few overs at the end of one of the games where the game was practically dead just because everyone else was finished.
"Hopefully I don't have to bowl too much. I thought (Travis) Heady bowled quite well, a little bit different than Nathan, he just made her skid more than Nathan.
"Yeah, Heady's probably the one to take a fair chunk of the spin-overs and maybe me and Marnus (Labuschagne) will get involved here and there.
"Yeah, not ideal when you're losing your spinner on a surface that doesn't offer much to the fast bowlers."
England opener Ben Duckett sent his best wishes to Lyon but conceded the absence of the veteran Aussie spinner could be crucial in leveling the series.
"It's a great shame. I really hope it's not that bad for him," Duckett said.
"You never want anyone to get injured. He would play a big part in that fourth inning because he's such a good bowler. If they get all three bowlers to hit the bullseye, they're going to be pretty tired."
Smith, who was 85 and not out overnight, celebrated his 32nd Test hundred in the morning.
A lavish four-person cover act earned Smith his 12th Ashes Century, eight of which took place in England.
He added: "It's obviously a big moment, I love playing here at Lords. I've spent quite a bit of time in the middle the last two times here and then in this game as well.
"It's a nice place to play when you come in, you get value for your shots and it's nice to be back on the roll of honor."