Steve Wilks 'disappointed' after Panthers hire Frank Reich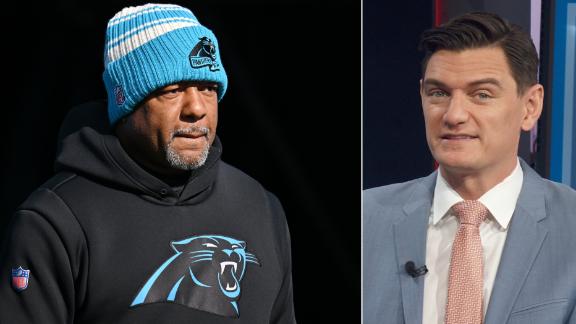 CHARLOTTE, NC — Steve Wilks said Friday he was "disappointed but not defeated" after being passed over for the Carolina Panthers head coaching job, which went to former Indianapolis Colts coach Frank Reich.
There was no mention of a possible discrimination lawsuit like the one Wilks filed against the NFL after he was fired from the Arizona Cardinals after one season (2018), although the law firm representing Wilks responded to Reich's hiring on Thursday by She said, "There is a legitimate racial issue in the NFL" and that there will be "more to say in the coming days."
Wilks, who is black, also did not mention Panthers owner David Tepper by name in his Message posted on Twitter in which he thanked players, coaches and staff for their support as caretaker manager. It was Tepper who gave Wilks the opportunity to lead his hometown team after firing Matt Rhule after a 1-4 start.
Wilks went 6-6 as interim coach and was a near-unanimous choice of players to get the full-time job. He was generous in his congratulations to Reich.
"The sun rose this morning and by the grace of God I rose too," Wilks wrote. "I'm disappointed but not defeated. A lot of people aren't built for it, but I know what it takes to persevere and see it through.
"It was an honor to coach these men in the Carolina Panthers locker room as interim head coach. Players, coaches and staff, thank you for your hard work and dedication. I was proud to represent Charlotte, a great city that I thank my family, friends and community for their overwhelming support.
"I wish Frank Reich all the best. I will always be a fan of the Carolina Panthers football team."
Wilks ended his message with the team mantra: "#KEEP POUNDING."
The first Carolina player to respond to Wilks' news Friday was punter Johnny Hekker. The players had been silent on Twitter after Reich was hired on Thursday.
"Nothing but absolute love for this man!" Hekker posted on Twitter. "I can't wait to see what his future holds."
That "absolute love" summed up what most of the players said in support of hiring Wilks.
"As a head coach in the National Football League, you have to be a leader, you have to know how to control a space," guard Austin Corbett told ESPN in the final week of the regular season. "He's done a fantastic job and we just need to build on that momentum that we have."
Statistically, the Panthers improved a lot after Rhule's move to Wilks, especially on offense. They rose from 24th in scoring (18.6 points per game) to 15th (22.1), bottom in yards per game (271.4) to 17th (331.5) and from 27th in rushing (89.8 yards per game) to sixth (144.6).
But ultimately, the Panthers went with Reich, the first offensively-oriented coach in team history.
That seven of the nine candidates for the job were aggressively minded indicated early in the process where the selection committee stood.
Wilks, a defense specialist, joined Reich and Dallas Cowboys offensive coordinator Kellen Moore in an attempt to get a second interview for the job.
The Panthers were the first of five NFL teams with a head coaching position to sign a contract. Wilks has not yet been interviewed by any of the other four.
Wigdor LLP, the New York City-based law firm representing Wilks in his discrimination lawsuit against the NFL, was "disturbed" by the Panthers' hiring process.
"We are shocked and concerned that coach Wilks has been passed over by David Tepper for the head coaching position after the incredible job he has done as caretaker manager, including getting the team back to the playoffs and garnering the support of players and fans would. ' the company said in a statement.
The company said Friday there would be no further response at this time.
https://www.espn.com/nfl/story/_/id/35538504/steve-wilks-disappointed-panthers-hire-frank-reich Steve Wilks 'disappointed' after Panthers hire Frank Reich