Stuart Broad admits unorthodox bail switch that ended Marnus Labuschagne's innings worked out 'magically'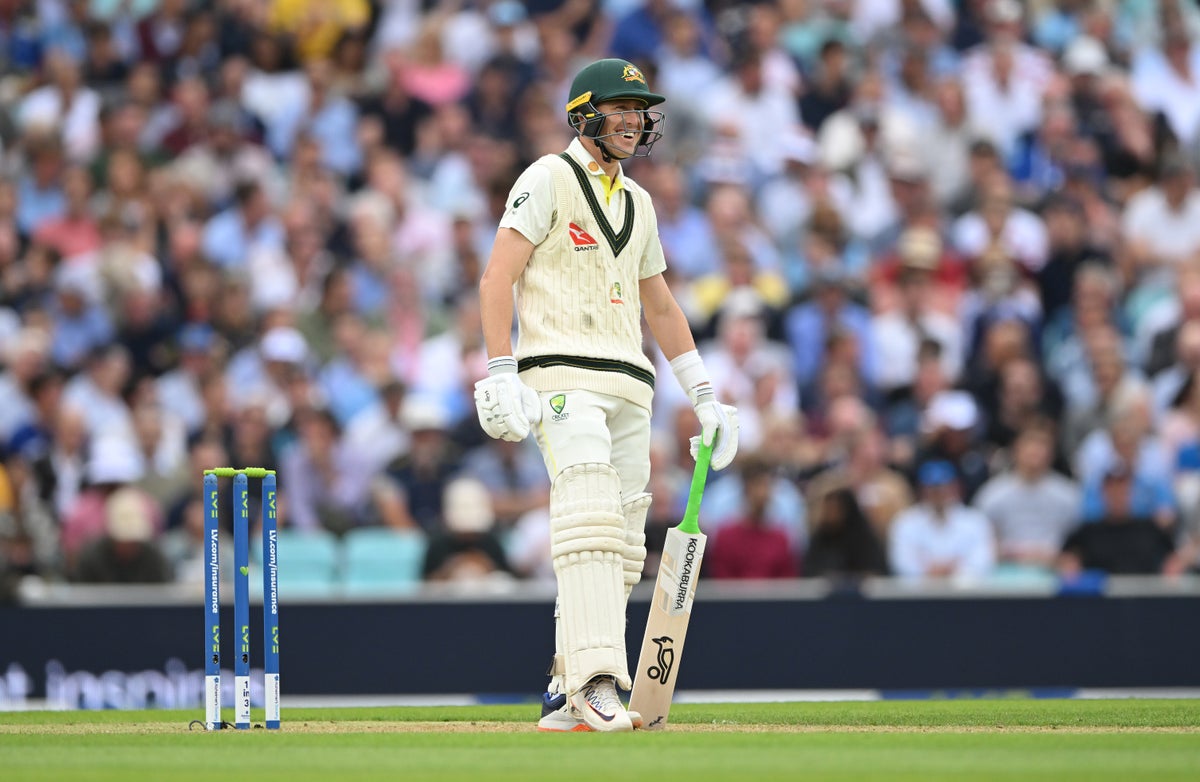 Stuart Broad admitted his unorthodox bail change just before Marnus Labuschagne's wicket "worked pretty magically" and joked that the Australian batsman never thinks he's out.
Towards the end of a tedious and tiring morning session that yielded just 54 runs in two hours' play, Broad tried to conjure up a breakthrough for England by mind-playing with the Australian's number three.
He went between balls to the stumps behind the batter and just swapped bails. Labuschagne might have smiled, but it was Broad who laughed last as the batter ran after Mark Wood's next ball.
Joe Root had a stunning catch and Labuschagne had to break away with an incredibly slow 9 of 82 deliveries.
"I've heard – and I may have made it up – that it's like a twist of fortune for Australians and I've seen Nathan Lyon do it and I feel like I saw Justin Langer do it.
"I could have just made that up. But we had a couple of plays and misses in the morning session, we needed to break through and I thought I'd change the balls a bit.
"Marnus is someone who notices everything so he noticed and I thought Uzzy said something to him like 'I've seen that before' and it worked out beautifully that he swiped the next ball and Rooty took one." big catch."
He added: "For some reason I happened to go and party with Uzzy (Usman Khawaja who was the non-striker) but it was just a nice little twist to change fortunes and it seemed to work out well ."
When asked if Broad could resort to the same tactic in similar circumstances, he was a little more cautious.
"He (Khawaja) said, 'If you touch my bail, I'll turn it back immediately,' so he immediately warned me," Broad said.
"Only when Marnus comes out (I would do the same) Uzzy warned me so I don't think I'll be touching his bails.
"It was quite a successful result, wasn't it? So I think if the game gets close I might get promoted again."
Labuschagne seemed unhappy when he had to leave the pitch and took his time making his way back to the Australian dressing room and Broad believes he's found another culprit besides his shot.
"I think it was the darkness. I think he was unhappy with the lighting conditions. I don't know because I was on the other end, but I think we caught him wondering if it was…
"To be fair with the oval, the stands are quite angled under the stands and look out from that direction. So I don't think they took a light reading, but it was probably a bit darker than it was at Old Trafford when we left.
"But he strikes me as like a hitter who's never out and has to find a reason why he's out, so I think the light took a hit."