Stuart Broad thinks Pat Cummins will regret handling of Jonny Bairstow dismissal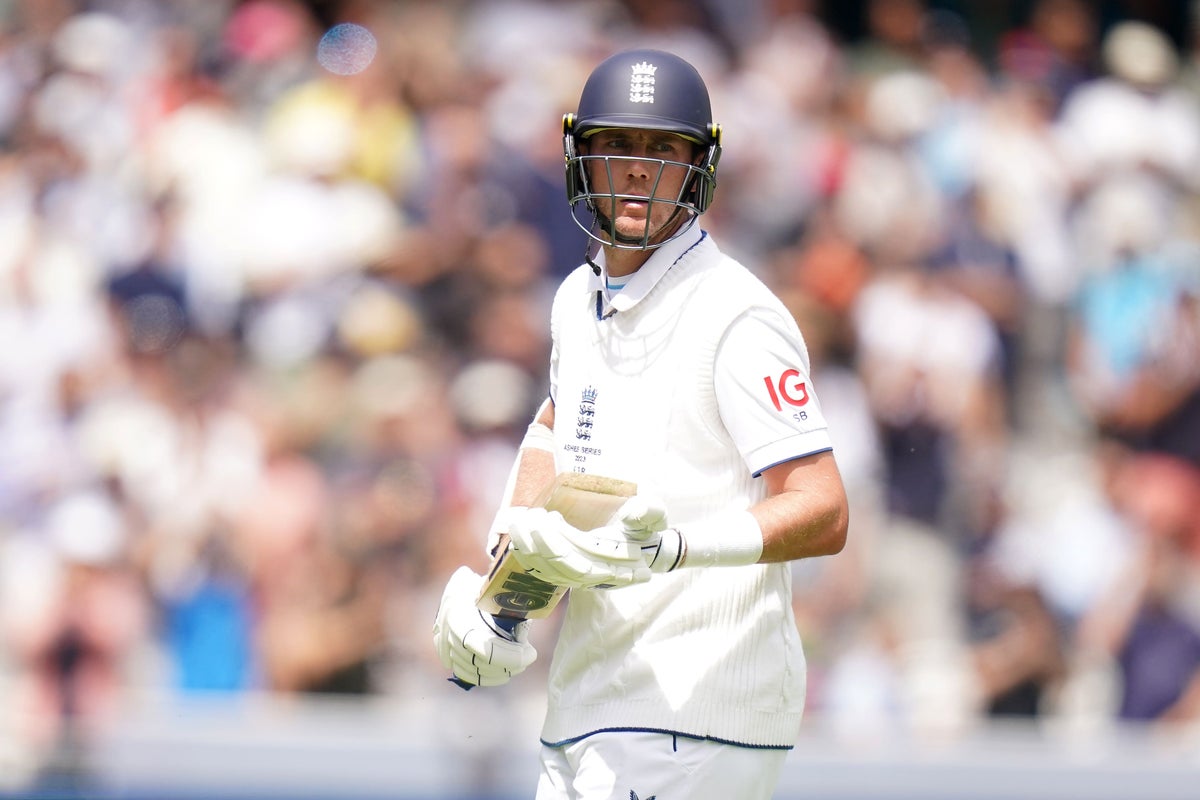 Stuart Broad believes Australia captain Pat Cummins will regret his handling of England's Jonny Bairstow's controversial defeat at Lord's.
Alex Carey's opportunistic kick at his fellow wicketkeeper during the dramatic conclusion of the second Ashes Test sparked anger from fans and members in the home of cricket and the row has shown no sign of abating.
Broad replaced Bairstow in the middle after the incident before Australia won to take a 2-0 lead.
Broad insists there was "no advantage" in Bairstow deviating from his goal area and, having made his point to the Australian players during his stay, the England striker believes Cummins will eventually think it was wrong to uphold the appeal.
"What amazed me and what I was telling the Australians I couldn't believe when we left the pitch at lunch was that there wasn't a single older player among them – and I understand the emotion of the game that the bowler and wicketkeeper would have , very good." "I was like 'that's out' – asked what they had done," Broad wrote in the Daily Mail.
"Especially given what your team has been through over the past few years with all of their cultural changes. Neither of them said, "Wait a minute guys." I'm not really sure. Neither of them thought, "He's not gaining an advantage." He's not trying to get a run. It's the end of the over. It's kind of an arbitrary dismissal. We should withdraw this objection."
"Ultimately, Pat Cummins is a really great guy and I'd be surprised if, once the emotions have settled, he doesn't sit back and think 'I got that wrong', even though his conclusion at the time was to concede a friendly win ."
Ex-players, pundits and even Prime Minister Rishi Sunak weighed in on the debate, while crowd anger at the manner of Bairstow's departure also spilled over into the Lord's otherwise low-key Long Room, where Aussie players Usman Khawaja and David Warner involved heated arguments with taunting members – three of whom were later suspended from Marylebone Cricket Club.
Broad too admits the moment reigned supreme as he joined captain Ben Stokes and watched from the other side as the captain scored a remarkable 155 in a vain attempt to level the streak.
"The red haze came over me too when I got to the spot to replace Jonny and some of what I said was picked up by the stump mics – which, given my experience, I naively didn't really think about. I just repeatedly told Pat, "All these boos are for you, for your decision." And "What a great opportunity to think clearly," he added.
"Also, I had to support Ben Stokes in any way I could and I'm always better when I'm in a difficult situation. Usually I try to argue with someone from the opponent, but this time I fought with the whole team.
"I said to Alex Carey, 'You'll be remembered for that, and it's such a shame.'" It might have been a little silly, but I screamed 'in' every time I crossed the finish line. It annoyed the Australians for maybe half an hour, although after two and a half hours they were probably a bit bored."