Student brings loaded gun to Olympia school, appears in court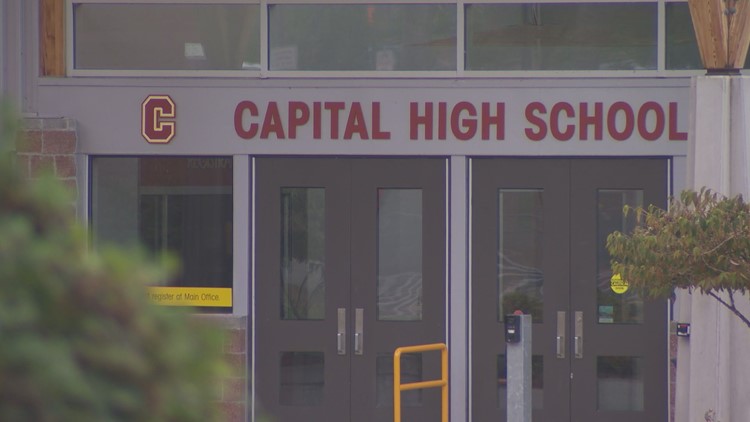 The student was carrying a loaded gun and allegedly reached for the gun as he ran from police, court documents said.
OLYMPIA, Wash. – A 15-year-old student who brought a loaded gun to Olympia's Capital High School on September 6 appeared in Thurston County Juvenile Court on September 7.
The student was charged with possession of a dangerous weapon on school premises and second-degree unlawful possession of a firearm.
"This is truly a very scary and dangerous situation for all involved," said the prosecuting attorney.
Firearms were not fired during the incident. KING 5 is not naming the student at this time because he is a minor.
According to court documents, on September 6, a nearby resident of a residential complex reported to police that they saw a student standing between two garages, taking something out of a backpack. and tucked the object into his belt. The student and another young man allegedly argued over the backpack, the resident told police.
The caller told police the object appeared to be too small to be a gun, however, police responded to the scene.
After being seen putting the object in his belt, the student went to school, documents state. Police did not arrest the student because there was not enough evidence that he had a gun.
Another person then called the school to report that a student may have brought a gun to school, documents state, and identified the student.
School administrators attempted to bring the student to school officials, but the student "disobeyed staff instructions" and was walking toward the gym, documents said.
Around 9:30 a.m., police contacted a student who was sitting in the bleachers with several other students in gym class. Police took the student out of the gym to arrest him.
In the hallway, when the officer attempted to handcuff the student, he jerked his arm away from the officer and rushed out the door into another hallway, documents said.
While police were chasing the student, officers saw the student allegedly reach for his concealed handgun. An officer chased the student and he was arrested, documents state.
"I was quite concerned when I read the statement of probable cause, because I have seen stories like this where law enforcement felt that for reasons of cause, I was quite concerned," said Thurston County Circuit Judge Chris Lanese. due to public safety, the use of a firearm to stop an individual is necessary." "Fortunately, for all involved, law enforcement officers used a stun gun and that was successful in detaining the defendant. The actions we took here did not not only puts the defendant at great risk, but also puts the community at great risk."
Police found a compact .22 semi-automatic gun with a loaded magazine and live ammunition inside. The defense attorney said in court Thursday that he did not believe there was any intention to use a gun.
KING 5 reached out to the Olympia School District for an interview but was told there would be no interviews.
Although classes continue on campus, the Olympia School District has issued a warning that no one will be allowed in or out of school because of police activity on campus.
By the time the gun was brought to the school, the student had been released for an alleged crime that occurred approximately six months prior. He was released after allegedly pulling a 9- or 10-inch butcher knife on people in a grocery store aisle, the court heard.
Because the gun charge violated his right to release, Thurston County Circuit Judge Chris Lanese revoked bail in that case, leaving the student behind bars. He also posted $50,000 bail on charges related to the Capital High School shooting.
"The court's expectation and observation is that most people released pretrial will be on their best behavior and the allegations here are exactly the opposite, putting the defendant and the community, especially at school, there is a risk of significant harm," Judge Lanese said in deciding to revoke bail.
The student allegedly told police that the gun he was carrying had been used in a shooting and robbery a week earlier, documents said. Those crimes are under investigation.
Some parents believe guns should not have been allowed in schools in the first place, and say the focus should not be on lockdown measures but on preventative measures.
"I am completely dumbfounded that a reactionary crisis response is not a safe approach," said Lindsey Wonder, whose two children attend Capitol High School.
She plans to attend next week's school board meeting to advocate for metal detectors in schools.
"We don't have a safety perimeter, we don't have metal detectors, we don't have anything that would prevent this from happening the same way or worse," Wonder said.
She said she was grateful a community member called to report the student carrying a gun.
"If it hadn't happened yesterday, how many days would it have taken them to bring it back? Would they have decided to use it at school? Would someone have been shot? Would someone have died right away? right now?" said in surprise.
The school district told KING 5 they have engaged in and continue to have discussions with the city about the school officer program. It also said that additional counselors and support staff will be on campus for students and teachers this week.