Sunak agrees deal for UK to rejoin EU's Horizon after Brexit row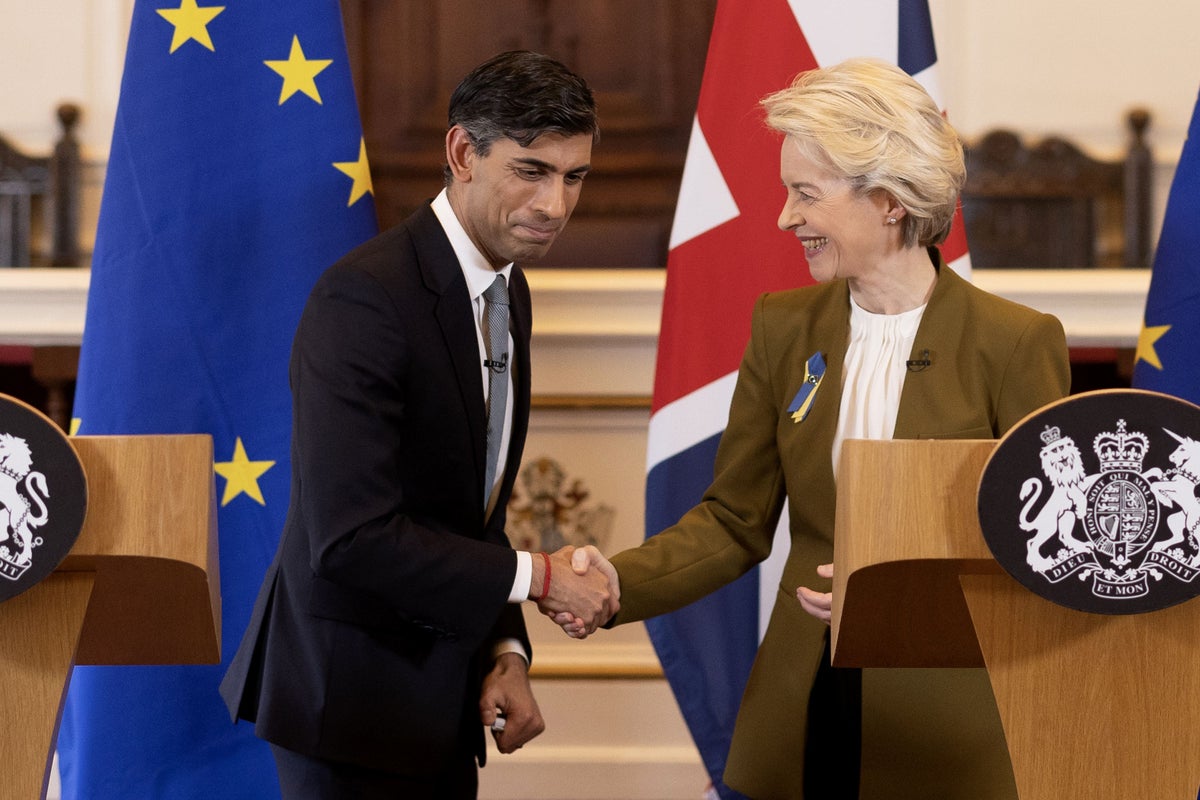 The UK will return to the EU's £85 billion scientific research program Horizon after Rishi Sunak finally agreed to a deal with Brussels.
After months of uncertainty, the government said a "tailor-made" new agreement has been signed, allowing UK researchers to apply for grants and take part in Horizon projects.
The move comes as a major relief for scientists amid warnings that British researchers have largely missed collaborating with colleagues in Europe in the two years since Brexit.
The UK initially wanted associate membership under the post-Brexit trade deal negotiated with Brussels – but was expelled in retaliation over a dispute over Northern Ireland deals.
Announcing the deal on Thursday, Mr Sunak said he wanted to "get the right deal for the UK that unlocks unprecedented research opportunities" while ensuring it was "the right deal for UK taxpayers".
Labor's Peter Kyle, the shadow secretary for science, said the UK had "missed two years of innovation" and criticized "two years of missed opportunity". He said ministers must now "move on".
Prof Paul Stewart, Vice-President for Clinical Sciences at the Academy of Medical Sciences, said it was a "defining moment for British science" and researchers "celebrated the great news".
The scientist said it sends "a very strong signal that the UK is open to business", adding: "Health research is an international endeavour, based on supporting the best ideas but also on creating cross-border networks. "
As part of Boris Johnson's Brexit deal, associate membership in Horizon was agreed in principle – but the issue fell victim to the ongoing dispute over the Northern Ireland Protocol.
The Sunak government had worked out an alternative program, Pioneer, as a research program with other international partners. No 10 claimed it was serious about Plan B and Mr Sunak said he was concerned about the cost of Horizon membership.
But the "Windsor Framework" deal with the EU Commission, aimed at settling disputes over post-Brexit controls on goods going to Northern Ireland, raised hopes that a scientific deal could materialise.
The prime minister spoke in a phone call with European Commission President Ursula von der Leyen on Wednesday to confirm the deal. The UK does not have to contribute for the two years that it has not entered the scheme. UK fees will start again in January 2024.
"Being able to bring a wealth of expertise and experience to the global stage, we have struck a deal that enables UK scientists to confidently participate in the world's largest research collaboration program – Horizon Europe," said Mr Sunak.
The government also pointed to the inclusion of a so-called 'clawback' mechanism in the deal, meaning the UK will be compensated if British scientists receive significantly less money than the UK invests in the programme.
Horizon is a collaboration between Europe's leading research institutes and technology companies. EU member states provide funds, which are then allocated to individuals or organizations based on merit, to research topics such as climate change, medical advances and AI.
UK Universities President Prof Dame Sally Mapstone said academics were now "doing everything possible to ensure the UK quickly returns to previous levels of participation".
Sir Adrian Smith, President of the Royal Society, called it "fantastic news" and added: "Science has so much to offer when it comes to tackling global challenges and improving lives – today the government and the EU have that given a big boost."