Suspect arrested in ambush killing of California deputy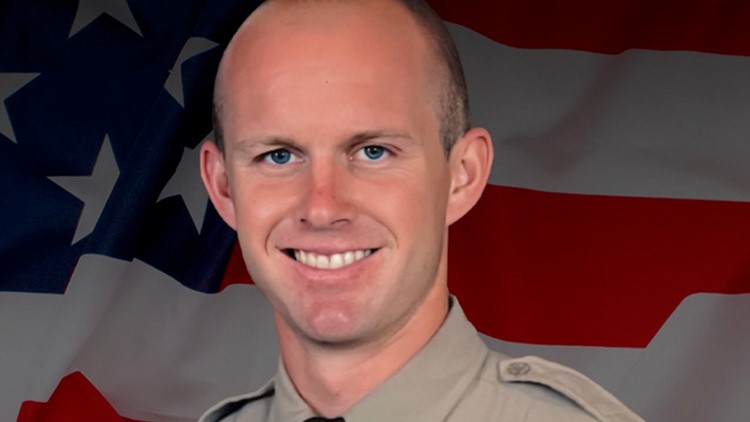 The deputy had just left the sheriff's station in Palmdale, CA when he was ambushed and shot into his patrol car.
PALMDALE, California – A 29-year-old man was arrested early Monday morning, 36 hours after the ambush that killed a Los Angeles County sheriff's deputy who was shot as he sat in his patrol car, his home. authorities said.
Los Angeles County Sheriff Robert Luna said in a news conference that the suspect barricaded himself inside a home in Palmdale for several hours, but later surrendered and recovered his weapons. Sheriff's officials identified the arrested suspect as Kevin Cataneo Salazar of Palmdale.
Luna said authorities have not yet determined a motive for killing Deputy Ryan Clinkunbroomer, 30, on Saturday night. He described the situation as "fluid" and said more arrests were possible.
"I feel extremely confident that we have the right people in custody," Luna said.
"Our deputies were in uniform in a marked black and white police car right in front of the station," Luna said. "Why did he do this? I have no idea. Was he a target? I assume he did but… our goal is to find out."
Luna read a statement from Clinkunbroomer's family, saying he was dedicated, hardworking and proud to serve.
"Ryan made the ultimate sacrifice to do that," the statement said. "Ryan recently got engaged to the love of his life. As our firstborn son, Ryan will be missed by his family, friends and the sheriff's department."
The suspect's mother, Marle Salazar, told police. LA Times Her son was diagnosed with paranoid schizophrenia about five years ago. She said he said he heard voices in his head and sometimes thought cars or people were following him. She said he tried to commit suicide twice.
"My son is mentally ill and if he does something, he will no longer have the mental capacity," she said in an interview with the newspaper.
Clinkunbroomer had just left the sheriff's station in Palmdale, a city of more than 167,000 residents in the high desert of northern Los Angeles County, when he was shot and killed. A "good Samaritan" discovered him and alerted station staff.
The department later released grainy surveillance video of a dark-colored car driving next to a patrol car in the moments before the shooting.
Luna said community members came forward with information that helped homicide investigators identify the suspect and the vehicle.
Early Monday, a SWAT team from the department's Special Enforcement Bureau executed a search warrant at the residence and called for all occupants to come out, the sheriff said.
He said family members ran out but the suspect barricaded himself inside. Luna said deputies used de-escalation techniques including negotiators before they "deployed the chemical" and the suspect surrendered. He did not identify the weapons seized.
Marle Salazar said she previously called her subordinates at least twice to ask for help when her son refused to take his medicine and became aggressive with himself. She said he had never hurt anyone before and his aggression had always been self-controlled.
"I called the police multiple times," she told the Times. "Eventually, they'll say, 'He's an adult, so if he doesn't want to take (his medication), there's nothing we can do.'"
Police spokeswoman Nicole Nishida said investigators are looking into whether any law enforcement calls came to the home.
Salazar said she did not know her son owned a gun but was told by detectives he had legally purchased a weapon used in the attack.
Clinkunbroomer has been assigned to the Palmdale station since July 2018, and his father and grandfather also served in the department, the sheriff said.
Richard Pippin, president of the Los Angeles Association: "Deputy Chief Ryan Clinkunbroomer and his family are an integral part of the core nature of the Los Angeles Police Department, and this heartbreaking murder touches the core of who we are." Deputy sheriff, deputies union, said in a statement.
California Governor Gavin Newsom called the killings "horrific, unconscionable and shocking." He ordered flags at the state Capitol to be flown at half-staff in Clinkunbroomer's honor.
"During this time of mourning, we honor this legacy and extend our deepest sympathies to Deputy Clinkunbroomer's fiancée, his loved ones, and the men and women of the Police Department Los Angeles County sheriff," Newsom said in a statement Sunday. "Deputy Clinkunbroomer's dedication to his community and country will never be forgotten."
Antczak reported from Los Angeles. Associated Press writers Christopher Weber in Los Angeles and Julie Watson in San Diego contributed to this report.