Swiss village Brienz evacuated over mountain rockslide fears
High up in the Swiss Alpsthe picturesque landscape of a small village can also be fatal.
The 100 or so residents of Brienz must vacate their homes by sunset on Friday – otherwise they risk being crushed by 70 million cubic feet of rock. A huge section of the Lenzerhorn, which towers above the village's red terracotta roofs and rustic green shutters, could be on the verge of collapsing as soon as next week, officials have warned.
"The mood in the village is very sad," Elisabeth Arpagaus, 85, who has lived here for more than half a century, told NBC News. "The people in the village are being torn apart."
Sitting on the mountainside at an elevation of 3,800 feet, Brienz is not new with its geological issues.
The village 24 km from Davos has probably slid down the valley ever since the last ice age 11,000 years ago, according to the local government website. In more modern times, climate change puts Switzerland and other countries at higher risk of natural disasters as higher temperatures increase erosion, officials say.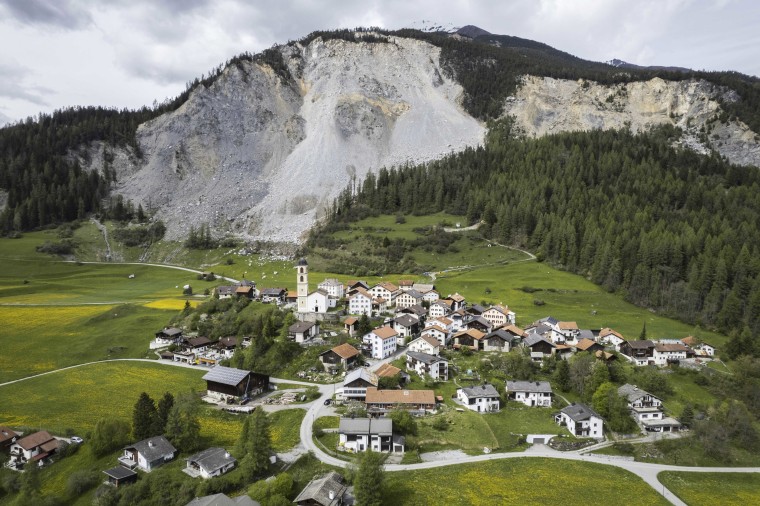 What is worrying geologists now is a 70 million cubic foot rock "island" over the village that has "accelerated significantly" since the fall, Christian Gartmann, the region's crisis manager, wrote on his website last month.
On Tuesday, that movement prompted officials to move to "phase orange," meaning a rockfall or landslide can be expected within one to three weeks. All residents and small animals must be gone by Friday 6 p.m. (12 p.m. ET) and are only allowed to come back temporarily during the day.
Once collapse is expected in three to ten days, phase red will occur, requiring livestock removal and a re-entry ban. The final warning, phase blue, means a collapse is imminent.
"I am very sad that I had to go," Arpagaus said with a sigh, recalling the "beautiful view" from her home, which she says she misses dearly now and may soon be lost forever.
The mother-of-five lived alone but said residents met regularly to participate in walking groups, women's clubs and other gatherings.
"We knew something could happen one day," she described of the occasional rockfall over the years. "But now that it's so imminent, it's going to be difficult."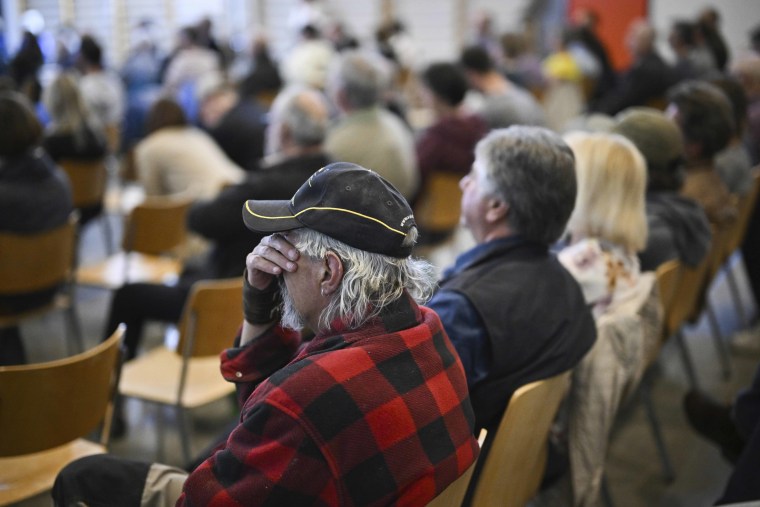 The most likely scenario, with a probability of 60%, is a series of rockfalls that would cause damage to the upper edge of the village, Gartmann wrote. There is a 30% chance that a slow landslide would travel three to six feet a day and cause "major damage" by the time it reached the village, he said.
Least likely but most devastating would be a "large rockfall" that would cause "very serious" damage to the village and surrounding area, said Gartmann, who gives the scenario a 10% chance.
The outcome "cannot be predicted until the last moment," he said.
Residents are kept up to date with text messages, emails and tweets. If authorities believe a "quick" evacuation is needed, alarms would go off across the valley, Brienz's website said.
Switzerland's largest insurance companies have said they will cover damage, although residents will have to partially fund their temporary moves, the village's website said.
However, for many it is not about money. Their tight-knit community is now scattered across the region in makeshift shelters, where they must stay for weeks or months, depending on how long the emergency lasts.
"You can't do anything, you have to get through this and I'm a strong woman," said Arpagaus. "The whole world is thinking of us," she added, referring to the wide coverage.
But before her hometown is destroyed by boulders or buried entirely, she has to give something back for Friday before the city goes into lockdown.
"I will come back again today" She said, "pick up a frying pan.