Tacoma celebrates the ocean with art, film and community activities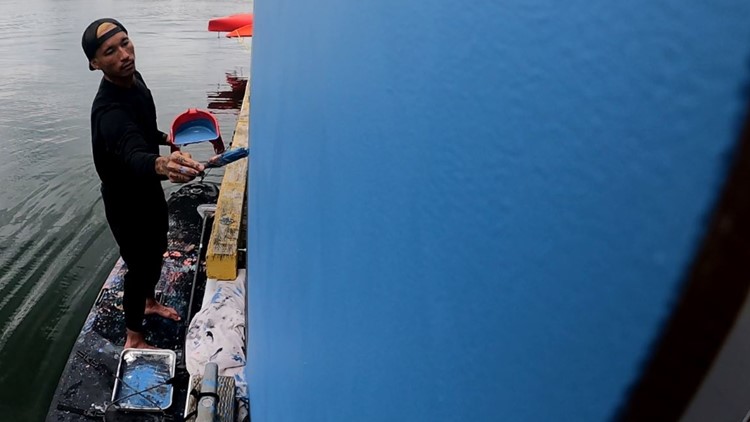 The celebration lasts until the end of June. #newdaynw
TACOMA, Wash. – This year's annual Tacoma Ocean Fest featured Hawaiian street performer Sean Yoro, known as "Hula." From a paddleboard, Yoro created "Malalo", a 15×20 water mural he designed in collaboration with Connie McCloud, Elder of Puyallup.
As festival director Rosemary Ponnekanti described it, the mural explores "themes of indigenous conservation of land and water, the fragility of endangered species, and the interconnectedness of all living things."
"I learned so much about the Puyallup tribe and the rich history involved with this whole peninsula," Yoro told us. "It's kind of a tribute to them and I also found so many similarities between Hawaiian culture and the Puyallup tribe and how they lived and survived and very responsibly preserved the land."
The organizers are looking for a permanent place to install the mural.
The festival kicked off at sundown on Friday night, with Tacomans creating a magical twilight moment. Some paddled around in boats and on lighted boards, while others waved brightly lit salmon banners ashore.
Ponnekanti says the twilight event "reminds our world what we must do to protect it from pollution, climate change and extinction."
Ocean Fest continues with three nights of ocean-themed films at the Grand Cinema. There will be beach walks with marine biologists this weekend, Saturday at 2pm at Dash Point Park and Sunday at 3pm at Titlow Park, and on the 25th and 26th there will be a community clean at Swan Creek Park.
"We live on a blue planet," Ponnekanti said. "The ocean makes up 70% of our world, provides 50% of our oxygen and is essential for clean water and food. It unites cultures and nourishes our souls. The Tacoma Ocean Fest is a reminder of how precious that is."
The evening of KING 5 celebrates the Northwest. Contact us: Facebook, TwitterInstagram, email.
https://www.king5.com/article/entertainment/television/programs/evening/tacoma-celebrates-the-ocean-with-art-film-and-community-activities/281-56586d3c-dce0-43bd-9a4d-8f0733e9a32e Tacoma celebrates the ocean with art, film and community activities