Tacoma construction crew honored with Lifesaving Awards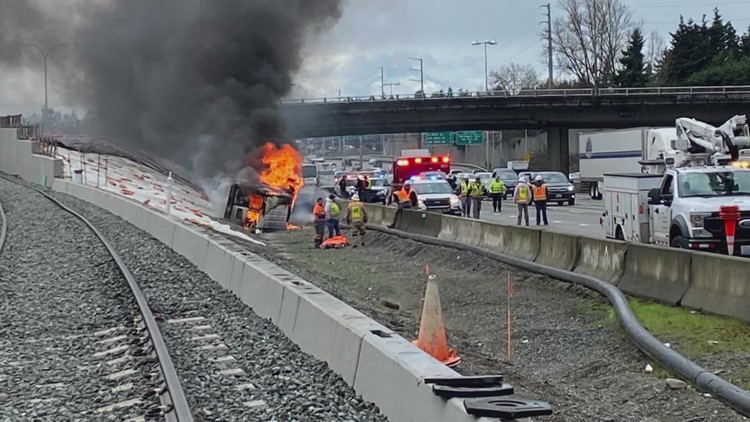 Three men received the state Governor's Lifesaving Awards after helping two people escape from a van that had a flat tire, was involved in an accident and caught fire.
TACOMA, Wash. — The three men who were working on the Sound Transit light rail expansion became first responders on the morning of March 4.
The state honored Matt Tannahill, Jeff Mikeska and Colton Ward with the Governor's Lifesaving Awards for their help with a burning accident on I-5 near Northgate.
The three men who work for Stacy and Witbeck/Kiewit/Hoffman helped two men escape from a van that had a flat tire, was involved in an accident and caught fire.
"I just hope everyone would do the same," Mikeska said.
As they first approached the crash, they began dousing the flames, then saw hands reaching to the windshield for help. Realizing people were still trapped, they broke the windshield and pulled the men out before authorities arrived.
The Washington State Patrol said the men in the van were conscious and alert but injured. They were transported to the hospital with severe burns.
"It felt good to be in the right place at the right time," said Tannahill.
Neither man regretted interfering.
"There's no option, 'Do I help or not,'" Ward said, "it's 'We have to get these people out.'"
The state Department of Labor and Industry recognized 17 people during a ceremony Wednesday morning in Tacoma.
The ceremony recognized the recipient's actions that likely saved lives in the event of an occupational accident or medical emergency.
Other honorees included Kennewick middle school teacher Dwane Sitler, who helped resuscitate a student with an automated external defibrillator, and Grover Hettel, an Energy Northwest employee who performed the Heimlich maneuver on a colleague who was choking on food.
https://www.king5.com/article/news/local/construction-crew-honored/281-ca87a047-c28c-4169-8cee-14c45edc4836 Tacoma construction crew honored with Lifesaving Awards