Target's cheeky Pride collection strikes again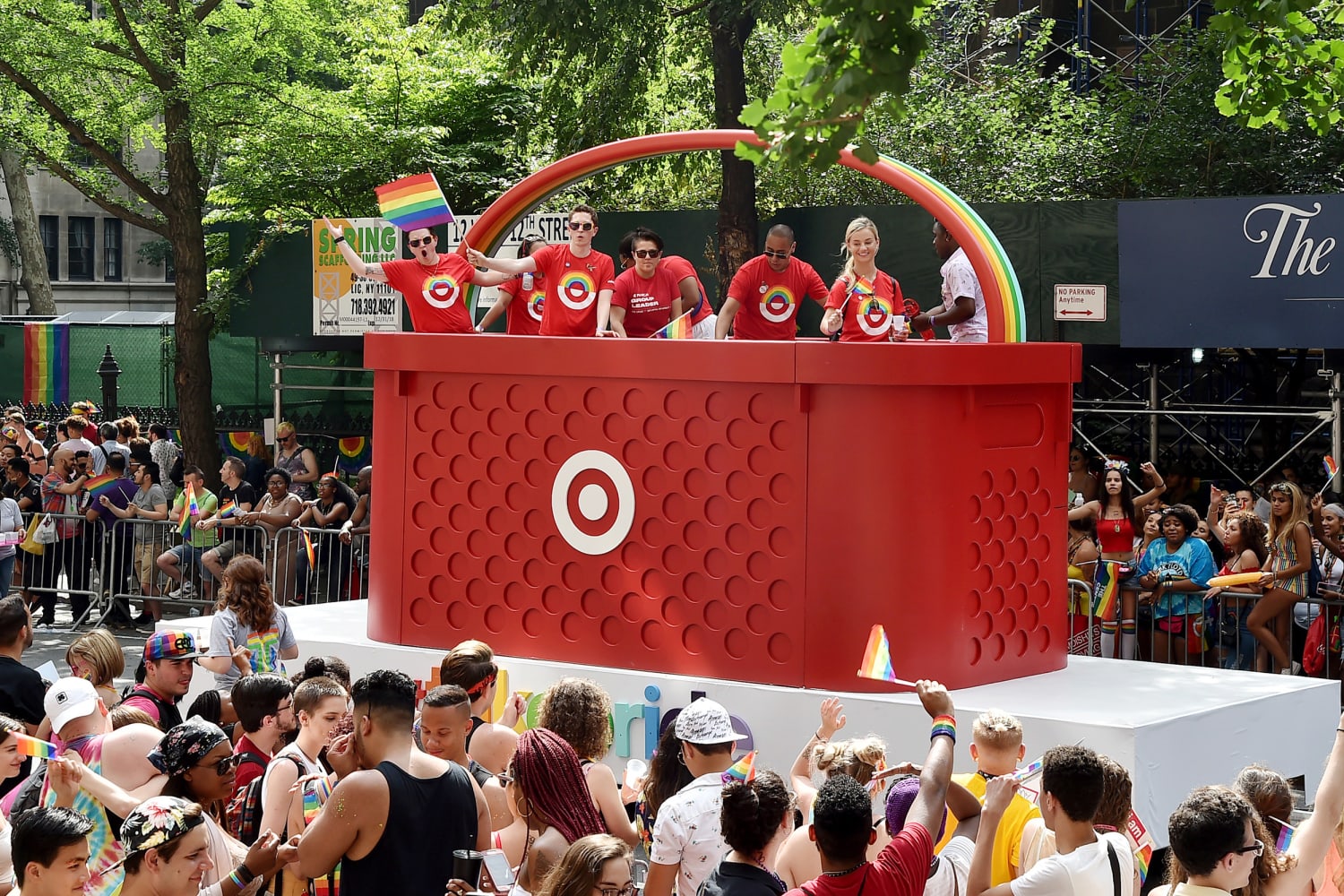 As queer Americans face an historic onslaught of anti-LGBTQ laws, a normalization of right-wing politicians' homophobic and transphobic rhetoric, and a spate of violent attacks, Target's standout message for Pride Month is simple: "Live, laugh, lesbian."
The short mantra is adorned with a pink crop top, part of the global retailer's latest Pride collection. Other notable items include a coffee mug inscribed "gender fluid"; rainbow outfits for pets; A Drag Queen bird decoration figure; A Jumpsuit that simply says "GAY". in solid letters; a tote bag with an image of a woman looking into the distance and text that reads "Busy thinking about girls"; and a graphic t-shirt depicting a skeleton flexing its wrist and saying, "Is he… you know?"
While many major brands will be launching similar Pride-themed products in the coming weeks, few are likely to match Target when it comes to offerings leading up to and throughout the month of June, LGBTQ Pride Month. generate online chatter.
"It's kind of a universal issue, whether it's high tide or low tide, we all have to respond to Target and Pride," said Bob Witeck, president of Witeck Communications, a company specializing in LGBTQ marketing.
Over the past three years, more than 960 TikTok videos — including 100 in the past seven days — have used the "targetpride" hashtag and reportedly amassed more than 30 million views for users in the United States Analytics from TikTok. According to Google Trends, search interest for "Target Pride" has surged over the past three years over comparable searches for the names of its direct competitors Amazon and Walmart before and during June.
The huge online reaction to this year's collection sparked both joy and eye-rolling among LGBTQ Americans.
"I'm torn as to whether the Target Pride 'Live Laugh Lesbian' shirt is either the best or the worst shirt ever," says drag performer Chiffon Dior wrote on Twitter Thursday. "I don't think there is a middle ground."
Popular lesbian Instagram account @godimsuchadyke posted a meme featuring the t-shirt, captioning the photo: "This is not sponsored but it could be @target."
Queer activist Matt Bernstein posted a video on TikTok — which has garnered more than 6.4 million views since it was posted last week — in which he reviews several products in the collection.
"Now I know a lot of people don't do it that way, but I love it," Bernstein said, referring to the Live Laugh Lesbian crop top. "The fact that it says 'Live Laugh Lesbian' in the iconic 'Live Laugh Love' font – that completes the ironic circle. It's high camp. I want it on everything."
A Target representative did not respond to requests for comment.
Attention for Target's Pride collection comes as the broader response to the companies' Pride Month efforts has waned in recent years. Critics often blame the companies' commitment to the LGBTQ community in June as spurious or superficial, citing seemingly contradictory political donations to conservative lawmakers trying to curb LGBTQ rights.
For example, Seattle Pride, a nonprofit group that has organized Seattle's annual Pride march since 1974, severed ties with Amazon last year, citing the Seattle-based company's donations to "anti-LGBTQ politicians" and its fundraising efforts convene groups on behalf of anti-LGBTQ.
While most of the country's major pride marches are sponsored by some of the world's biggest corporations, some activists have recently shunned the involvement of American companies – and funds – altogether. A group of LGBTQ organizers in New York City, the Reclaim Pride Coalition, launched an alternative pride march in 2019 to counter the city's official parade, which has a long list of corporate sponsors. The newer event, known as the Queer Liberation March, denies business and police participation.
And as more companies launch Pride Month advertising campaigns and sell Pride merchandise, there have been some missteps. Last year, for example, food delivery companies Postmates and Burger King received backlash for launching what they felt were overly sexualized Pride campaigns.
Target himself has also been accused by some of "leaning"rainbow capitalism"," a term used to describe the commercialization of the LGBTQ community, particularly for its Pride collection in 2021. The brand hired LGBTQ designers for its Pride collection last year and said it wants to "celebrate the community authentically." . according to a company press release. Target continued its partnership with queer designers for its collection this year.
Witeck points out that Target's Pride collection has become an annual hit — at least as far as social media chatter goes — because the brand uses a sense of humor to embrace a "love-hate" dynamic between corporate and LGBTQ people -Community joins, as he called it.
"Those are things that people wouldn't say let alone wear," Witeck said, referring to the collection's graphic tees. "It gets to the point where it's so ridiculous that you just have to wear it to make a joke out of it."
Don Caldwell, the editor-in-chief of know your memea website that documents Internet phenomena agreed.
"People are kind of suspicious when companies try to do something new for social justice or activism," Caldwell said. "And I think that with things like a 'Live, Laugh, Lesbian' shirt or something, you're trying to show your support for something, but also to show a sense of humor, which I think goes a long way." "
Caldwell added, "You could call it 'cringe' or whatever, but I think a lot of people find it endearing and kind of cute."
Target's wide range of playful Pride merchandise comes at a turbulent time for LGBTQ rights in the country. More than 480 anti-LGBTQ bills have been introduced in state legislatures across the country. according to the American Civil Liberties Unionwith lawmakers passing legislation to restrict LGBTQ-issues education in schools, sluggish performances, and access to gender-sensitive care, among other things.
Matt Wagner, vice president of customer relations at Target 10, an LGBTQ marketing firm — not affiliated with retailer Target — argued that the overwhelmingly positive online response to Target's Pride collection could be due to it promoting LGBTQ Community amidst the politics has embraced uproar.
"If I'm in Kansas, or in Louisiana, or in Florida or Alabama, and there's no LGBTQ center or gay bar in my town, there's very little opportunity to physically connect with the community." I would say it's very moving when that person walks into a target and sees a Pride rally," Wagner said. "The fact that this big American company, which can basically do whatever it wants, chooses to embrace the community in this way could have a kind of shadow effect on people's enthusiasm."
Not all of the attention given to Target's Pride products has been positive. Conservative activists had particular concerns about the collection's children's clothing, and a "plug-friendly"Adult swimsuit. Clothing for children includes supportive slogans, including "Just be yourself" and "Trans people will always be here!"
Matt Walsh, host of right-wing news outlet Daily Wire's The Matt Walsh Show pushed Listeners to his podcast called for a boycott of the brand and accused Target of "trying to recruit children into the LGBT camp."
"There are millions and millions of Americans in this country who are disgusted by it, who don't want, they don't want the rainbow stuff thrown up about them as soon as they walk into a store," Walsh says. "Most importantly, they don't want that to happen if they take their kids to the store like so many parents do."
Gays Against Groomers, a far-right group that bills itself as a "gay organization against the sexualization, indoctrination, and medicalization of children," said on Twitter that the company "deserves the bud-light treatment." Conservative activists began boycotting Anheuser-Busch's Bud Light beer brand en masse after it forged a social media partnership with transgender influencer Dylan Mulvaney last month.
"We urge you to move your business elsewhere. They indoctrinate and nurture them with LGBTQ ideology," the group said in a report on Target tweet This has been viewed more than 1.3 million times. "It is highly inappropriate and disturbing."
For better or worse, Witeck called the online reaction to Target's Pride collection "remarkable."
"Even if I never get caught buying all this stuff, I'd say it's a success because the brand is known for it," Witeck said.