Teen Mom's Tyler Baltierra Debuts OnlyFans After Viral Body Transformation
"It will completely be in my wife's control lol she's the boss, I'm just there to do as I'm told," Tyler said of his wife Catelynn's involvement in the OnlyFans account
Tyler Baltierra's body transformation is turning heads on Instagram, and now it's leading to new horizons for the Teen Mom couple.
The 31-year-old reality star posted a body transformation pic on his Instagram, where he updated fans on a year's worth of progress with two shirtless pics.
"PROGRESSION > PERFECTION," he captioned his post. "1 year apart & sitting at the same weight in each pic. This is why the scale isn't as important as overall body composition."
"I still have a long way to go until reaching my goals," continued Baltierra. "But I like to post my progress as a reminder to myself of where I started, how far I've come, & why I keep putting in the work! 😈💪🏻😤"
Tyler's wife Catelynn Lowell Baltierra reacted to the post in the comments, sharing a spit take gif and writing, "Ayeeee my sexy man 😍😍😍 @tylerbaltierramtv 🤤🤤🤤🤤"
However, that's not the only news that the couple had to share.
Waiting for your permission to load the Instagram Media.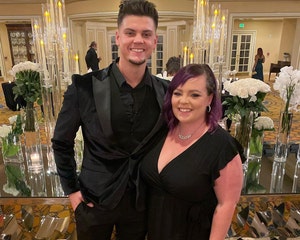 Instagram
Catelynn and Tyler Baltierra Reunite with Daughter Carly, 14: 'She's Funny, Kind, SMART, Goofy and STUNNING'

View Story
Catelynn also revealed that the couple will be starting an OnlyFans account.
"You all have been asking and it's finally here @tylerbaltierramtv has an only fans now!" she wrote on her Instagram Story.
Tyler also added that, "For anyone wondering though, I will NOT be in control of my account on there. It will completely be in my wife's control lol she's the boss, I'm just there to do as I'm told lmao!"
Catelynn also set the record straight that the account won't be anything "sexual."
"Y'all we aren't doing any sexual on only fans lmaooo!!!" she added. "Please we got kids! I would never lol but if you do want to see what we are posting then click the link! #noshame #hothusbandalert."
Tyler and Catelynn are parents to 14-year-old Carly, 8-year-old Novalee, 4-year-old Vaeda and 2-year-old Rya.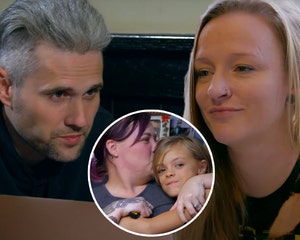 MTV
Teen Mom: The Next Chapter Trailer Shows Maci and Ryan 'Getting Along,' Wedding Prep & Pole Dancing

View Story
Tyler also jumped in to defend his wife after one commenter shamed her for her weight following his body transformation post.
One follower tagged Catelynn and said "girl get on that treadmill … one day he will look at u n will outgrow u … WAKE UP n get healthier."
Tyler hit back hard, saying, "whoa hold up, absolutely NOT. She doesn't need a damn treadmill to be desirable to me … that woman's body has brought 4 of my beautiful children into this world! That body has been with me through everything … DON'T YOU DARE tell my wife what she needs to do with her body so I don't 'outgrow' her … Her body is perfect TO ME & that's all that matters."