Tennessee animal shelter reunites homeless woman, dog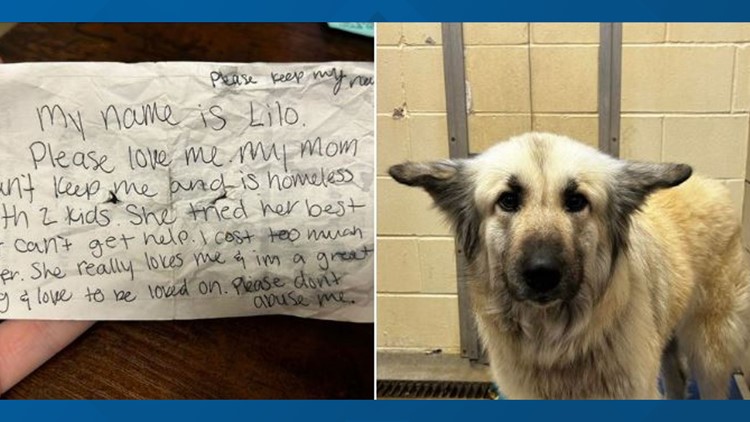 Not only are shelters helping to reunite Lilo with her family, they are working to ensure the family has a safe haven and resources to stay together.
CHATTANOOGA, Tenn. — An animal shelter in Tennessee reunited a homeless woman and her dog, and after their story gained support from thousands online, the shelter is doing work to help them stay together.
The McKamey Animal Center in Chattanooga, Tenn., shared in a Facebook post on January 24 that someone had found a dog with a note on the collar and still on the leash.
"Please keep my name. My name is Lilo. Please love me," the handwritten letter read. "My mother couldn't keep me and became homeless with 2 children. She tried her best but couldn't help. I paid too much for her. She really loved her. me and I are a great dog and love to be loved. .Please don't abuse me."
The Tennessee shelter shared the story of the abandoned dog on its Facebook page on Tuesday in the hopes of finding an owner. In a post titled "Message to Lilo's Mom," they begged people not to abandon their animals, and provided information and resources for those unable to care for their pets. surname. It has garnered more than 5,000 likes and 3,000 shares.
By Wednesday, the shelter revealed that Lilo's owner had been found. The post was accompanied by a photo of Lilo and her owner hugging each other tightly.
"We are actively working with families to establish them with a safe haven, shelter and resources to stay together and tackle homelessness," the post read. "It really needs a community and you all definitely showed us how strong we are – thank you so much."
On Thursday, the shelter announced that it is working with local nonprofits to support Lilo and her owners. Thanks to the support Lilo's story received, the shelter established the MAC Cares Foundation, which is dedicated to "preventing as many families as possible from being separated from their loved ones."
https://www.king5.com/article/news/nation-world/tennessee-shelter-reunites-homeless-woman-dog/507-50e4d5f6-21de-4f7e-92dd-f08228cf9bff Tennessee animal shelter reunites homeless woman, dog