Texas Tech rallies from 23 down to top No. 13 Iowa State in OT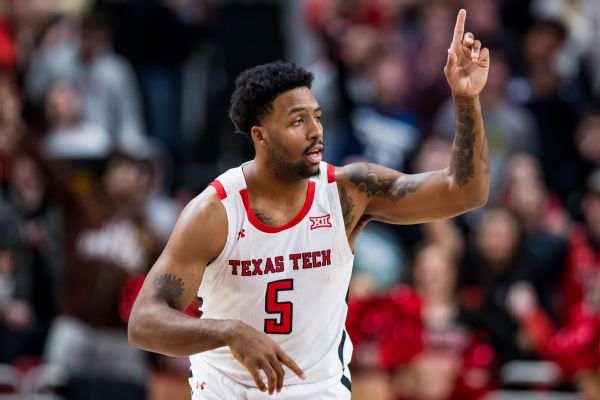 LUBBOCK, Texas — Texas Tech coach Mark Adams was just happy the fans stayed for the biggest comeback in school history and the first Big 12 win of the season for a team that made the Sweet 16 a year ago.
The Red Raiders rebounded from a 23-point deficit after halftime, ending an eight-game conference slip, with De'Vion Harmon in an 80-77 overtime win over the state No. 13 on Monday night Iowa scored all 16 of his points after the break.
"I'm still in shock here," Adams said. "I was just so proud of our boys. They didn't give up. I was proud of the fans. I was afraid they would leave at half-time."
The Cyclones took a 59-36 lead with 12:38 remaining in regulation. At that point, they had a 99.6% chance of winning. However, Texas Tech made the biggest comeback of any team in Division I men's basketball that season, as well as the biggest comeback to beat an AP-ranked team in the past decade, and set a record for the largest second-half deficit overcome on Win a game in Big 12/Big 8 history.
One of Caleb Grill's career-best eight 3-pointers gave Iowa State that 59-36 lead, but the Red Raiders embarked on a 20-3 run shortly after to finish the stretch.
Kevin Obanor had 24 points and 13 rebounds for the Red Raiders (12-10, 1-8 Big 12) as they won their second straight game, including a win over LSU in the SEC/Big 12 Challenge.
Grill scored 24 points but missed his final three 3-pointers after starting 8-of-9. One mistake was an off-balance aerial ball in a frantic game-ending sequence that saw the Cyclones (15-6, 6-3) miss three from long range and attempt to force a second overtime.
"They just decided to up the pressure to really go after us and try to spread us out," said Iowa State coach TJ Otzelberger, whose team suffered a double-digit loss to Missouri in the SEC/Big 12 Challenge, which followed a win over fifth-placed Kansas. "We're upset."
Iowa State's only field goal in the final 10 minutes of regulation was the 3-pointer, which gave Grill his career-high eight. The Cyclones were 3 of 16 in the final 10 minutes of regulation and OT.
"This is not the time to figure out who's to blame and doom and gloom," Otzelberger said. "We had some really great moments. We will continue to have some great moments."
Iowa State was still leading by five points and 40 seconds of rule remaining when Obanor hit a 3-pointer and the Red Raiders forced one of 13 second-half turnovers from the Cyclones in inbound play.
Harmon, who had 11 points and five in OT in the second half, was fouled on a drive and made both free throws for the game's first tie at 71 — all with 21 seconds remaining after Iowa State led from the opening bucket.
Iowa State's Gabe Kalscheur had 19 points but went from 3 to 0 from 6 with one of the misses on the buzzer coming up short in regulation.
The Red Raiders took the lead early in overtime after a layup by D'Maurian Williams and their biggest lead was the last margin.
Harmon put them in the lead with one of two free throws with 42 seconds remaining in overtime and Obanor hit two more after another late miss from Grill on an off balance 3.
Grill had the first long try in the closing seconds and Jaren Holmes got the rebound but was short from beyond the arc too. Holmes landed the ball again but was short again when the buzzer sounded.
Texas Tech's biggest comeback to date came on December 27, 1997 with a 99-94 win in overtime in Nevada from 17 down.
"I thought our defense would be much better [in the second half]but the most important thing was that in the second half we were the most aggressive team on both ends of the floor," said Adams. "That was the difference."
The Cyclones, who beat Texas Tech by 34 points at home last month, led by 17 points at halftime — their widest margin in a Road Conference game in the last 10 seasons — and grabbed their first 20-point lead over one of Grills 3's in the opening seconds of the second half.
The Red Raiders rallied without freshman point guard Pop Isaacs, their top scorer in conference play. He missed a second straight game with an ankle injury while 6-foot-11 senior center Fardaws Aimaq was out with a foot injury.
The Associated Press contributed to this report.
https://www.espn.com/mens-college-basketball/story/_/id/35561530/texas-tech-matches-largest-comeback-season-knock-iowa-state Texas Tech rallies from 23 down to top No. 13 Iowa State in OT