The gospel according to Deion Sanders: Coach Prime preaches
"I want to get a testimony right quick," the preacher man said. "We got some stars out here that loveee Jesus!"
The preacher man descended from the pulpit, down a few steps of the patterned carpet at Without Walls International Church in Tampa, Fla., and beckoned for a brotha blessed for prime time.
"Deion," the preacher man called out. "Deeeeeionnn Sanders!"
Before he could say another word, men from each corner of the chancel hooted and howled. Women cheered and clapped in euphoria. In the front row that day in the early aughts was Deion Sanders — sharply dressed in a floor-length, pinstripe stunna suit, two-toned wing tips and his signature half-inch cut. Deion was in town, away from his duties at the time as a pro football player in the nation's capital, for one of famed televangelists Paula and Randy White's gospel extravaganzas.
The preacher man gushed. He was impressed with Deion and impassioned by his courageous stands for their religion within football. It wasn't uncommon to see Deion pop up at a gospel affair. The orator asked if Deion would address the congregation of thousands. Then, one preacher man turned to another; Deion took the microphone, stood at the center of the pulpit, and began to glimmer while he testified.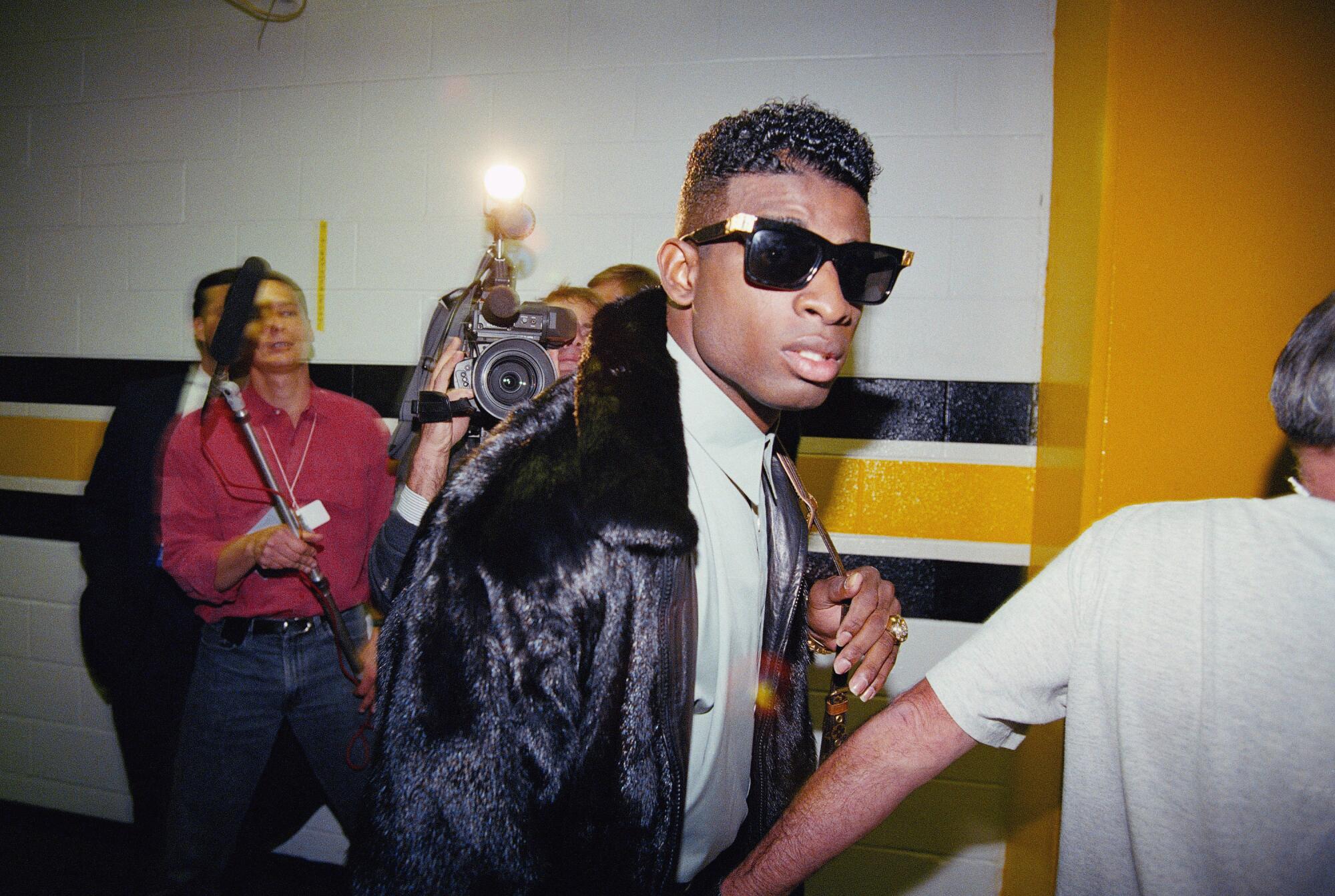 Chin tilted toward the heavens, Prime Time whispered into the microphone, soft like butter. "Put ya hands together and praise the Lord," Deion deponed. He implored his crowd to get louder. "You can do better than that!" he said, beginning to pace back and forth. "You've got to understand! I've played in a couple of Super Bowls, and [I know] you've done better than that for a few football games!" His torso jolted like it was struck by lightning. "You've got to praise him because you made it here today. The devil wanted to take you out, but you here today. He had some plans for ya, but you here today. You had a car wreck, but you here today! That woman who was lyin' on ya, but baby?! You here today!! … somebody praise 'em for bein' here today!"
For a moment in time, with the bright lights and loud music, everyone in that room was sanctified under the holy sway of whatever Deion had to say. But, instead of giving the crowd a homily to hold, Deion shifted gears. God called him to do whatever was on his mind at that moment.
In the crowd that night were numerous gospel luminaries, from Kirk Franklin to members of the Winans family to the always poorly dressed Donnie McClurkin, but Deion called out to R&B singer R. Kelly and his crew, off stage. Deion told the crowd he was trying to get in touch with Kelly, because the singer had been on his "heart" and on his "mind." Deion felt it was his duty to pray for the man who later would become a convicted felon for producing child pornography and enticing a minor to engage in sexual activity.
What followed felt like a Black, sketch satire. There was Deion and company, thousands with their arms outstretched, praying for one of the community's deplorables. Deion was part of the quad that led the thousands in prayer.
Before the moment concluded, Deion's pastor addressed the gathered flock.
"All of those that are watching, give him praise right now," Randy White said. The center stage light shone on them both as White gave us a message many in that crowd have never forgotten.
"Goddddd is up to something!" White declared.
It always struck me that Deion Sanders chose Colorado for the next phase of his manifest destiny. Not the university, but geographically the place itself. When he declared Boulder the next place God called him to be — besides Prime Prep or Jackson State or wherever he eventually springs to next — it felt less like the next step for a man who seems ordained to lead America's next, great football megachurch, and, frankly, more like a breakthrough. See, the powers that be didn't want Deion or his tailored brand of marketed chaos to creep into the power conferences of college football. Otherwise he'd be running the sideline in Texas Christian purple, Auburn burnt orange and navy blue or the lovely garnet of Florida State. But, by damn, didn't he bust down the door with a melody from heaven and in a few short games set the nation's heart on fire.
By the time I got off the plane the night before the most talked-about Rocky Mountain Showdown since 1938, Deion-mania had overtaken the region. The oldest trick in the book of the megachurch pastor is to head somewhere unknown, to go down a bizarre path that any prophet — particularly if it goes well — can play off as prescient. Hell, when Ben Carson wanted to convince white folks he was the real deal, he went preaching one Iowa church at a time till they got the message. All Prime did differently was don some shades, spout off and smile wide while the wins poured in and everybody started yellin' "I Believe!" and "It's Personal!" as much as "Sko' Buffs!"
The "Prime Effect," as they're calling it, raised $18 million for the city of Boulder after smashing the Nebraska Cornhuskers. University officials can't stop talking about how many games the team has sold out, or the first national ranking in years. Deion's face is in Aflac commercials nationally and local ones; his voice is on the radio, his family are in ads that play after his, and folks from all over the country are flying in to personally see the circus Deion has made, leaving merch stores on campus looking like the back aisles of a local Ross.
All the extra eyes have left coaches foaming at the mouth to teach Deion and the Buffs a lesson in decency. No one in the Pac-12 wanted those white boys on campus — cosplaying as proud ranchers in gallon-sized hats, bumpin' SexyyRed's street anthem "SkeeYee" while playing beer pong in Black propaganda T-shirts and hoodies — to enjoy another night living in glory.
But, like it or not: College football's Kirk Franklin merely was finding his evangelical groove. During his playing days, it wasn't hard to find Deion telling the press at Dallas Cowboys practices while wearing diamond-dotted gold Jesus pieces that one day he'd be an evangelist or a pastor. And if you walk for a second in the House That Deion Built, it was hard not to catch your knees getting weak, and the spirit slowly overtaking you — raging through the open wind like a mighty buffalo.
"This guy is an American icon. He has injected a certain type of new vitality and life into the college game at a time when the college game [needed] it. It's a perfect timing."
— Fox sports college football analyst Gus Johnson on Deion Sanders
By 6 a.m. the next day: The white rancher hats slowly were encircling Folsom Field. Coaches spread the message all week: The leader had been disrespected, so at dawn, as one coach said, "We ride wit our fye!" Deion put the call in to celebrities from across the country, from rappers to ballers, to turn Colorado into an unforgettable piece of cinema for the college football stage. Before noon, Lil Wayne was wearing a Buffs jersey with his name stitched to the back and The Rock was shaking hands and kissing babies while Ying Yang Twins' "Halftime (Stand Up & Get Crunk)" — the official Coach Prime theme music — played all over campus.
That morning Deion grabbed the microphone again, wearing a white vest and matching rancher's hat with shades. From the stage of Fox's "Big Noon Kickoff," Deion turned to a crowd of Colorado fans in matching rancher's brims and delivered his message. Colorado State coach Jay Norvell said during his coach's show that Deion was disrespectful as a coach and that "when I talk to grown-ups, I take my hat off and my glasses off. That's what my mother taught me."
"What is it today? It's …" Deion asked the gathered assembly.
"Personal!" the mass yelled back.
"It's what?!" he said, leading them into a dramatic call and response.
"Personal!!!"
"He talked about my mama, so it's what?"
"Personal!!!"
"He naysayed me, so it's what?!!"
"Personal!!!"
"He thought I was trippin', so it's what?!"
"Personal!!!"
And after the game, it'll be WHAT?!!!" Deion crescendoed.
"PERSONALLLLL!!!"
The night that Deion and the Buffs shocked us all during four hours and two overtimes at Folsom Field, leading the brazen Buffaloes faithful to grace the grass for the second time in as many weeks, drew some of the biggest audience numbers college football ever recorded. The overnight ratings showed it was the most-viewed game on the slate, despite starting well after 10 Eastern time. It was the fifth-most-watched game ever on ESPN, the most-streamed game, and it peaked at more than 11 million viewers. Lil Wayne did an on-field concert before the game, and Key Glock performed after it in the locker room well past 1 a.m.
Colorado began the next week ranked No. 19 in the country, having beaten three teams in sold-out stadiums across the Great West and turned away a championship contender with its first shot. It was no wonder folks were talkin' crazy in every corner of the country. Colorado fans were screamin' the usual, you know, how they wanted to play 'Bama next. Ol' heads were chattin' that if Nick Saban didn't get it together soon, Prime would roll into Tuscaloosa next and, then naturally, all hell would break loose.
What Deion made obvious through one quarter of the season was that the product always will be what's put on the television. No matter how great of a coach he could be, as long as he manipulates what the population wants to see, the money might keep rolling in. Deion as a coach has become the product of a rare combination of statuses. He was, in someone's household, the greatest to ever lace them up in high school, college, the pros and — here's hoping for everyone invested — one of the best to hold the clipboard. He has an undeniable effect on people. Win or lose, folks want to be invested in what he produces. They badly wanna be down with Deion.
"It's something called collective effervescence," Gus Johnson, the sound and soul of college football, told me a few days after Deion did the impossible again. It was something the broadcaster studied during his fellowship last year at Harvard Divinity School. "Once every week, at church or at a concert, people come together and they all ride a spiritual wave, and it has to be led by a leader — a priest, a rabbi, a shaman or even a Freddie Mercury-type at a big-time concert. We all ride that spiritual wave and come up to that crescendo moment. And we all, collectively, feel a specific positivity and plateau. When we come down and look forward to it the next week. That's what Deion Sanders is doing, he's serving as our rabbi, that shaman, that priest. He has," Johnson concluded, "a ministry, in a sense."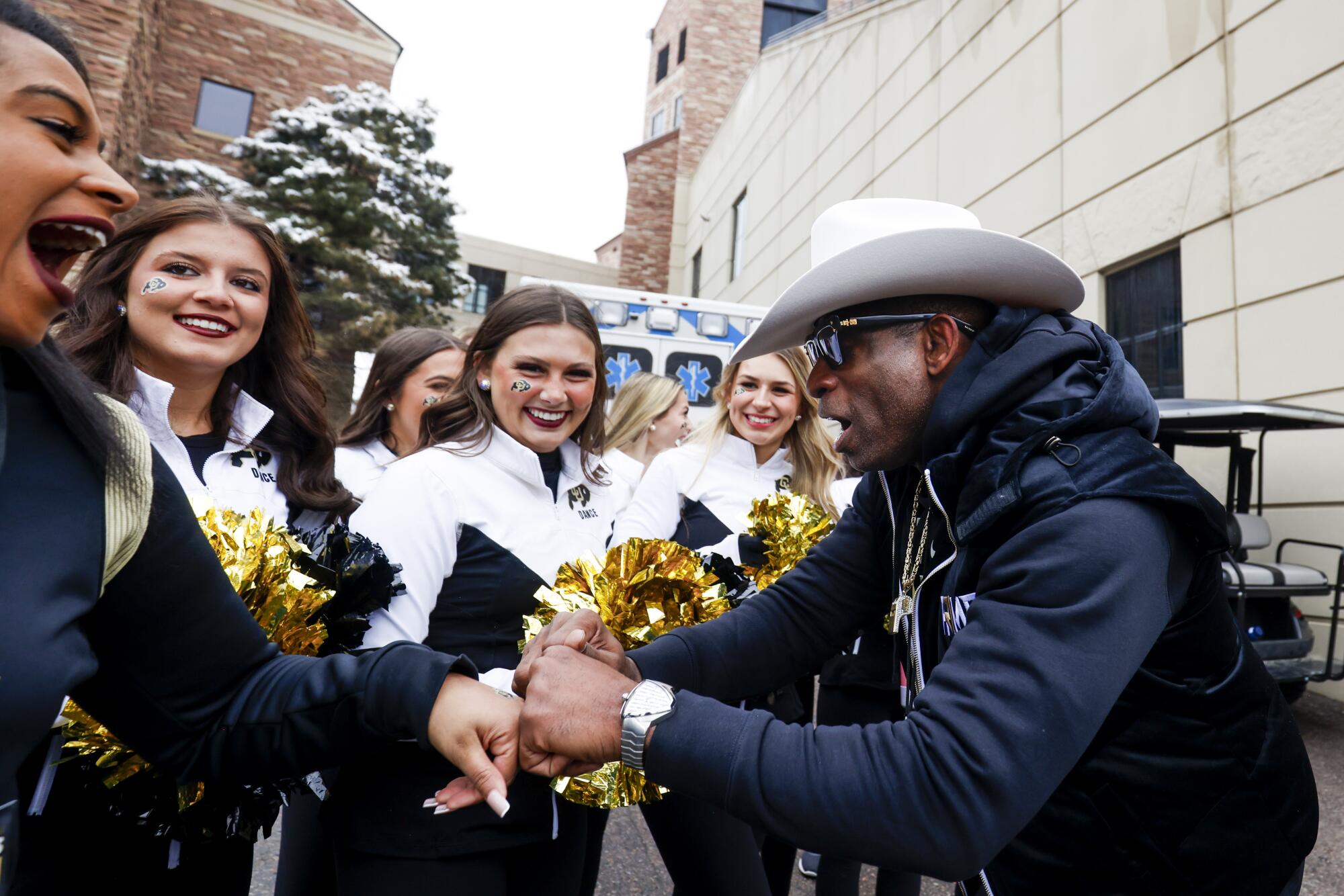 The shared purpose Johnson was hitting on, that joie de vivre that served as the basis for David Émile Durkheim's theory of religion, was coined by the sociologist in the 20th century. Durkheim suggested that most of us spend the majority of our lives doing menial tasks — hunting and gathering or typing and chattering. And when faced with such constant, boring waves, the beliefs and practices of whoever those people now consider sacred become intoxicating. Folks can't get enough of it. And in a place like Colorado, with a recent history of failure in the program, enough wins and big talk from Prime quickly can lead to something they haven't had in nearly two decades: hope. And with enough of that, quiet and quirky Boulder turned itself into one of the country's mighty sports ministries overnight.
One of many unique aspects here, and primary among them, is that Deion is a Black man from the South who rose to become a man-made maelstrom — flaws and all. While white coaches in every arena of the sporting congregation can find upward mobility even if it's not always with their talents, their consistent resistance to sharing the sidelines with men like Deion helped fuel his rise. He desperately wanted to fight. And now, no matter what they do, all of us want to be part of the show.
And it's not like Deion needs any help peppering his propaganda. There's more "I Ain't Hard 2 Find" Nike memorabilia than I'd like to count, showcasing one of five phrases he has trademarked since he started in Boulder. But, no matter what any of us think about Deion, do you really want to see the same white boys always win? The same ones who use our image for labor and profit, but never leave us as the brains of the operation? In some ways, Deion was no different, no less God-fearing or evangelical than Kirby Smart or Dabo Swinney. And sure, there was a commotion for Charlie Strong, James Franklin and even Marcus Freeman's appointment in the holy land at Notre Dame. But no one this century can compare to Prime. He is as bold as "Big" John Thompson, as smooth as Jake Gaither and unafraid like Eddie Robinson. He is loud, proud and Black as can be. Like my uncles and cousins who came before me.
"He's making people feel good, you can see the numbers. First week 7 million, next week 9 million, his numbers and movement keep growing exponentially. You're seeing the feeling of connectivity in front of you, led by Coach Prime," Johnson said. And, he insisted, we should just sit back and watch.
"As my daddy used to say, 'Son, everybody loves a winner!'" Johnson said. "He's winning, enjoy it. There are people out there who are rooting for him to lose. That's why the numbers are so great in terms of the ratings. The most important thing to do right now is enjoy this incredible story. We've watched Deion Sanders grow up in front of our eyes! Florida State, then the Falcons and Cowboys and Cincinnati Reds and playing in the World Series and being a sportscaster and doing commercials and dancin' on videos with MC Hammer, 'Pumps and a Bump,' you know what I'm saying?!"
"This guy is an American icon," he continued, passion taking over his voice. "He has injected a certain type of new vitality and life into the college game at a time when the college game [needed] it. It's a perfect timing. He's great for the game, whether you love 'em or hate 'em. But, let's not second-guess it."
There are not many moments in the sprawling, Black sporting congregation where a large mass of the national fan base decides on a single figure. Sometimes the moment is born from tragedy like Colin Kaepernick; others are born from pure, unadulterated swagger that overcomes the usual, impenetrable walls of racism or classism, like Cam Newton. Football, for all its unabashed ties to virulent tribalism or staunch regionalism, makes those inherent differences fairly difficult to mend. But how often do we have a spokesman as flawed and fabulous as Deion? And how often does the soul of that Black man make the country truly process and shake?
That idea led Derrick Bracy, a 44-year-old from Alabama, from his house in Portland, Ore., down Interstate 5 to join the rest of us at Autzen Stadium. No. 19 Colorado versus No. 5 Oregon was the coach's next test. This time, as a three-touchdown underdog. Deion had accomplished so much already, Bracy said. But Bracy wanted to witness — with his own eyes — college football's latest rapture of black-and-gold insurgency.
"We will never see this again," he told me an hour before the game in the sun surrounding the stadium. "It ain't just about Black or white, it's also about a man who loves them boys, who has a passion and puts God first. Nothing else can fill that."
Bracy was like any other Black fan I'd met from Boulder to Eugene during the last few weeks who was swept up in the belief. There were men in "I Believe" hoodies waddling around the famed Circle K gas station near campus past 3 a.m., trying to figure out a ride far away from Pearl Street. Grownups in grillz and sunglasses came from as far as Atlanta that weekend in Eugene to see the show.
On the road, fans in The Zoo were riled up by another coach willing to take shots at the Buffs. Oregon's head man, Dan Lanning, in front of ESPN cameras made sure to send the message loud and clear: We all ain't rootin' for Coach Prime.
"Rooted in substance, not flash. Rooted in substance. Today, we talk with our pads," Lanning said, veins jumping from his neck. "You talk with your helmet! Every moment! The Cinderella story is over, man. They're fighting for clicks, we're fighting for wins. There's a difference, right?" Lanning asked his team, his eyes widening in a manic rage. "This game ain't going to be played in Hollywood. It's going to be played on the grass."
The statement, intended or not, was a signal to what many of us had seen during the opening moments of Prime-mania. Lanning's rage easily can be seen as a bit of football talk, one man needing to inspire his locker room and get them ready for battle. But, it just as easily can be seen as some backyard bulljive. A message just as easily left out of the eyes of the public by a team Nike reinvented in the last decade as one of the sport's most flamboyant products.
Whatever was the catalyst of Lanning's speech, it worked. Fans jawed at Deion as he walked down the sidelines before the horn, to the point that he reached out and hugged a fan and told them, "I love you," perhaps hoping to calm the storm. More than 60,000 fans flooded Autzen, hungry to end an upstart's story.
From the opening horn, it never seemed like the Ducks took the Buffs seriously. The bludgeoning was bloody and swift. In two hours, Colorado was black and blue, unranked by the morning. The way Deion explained it to the press was the most apt, "it was a good, old-fashioned butt-kicking." Until Oregon took its starters out, the Ducks were up six touchdowns, enough electricity to blow the top off the Autzen aviary. Buffs fans from out of town were startin' to hide their faces in the crowd.
Lanning told cameras during halftime that it was only going to get worse. When it was blessedly over, 42-6, and the Buffs were running for the tunnels under raging fans with signs reading "You Got Autzen-Ed" and "Bo-Seph Nixon For President," the profanity was unbearable for some players, to the point they tried to rip the signs down. Though Deion told the press that the message to his team was "we ain't got no time for a pity party," around their locker room the scene resembled a tragedy. Teenagers predictably pissed that the day didn't go their way.
But near the tent set up for Deion's concession speech, the last of the mighty Buffalo — fake or faithful — stood behind iron gates waiting for a glimpse of their hero.
One child closest to the edge of the gates beckoned to me.
"Yo, yoooo!" he called through the blue rubber bands on his braces. "Ayo, my man! You think you can get Deion to walk over here?"
He had the audacity to ask while wearing an Oregon jersey. His father, sporting silver fronts and a vintage Buffs jersey, looked on with pride.
When Deion finally appeared, framed by his signature shades and a noticeable hobble, the stadium was as loud as it'd been all afternoon.
Even in defeat, all them boys still wanted to be down with Deion. And as with any good Pastor In Practice, a loss is nothing but new material to remind the masses why they still need to tune in next week. After all: Who else but Deion Sanders would have us all believing he could come out of the desert, rise to the mountaintop and preach a gospel only he could bring true?
"I wasn't lying. I don't say stuff just to say it for a click, contrary to what some may say," Deion told the press before leaving for the evening. As gracious as he presented, he still wouldn't take any disrespect lying down.
"One thing that I can say, honestly and candidly: You better get me right now," Deion said. "Because this is the worst we're gonna be."