The Hollywood sign debuted 100 years ago in 1923, the year of L.A.s 'Big Bang'
Los Angeles — you're gonna need a bigger cake.
So many singular L.A. landmarks and institutions made their debuts in the year 1923 that celebrating those centennials really means something larger and more profound in the L.A. origins story than simply lighting up a few hundred candles.
The year 1923 amounted to a civic "Big Bang," a pinpoint event whose reverberations reach us today.
To the first and the best known: Let's sing the birthday song to the Hollywood sign, built as a massive, ultimately ramshackle advertisement that became as unmistakably L.A. as the Eiffel Tower is for Paris and the Statue of Liberty is for New York.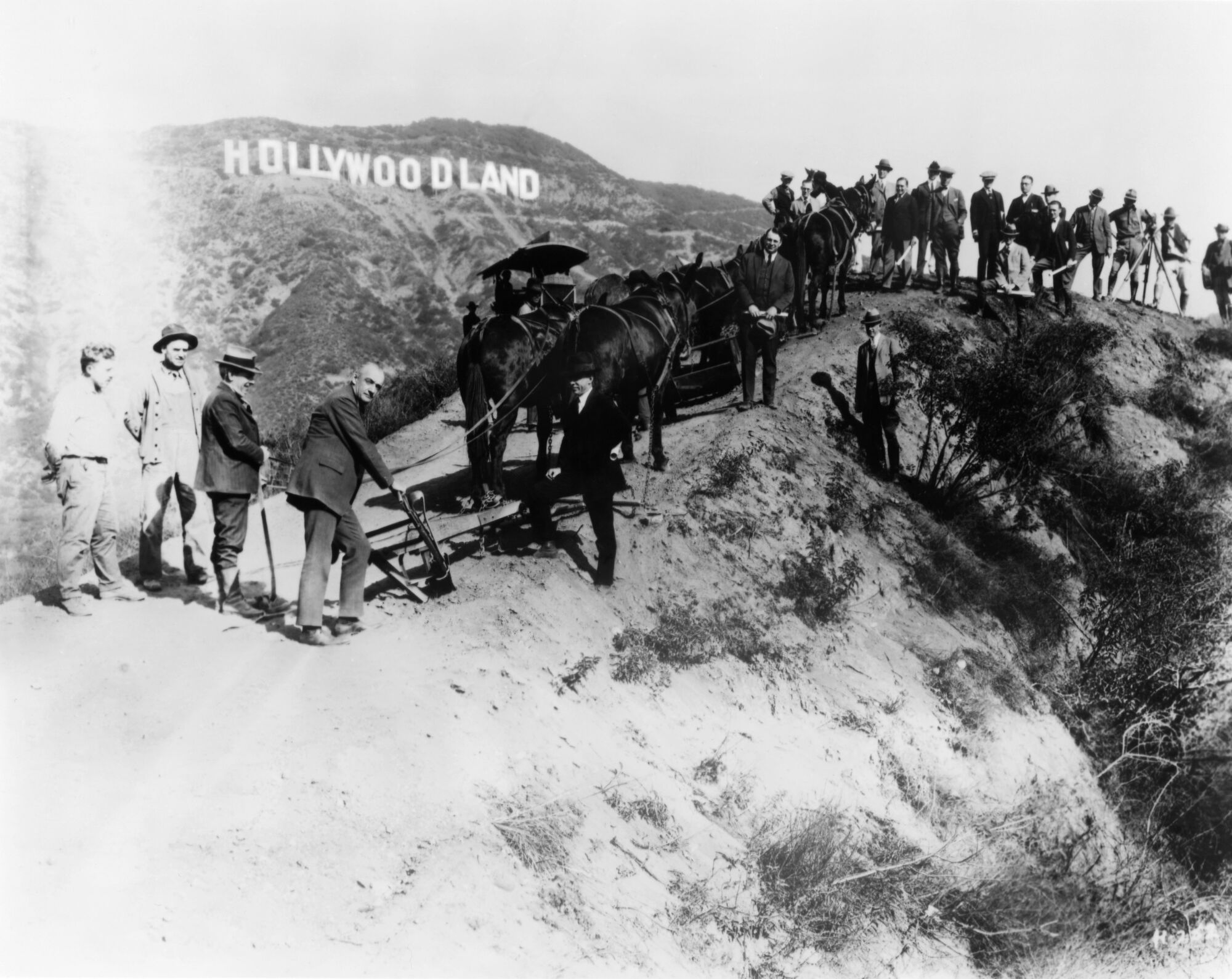 Some among the others: The Disney Brothers Cartoon Studio in East Hollywood set up shop, the nucleus of an aesthetic, a technique, an insanely rich international empire of imagination.
The Los Angeles Memorial Coliseum opened in 1923, a hometown project that assumed international renown, a venue for one, then two, and now soon to be three Olympic Games.
El Cholo, the "Spanish Café," began dishing up Mexican food and drink for the carriage trade, with margaritas so enticing that an ex-con on the lam supposedly dared to come back to his L.A. haunts to drink just one more.
The gilded and marbled Beaux-Arts Biltmore Hotel rose that year to lord over Pershing Square like a glamorous Vanderbilt debutante; its own legend holds that the Black Dahlia drank perhaps her last drink here, and that the fan-besieged Beatles arrived perforce by helicopter, landing on the roof.
Up in Echo Park, a widowed Canadian preacher named Aimee Semple McPherson celebrated New Year's Day 1923 by opening the doors of her massive new Angelus Temple to thousands of the faithful.
With a showmanship worthy of her Hollywood neighbors, she staged elaborate morality plays for her flock, and soon broadcast on her own radio station, and ushered her Foursquare brand of Pentecostalism into the big tent of American Protestantism. Then, her relentlessly publicized moral tumble — an alleged affair and a mysterious five-week disappearance — was probably a first for a woman minister of the Gospel, but old-ish news for men of the cloth.
At Cal Tech, physicist Robert Millikan brought home the first of Southern California's dozens of Nobel Prizes "for his work on the elementary charge of electricity and on the photoelectric effect." The prize, and his quarter-century leadership of Caltech, laid down a marker for the muscular science and tech place that this region would become.
El Cholo, the "Spanish Cafe," began dishing up Mexican food and drink for the carriage trade, with margaritas so enticing that an ex-con on the lam supposedly dared to come back to his L.A. haunts to drink just one more.
So why the big civic surge? Elsewhere, the '20s roared. In Los Angeles, they screamed. L.A. had had booms before, but this one was a combustion of elements firing all at once:
The runaway allure of the movie industry, a resurgent real estate market, a virtually blank public canvas for men of arts and sciences to write upon, an underfoot sea of oil and a world demanding it, and the booster ambitions of rich and not-rich-enough men, all basking in the benevolence of the accommodating weather.
This Big Bang decade began with some satisfying chest-beating for Los Angeles: In June 1920, L.A. at last overtook San Francisco as the most populous city in California.
For all of San Franciscans' pluck and verve, the 1906 earthquake had dealt a suppurating blow to the city, and capital and people were making their way to L.A. In 1922, Southern California was already congratulating itself on its nonstop ribbon-cutting — the Hollywood Bowl, the Rose Bowl and the Los Angeles County Fair being the biggest snips. In 1924, L.A.'s headcount would mark 1 million.
This L.A. was the self-invented mirage city of unflagging ballyhoo.
This was rich material for the novel Mark Lee Luther was writing in 1923 — that he had come here specifically to write. Characters in "The Boosters" are sucked into the gung-ho swirl like people pulled into floodwaters.
Column One
A showcase for compelling storytelling from the Los Angeles Times.
The hero hasn't even set foot here when he's buttonholed on his westward-bound train by an L.A. man delivering a relentless monologue: "Want me to tell you why they're boosters? It's because Los Angeles delivers the goods. You betcha."
L.A. in the 1920s was a city flying on booster rockets. And it's Peak L.A. that the signature monument for its movie industry was originally created for its other gazillion-dollar industry — real estate.
Ever been on a plane flying into L.A. and seen that rush of foreign tourists unbuckling themselves in spite of the "fasten seat belts" sign to scuttle across the aisle for a look at the Hollywood sign?
It was happenstance, not foresight. It originally read "HOLLYWOODLAND," a 50-foot-high sales pitch for a ritzy 1923 real estate development at the top of Beachwood Canyon. People bought there, people built there, and when the real estate company folded, the sign that was meant to stand for 18 months soldiered on into decrepitude for years.
The whole shebang — land and sign — was given or sold to the city, which didn't have as much regard for the monument as the tourists did. L.A. is not alone in resisting its landmarks. Dozens of Parisian artists deplored the "unsightly" new Eiffel Tower, which was meant to be torn down after 20 years, anyway.
In 1949, sometime after the letter "H" had blown down in a storm, the city agreed to fix up the sign. Well, "fix it up" was a term of art. The "LAND" was hauled down to exorcise the sign's commercial origins. But it wasn't until the 1970s that Angelenos realized, "Holy Holly, that thing's falling to pieces!"
A series of fundraising campaigns finally gave us the sturdy sign we have today. In 1977, someone "hanged" a man-sized dummy from the W, with a protest "suicide" note: "What was there left to live for? My last $20.00 donated … for restoration of my favorite Hollywood landmark and just look at it now…a DECEASED Hollywood Sign lover."
The sign's been much pranked, altered to read "HOLLYWEED" and "HOLYWOOD" and other, more obscure iterations. In its real estate days, the sign must have looked as tacky as a roadside honky-tonk, each letter framed in light bulbs that, as I've read, sequentially flashed "Holly" then "Wood" then "Land."
Today its singular letters, with the snipped-off corners of its D and Os, are so distinctive that you can render any word in Hollywood Sign Font and people everywhere understand the meme at once.
The Eiffel Tower punches more than a thousand feet into the Parisian air; the Statue of Liberty lofts its torch to 305 feet above New York Harbor.
The Hollywood sign, like the city at its feet, rambles horizontally, across 400 feet of hillside, its letters at slightly irregular levels. If they were a starlet's teeth, they would long since have been straightened out by studio dentists.
It's hard to know what actress Peg Entwistle's teeth were like. In most of her few headshots, her smiling lips are closed. For a short while, she was the most famous actress in Hollywood. But in 1932, she jumped off the H, despondent over a going-nowhere film career.
Entwistle had been a teenaged orphan living in New York in 1923, the year that, down on the flats of Hollywood, the Warner brothers were incorporating their business. It was a year before MGM formed and Columbia Pictures took its name. MGM became the Champagne studio, its productions lavish and dignified. The Warner Bros. took the first big leap into talkies, and then into gutsier, more graphic and realistic sex, gangster and war films.
L.A. loved its movies, of course, but it also voted for the bond issues to build the Memorial Coliseum to honor the dead of the World War and create a "people's playground." In its first year, the Coliseum staged an immense historical-religious pageant called "The Wayfarer." Seven thousand Angelenos appeared as extras — for once, a literal cast of thousands.
1923 held out other promises, too. Ground was broken on the Mulholland Highway, the spectacular scenic road skimming along the crest of the Santa Monica Mountains, ultimately from Hollywood to the sea, meant to be L.A. County's version of the Pacific Coast Highway.
Down the coast from that natural splendor, oil strikes of 1923 would bring in about two-thirds of a million gallons a day. Oil soon joined oranges and movies as a principal Southern California export, putting the "filth" in "filthy rich." (Inconceivably, 99 years later, the city of Los Angeles banned new wells and ordered the phasing-out of old ones.)
And 1923 was the year that the city of L.A. did us all a favor by hiring Merrill Butler. Over the next decade, this man, who studied engineering by correspondence course, was responsible for the nine exquisite bridges that spanned the L.A. River in the years before it was paved. The great Los Angeles architectural historian Robert Winter told me, "The river is nothing, but the bridges are sensational."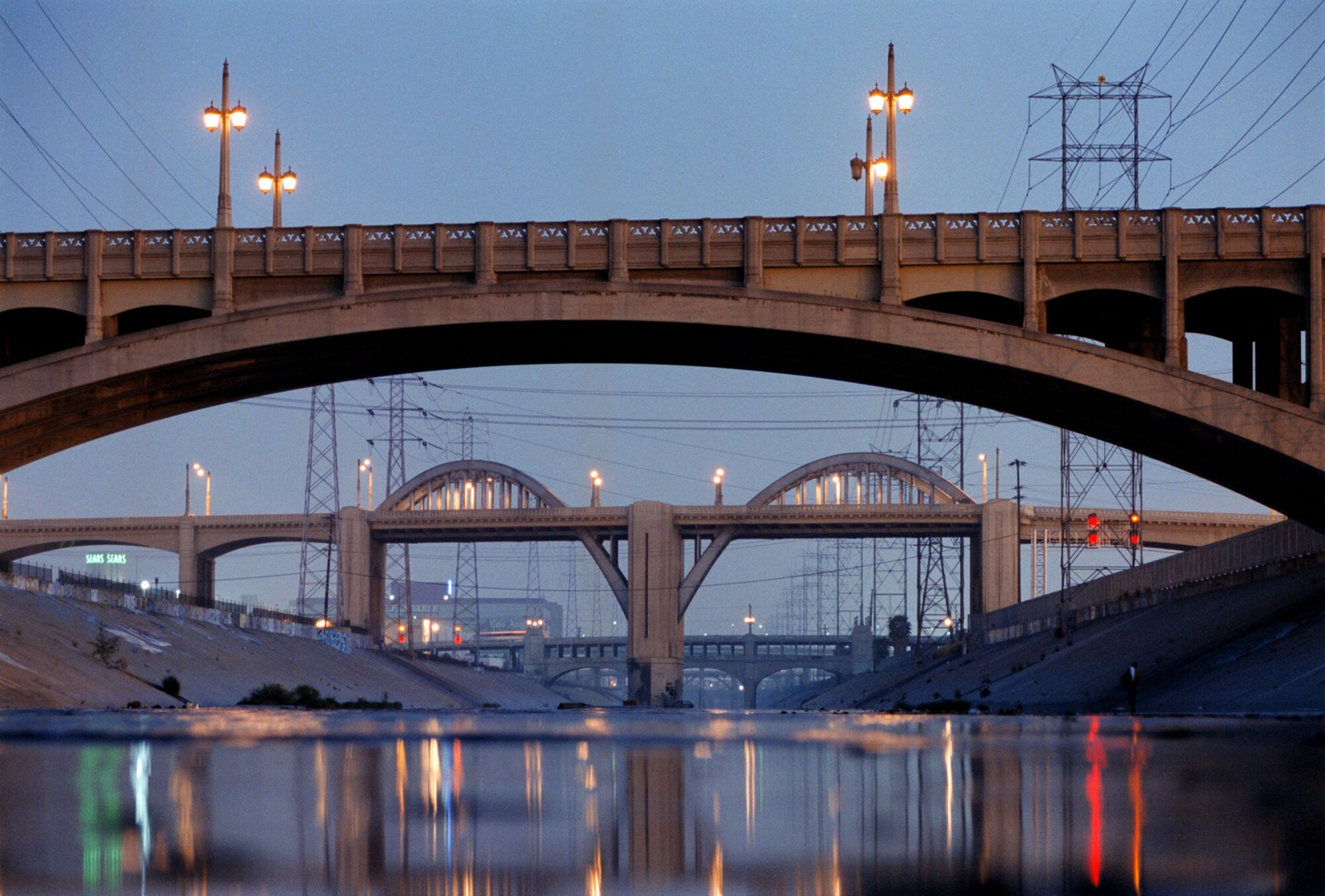 That must have been one hell of a correspondence course.
Butler was a child of the influential City Beautiful movement of the early 20th century, a civic philosophy that believed that beautiful public buildings and spaces helped to elevate people and institutions to be beautiful themselves — aesthetically, socially and morally.
Well, it's a nice thought.
In fact, 1923 L.A. was quite a different place for some of the people who lived in it.
In 1920, the L.A. County population was about 90% white, about 2% Black, with a Japanese population slightly more than that, and about 2,500 Chinese. Not until 1980 was "Spanish origin" a separate census category, so 1920 numbers did not reflect how many Latinos lived here.
By 1923, nearly 75 years after California became a state, the civic profile of Latinos had been marginalized, melded inaccurately into a single population of "Mexicans," as they were officially referred to in the 1930 census.
L.A.'s political and artistic leaders were inclined to sanitize the deep Mexican/Californio historical presence, and repurpose it into a romanticized version of itself. All things Spanish became ranked as superior to all things Mexican, which probably explains why El Cholo served classic Mexican food but called itself a "Spanish cafe."
Yet Los Angeles was some steps ahead of other cities. Angelus Temple's congregations were integrated. The Biltmore showed up in the 1960s in the "Green Book" of places welcoming Black travelers.
And for years after it opened, the Biltmore's bar was a convivial spot for LGBTQ locals. Producer and director Hal Roach had in 1922 debuted his "Our Gang" series of shorts, showing white and Black kids having a ball just being kids together — a radical notion at a time when the resurgent KKK was riding high in some Los Angeles communities.
"Our Gang's" ideal of racially mixed neighbors would have been harder to find in 1923 L.A.'s spreading suburbs. Restrictive covenants and loan practices were already confining the small Black population, and would squeeze even tighter as more moved here. One Times ad for the Hollywoodland development didn't even bother with coded language, exhorting buyers: "Keep the white spot white."
In 1924, among the thousands of Black Americans moving west was a Texas sharecropper family named Bradley. It settled into the Temple-Alvarado neighborhood, a working-class part of town unencumbered by racial covenants, and its lanky, athletic 7-year-old son, Tom, would grow up to be L.A.'s first Black mayor.
But the hubris was bound to hit; the bubble was bound to burst. Some of the ballyhoo turned to boohoo.
Five years after the groundbreaking on Mulholland Highway, the deadly collapse of the St. Francis Dam, which claimed more than 400 lives, forever-after sullied the reputation of the renowned civic engineer William Mulholland.
The oil boom smudged its copybook when the Julian Petroleum swindle, with its Ponzi schemes and watered stocks, took down famous Angelenos and small-time investors. In 1930, a Black man sued seven L.A. restaurants, El Cholo and the Brown Derby among them, for refusing to serve him when he accompanied his elderly, infirm, white employer into the cafes.
The physicist Millikan turned out to have held racist and misogynistic beliefs. When his name was removed from the Caltech library in 2021, Caltech's president noted that Millikan had "lent his name and prestige to a morally reprehensible eugenics movement that already had been discredited scientifically during his time." As Caltech president, Millikan never put a woman on the faculty, and once wrote that giving Black people the vote was "an unthinkable disaster."
The Automobile Club of Southern California opened its magnificent headquarters in 1923, an exceptionally handsome building in the Spanish Colonial Revival style, with a fine courtyard — for cars, of course — and church-worthy ceilings. It is still open for business at the corner of Figueroa and Adams, near USC.
Yet in a wonderful kind of recurring satire on L.A. life and traffic — for they are inextricable — the very next year, that very same corner turned out to be the most congested intersection in the nation. Nearly 70,000 cars passed that building every day, albeit slowly. Very slowly. 1923, welcome to 2023.
Watch L.A. Times Today at 7 p.m. on Spectrum News 1 on Channel 1 or live stream on the Spectrum News App. Palos Verdes Peninsula and Orange County viewers can watch on Cox Systems on channel 99.
https://www.latimes.com/california/story/2023-02-16/hollywood-sign-centennial-los-angeles The Hollywood sign debuted 100 years ago in 1923, the year of L.A.s 'Big Bang'