The late BMX star Pat Casey was honored at this year's X Games
Had it not been for the tragic accident, the three-time medalist would have competed in this year's X Games
BMX star Pat Casey, who died in June after a dirt bike accident, was honored at the X Games in Ventura County over the weekend.
Casey, who was 29 at the time of his death, was a star in the extreme sports world with three X Games medals over the course of a career dating back to his first pro career when he was just 14 years old.
Athletes competing at the Ventura County Fairgrounds last weekend turned out in droves and wore the "Pat Casey Forever" tribute on their t-shirts and competition gear – and Casey's Monster Energy teammates showed tremendous support. Had it not been for the tragic accident, Pat would have competed in the X Games this year.
Waiting for your permission to load the Instagram media.
The fairgrounds were not only littered with t-shirts, but also with stickers and posters from fans all paying tribute to him, as well as loads of medals and crazy stunts dedicated to his memory.
The athlete's family were at the fairgrounds in his honor – and many of the fans in attendance expressed the feeling that they viewed this summer's event as Pat's last appearance at the X Games.
Casey is survived by his wife, Chase Casey, and their children – eight-year-old son Reid, who is already a BMX rider, and seven-year-old daughter Taytum.
On Saturday – easily the biggest day of the Games with over 23,000 spectators – BMX legend Jamie Bestwick observed a minute's silence at the BMX Dirt Run in the presence of the competitors and Casey's family.
Waiting for your permission to load the Instagram media.
"He was driven by his dedication, courage and unwavering drive to prove the impossible was absolutely possible," said Bestwick.
"He knew that the greatest glory in the life of lies is not in never falling, but in getting up every time we fall."
"Pat was a shining example of fatherhood and devotion to a woman and family he truly loved," he concluded. "For Pat Casey: Today we want to go for gold."
When Ryan Williams finally won gold in the BMX Best Trick competition that afternoon, he donated all of his prize money to Casey's family who were in attendance.
Casey won his first X Games medal (bronze) in 2012 when he was just 14 years old. The following year he then won silver. Then, in 2021, Casey finally won a gold medal.
He died on June 6 after losing control of his motorcycle at Slayground Motorcross Park in Ramona, California.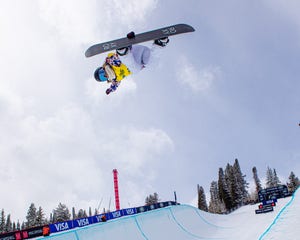 Marcus Skin / Monster Energy
5 Female Monster Extreme Snowsports You Need To Follow Now

view history