The presidential candidates who have so far met criteria to join first RNC debate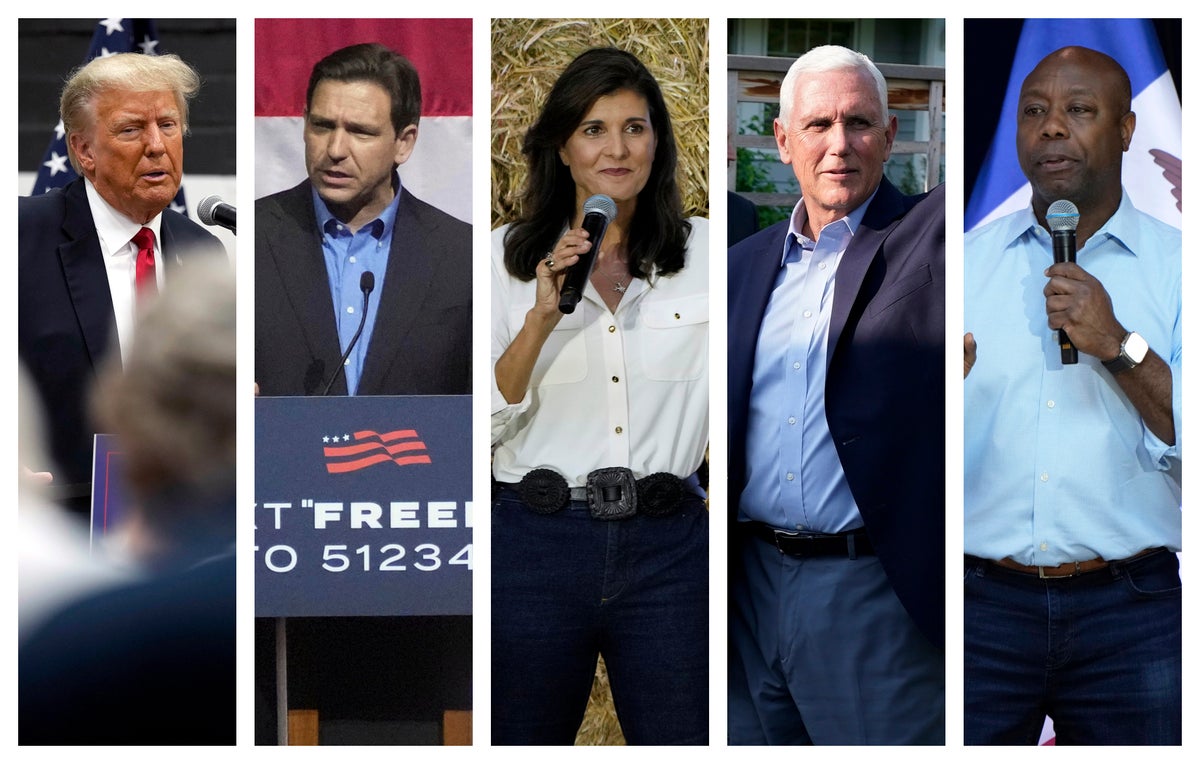 Six Republican presidential candidates have met the Republican National Committee's (RNC) new criteria for participation in the first GOP debate on Aug. 23.
Former President Donald Trump, Florida Gov. Ron DeSantis, former New Jersey Gov. Chris Christie, former South Carolina Gov. Nikki Haley, entrepreneur Vivek Ramaswamy and South Carolina Senator Tim Scott all qualified.
All six nominees have contributed at least 40,000 individual donors from more than 20 states and/or territories to their campaigns and have maintained at least one percent in two national polls and two early state polls.
Last year, the RNC added a list of criteria that candidates must meet to qualify for the first debate as the pool of Republican candidates grows larger each month.
In addition to the 40,000 individual donors and a one percent poll, candidates must also pledge to support the RNC's eventual nominee and are prohibited from participating in non-RNC sanctioned debates for the remainder of the election cycle.
The first debate is scheduled for late August in Milwaukee, Wisconsin.
Currently, Mr Trump is leading in most national polls, but the ex-president said he was unsure if he would participate in the first RNC debate.
In an interview with Fox News, Mr. Trump said, "Ronald Reagan didn't do it, and neither did a lot of other people. When you have a big lead, you don't do it."
Behind Mr Trump is Mr DeSantis, who said he plans to appear for the debate regardless of Mr Trump's decision.
It was believed that Mr. DeSantis was Mr. Trump's closest competitor. However, recent polls show other candidates such as Mr. Ramaswamy and Ms. Haley are catching up with Florida governor.
Mr. Ramaswamy is experiencing a polling boom Voters in New Hampshire said they had an 18 percent chance they would consider him as a second choice. Nationwide, according to surveys, it is 10 percent RealClearPolitics.
On Saturday, Mr Ramaswamy's campaign said he had met the criteria, which he described as "strict but fair".
"I am a first-time candidate who ran with a very small name, no political donors and no pre-existing donation lists," Mr Ramaswamy said in a statement. "If an outsider can clear the bar, so should politically experienced candidates."
Ms Haley is slightly behind Mr Ramaswamy by 14 percent, according to a poll in South Carolina Fox Business Survey, and four percent statewide, according to RealClearPolitics.
Mr. Scott and Mr. Christie both announced last week that they had reached the 40,000 unique donor threshold. Polls show that both candidates are about two percent in statewide polls and six to eight percent in New Hampshire.
While the six candidates qualified on July 24, other candidates can participate in the debate as they have until August 21 to meet the criteria.
Former Vice President Mike Pence is expected to join the group. He told CNN's state of the nation On Sunday, he explained that while he had met the survey criteria, he had not yet won 40,000 unique donors. He said his campaign is working "round the clock" to get there.
"I'm confident we'll be there," Mr Pence said.
North Dakota Gov. Doug Burgum told his Twitter followers that he hit the 40,000 unique donor threshold last week. However, it's unclear if his poll numbers have secured his place in the debate.
Former Arkansas Governor Asa Hutchinson told Good morning America last week that he had not yet reached the threshold of 40,000 donors. National polls show Mr Hutchinson hovering around the one percent mark.