The stigma surrounding Black mental health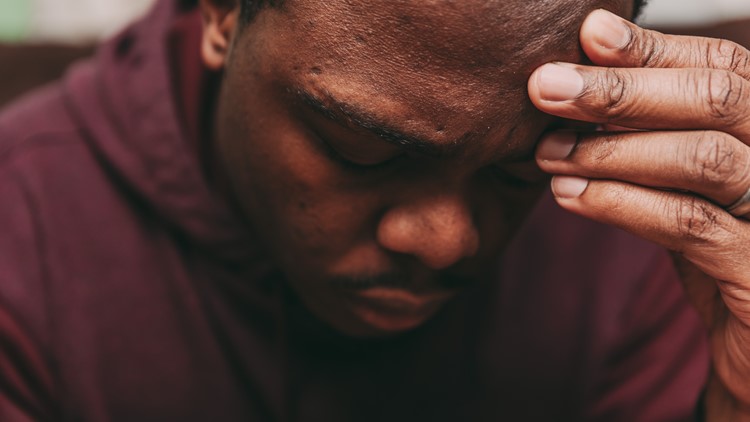 Data shows black Americans are less likely to seek mental health help. Advocates say it's important to address the stigma associated with seeking help.
SEATTLES — Editor's Note: The following story contains descriptions of self-harm. If you or someone you know is in crisis, call the National Suicide Prevention Lifeline at 800-273-8255, text HOME to 741741, or visit Vibrant Emotional Health's Safe Space for digital resources .
The impact of race unrest in recent years has taken a significant toll on mental health, particularly on the black community.
Data from the American Medical Association shows that suicide rates have risen sharply, particularly among young black people.
Over the past two decades, suicide attempts among black men between the ages of 12 and 18 have increased by 79.7%, making black children and adolescents almost twice as likely to die by suicide as white children, according to the Journal of the American Medical Association.
And it's not just children who are at risk. Data shows that the suicide rate among black adults increased by 30% between 2014 and 2019.
However, data shows that black Americans are also less likely to seek mental health help. Advocates say it's important to address the stigma associated with seeking help.
"Your ancestors endured worse"
When Richard Taylor was 10 years old, he attempted to cut fat from his body with a knife.
"I thought what, maybe if I could just shed some fat off my body like it would help me, it would, you know, change my physical appearance in a way that my peers wouldn't bully me anymore," he said Taylor.
When his parents got home, Taylor said they didn't understand the depth of his feelings.
"It has been minimized. It was closed on the basis of, "You're too young to deal with this," or, you know, "Your ancestors got it worse," said Taylor — now a motivational speaker and author.
As Taylor grew up, he seemed outwardly to be growing out of some of his problems.
"I was a standout quarterback in the city of Chicago when I played football. Scholarship opportunities abound," said Taylor. "Any time I felt an immense amount of mental or emotional turmoil, you know, I balanced it with some kind of physical pain."
Ten years later, Taylor's emotional pain led him to turn to self-harm again.
"I was kind of at my wits end that day. That led me to the decision to stab myself in the wrist five times," Taylor said.
Now the word "Love" is tattooed across the scar.
Protests against racial inequality and PTSD
Omari Salisbury understands how easy it can be for a person to reach a breaking point with their mental health.
In the summer of 2020, Salisbury, the owner of Converge Media, was present at almost every protest in Seattle following the killing of George Floyd.
He witnessed the riots, the attacks and the violence firsthand. Salisbury covered protesters on I-5 when a car drove straight into the group.
"I vividly remember a car pulling onto the empty freeway, skirting the barricaded cars, driving straight into a group of protesters, killing Summer Taylor and seriously injuring Diaz Love," Salisbury said.
The trauma of that scene, combined with months of social unrest, pushed Salisbury to his mental limits.
Salisbury made a difficult decision: to take care of his mental health, he stepped down from covering the protests to focus on himself and his community.
"So many people are walking around with so much pain and so much trauma and so much injury," Salisbury said. "Let me help you connect the dots. Let me do my part… that's what I want to do."
Black Americans are less likely to seek help
Black Americans have similar mental health problems as their white counterparts, but they are less likely to seek help, according to the American Psychological Association (APA).
"[Help] is often viewed as an actual weakness," said Dr. Devin Byrd, a psychologist by training and President of Bastyr University. "Black men, historically, there has been a lot of pressure to present themselves as strong and not needing outside help or support."
Taylor said it's an attitude that applies to everyone as they grow up.
"A lot of times it wasn't discussed, you know, we could just say, oh, 'that's just crazy Uncle Billy over there,' right, but we didn't realize that Crazy Uncle Billy really needed help, did we? " Taylor said.
Another obstacle to seeking help is a lack of representation. 84 percent of psychologists are white. According to the APA, four percent are black.
"We need more color therapists. We need more people who are able to resonate with and understand the experiences of communities of color," Byrd said.
"My father and I have a phenomenal relationship. But he didn't really get it," Taylor said.
After Taylor's last suicide attempt in his dorm room, he was able to seek therapy.
Through his work, he hopes to break the stigma of treating mental illness that silently oppresses so many black families.
"We have so many of us who live in silence. And unfortunately, if we live in silence for too long, we can make a decision where we're not here anymore." Taylor said.
Free and subsidized mental health resources:
Open Path Psychotherapy Collective: "Our therapists offer affordable in-office and online psychotherapy sessions ranging from $30-$60 ($30-$80 for couple and family sessions)
2. Black, Indigenous and People of Color Support Group: A weekly peer-led group open to all BIPOC individuals seeking mental health support and connection. Every Tuesday from 5 p.m. to 6 p.m
3. Find a black therapist in Seattle on Psychology Today
4. WA Counselors of Color Network: The Washington Counselors of Color Network serves a range of ethnic clients who need counseling and therapy from providers who understand the specific needs of people of color and diverse cultures.
5. Therapy for Black Girls: Therapy for Black Girls is an online space dedicated to advancing the mental well-being of Black women and girls.
6. Therapy Fund Foundation: Empowering people of color through mental health education and radical self-care.
7. Beam: A collective of advocates, yoga teachers, artists, therapists, lawyers, religious leaders, teachers, psychologists and activists working for the emotional/mental health and healing of Black communities.
https://www.king5.com/article/news/community/facing-race/why-black-suicide-rates-going-up-mental-health/281-c29f6369-7fe5-4274-92e7-c61c5f2e39b3 The stigma surrounding Black mental health