Thieves continue to target Asian community in western Washington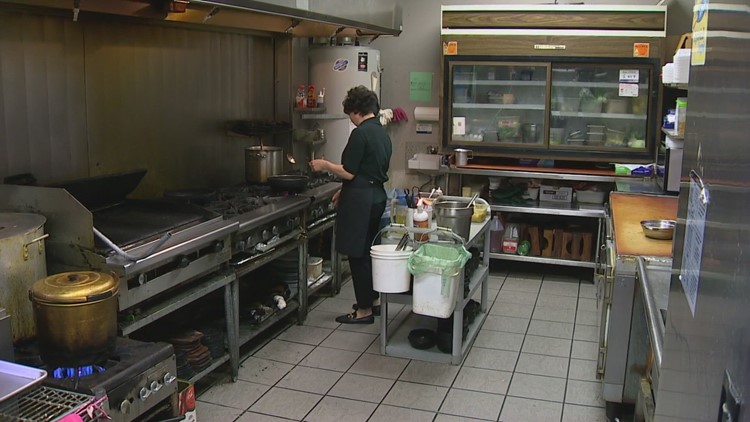 EDMONDS, Wash. — Inme Choi has been cooking at Hosoonyi Korean Restaurant for over a decade.
That's how she and her husband built a strong family, including daughter Sol.
"My parents came here from Korea to create a better place for us," she said. "This is really all they have."
Thieves broke into the restaurant's kitchen door around 3:20 a.m. Thursday.
Surveillance video shows them rummaging through the restaurant. In the end, they stole some electronics, as well as personal and tax information.
They didn't find any cash, but Sol was comfortable with that.
"With all that information, they can easily track down where we live and who knows what after," she said.
That same night, thieves attacked a Savvy Thai restaurant and a nearby Chinese establishment, Dong Ting Chun.
A Taco Time was also stolen.
Break-ins targeting the Asian community have occurred in at least eight cities along the I-5 corridor from Kent to Bellingham.
Many of them are happening in people's own homes. Some were videotaped – the thieves blatantly made obscene gestures in front of the camera before stealing cash and jewelry.
Edmonds Police reports that it is too early to say whether their cases are related, but Sol believes they may be.
"We're all speculating that this has a lot to do with that," she said.
But why target the Asian community?
Sol has a theory based on an old stereotype.
"Many people think Asians are hard-working people. They keep cash in their house or in their pocket. They never deposit. It's all cash, cash, cash," she asserts. .
Police are advising people to install a new security system or upgrade an old one.
Don't leave cash or sensitive documents at your business.
Homeowners should lock valuables in a safe deposit box.
"I worry about the people in my community," Sol said. "They're hard-working people. We're thinking of all of them out there."
Back in Hosoonyi, business continued, but things were not the same.
"You definitely feel offended," said Sol. "When you have a business, you really put everything into it, and overnight, you take it. That's unacceptable."