This England team aren't used to losing – the Lionesses must learn to kick the habit quickly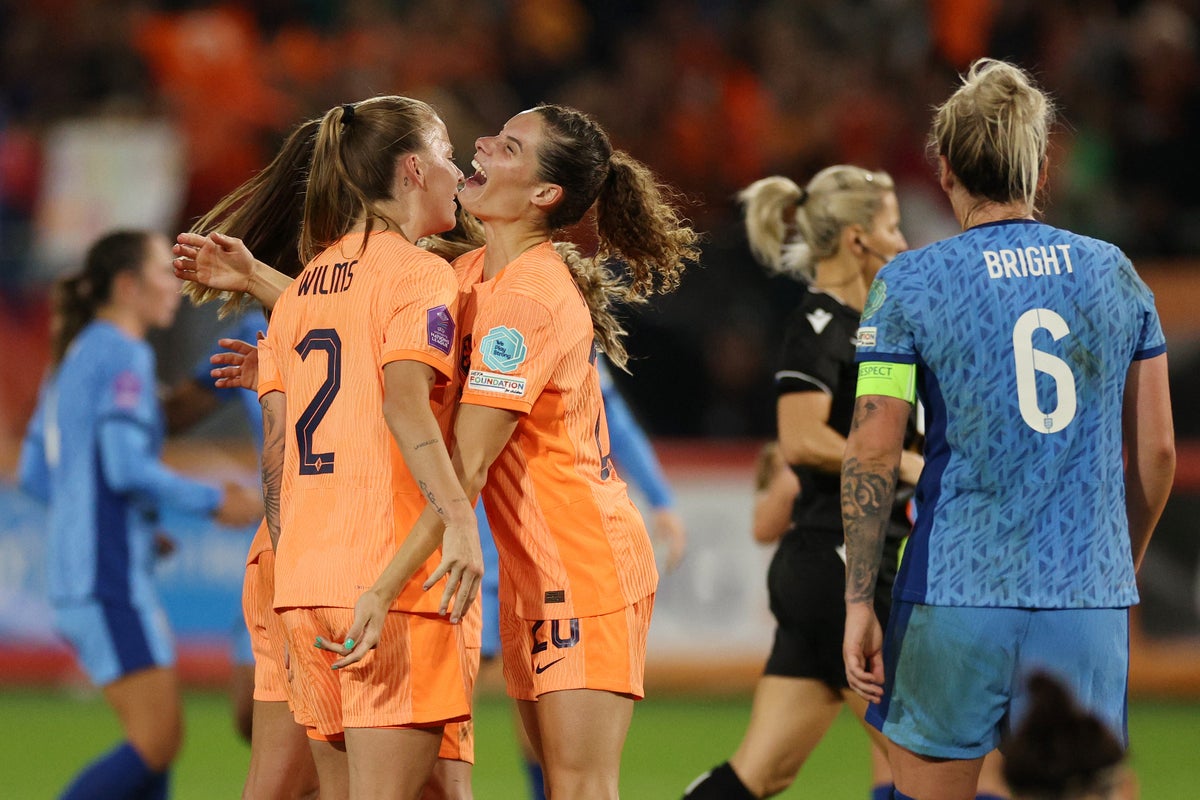 The obstacles on the way to Paris seemed little more than potential. The Netherlands were undoubtedly always going to be the toughest task, but after defeat to Belgium and an early exit from the World Cup, their situation became increasingly precarious. England Women needed to make a statement and circumstances would rarely be more favorable.
At least the Lionesses impressed against Scotland, overcoming the oft-voiced concerns about fatigue. There were some worrying incidents at the start of the Nations League, but they were fleeting at best. You shouldn't pursue it like this.
A 1-2 away defeat poses more questions than answers for Sarina Wiegman. There is no doubt that this team is capable of great moments, but they cannot afford to let getting caught become more and more common.
Within minutes it became clear in Utrecht that this was going to be a tiring evening for the Lionesses. Their passing was erratic, their possession unsettled, their defense inattentive. England lacked any semblance of composure and they had to pay for it.
The Netherlands' pressure was unshakable and their attacking intentions were particularly creative. England maintained their form, but that doesn't matter when the opposition takes every opportunity to force you to relax, bring out your worst tendencies and close gaps.
Cheered on by a boisterous home team – a sea of ​​bright orange that Wiegman was determined to defeat on their return – the Dutch played and made sure they tormented. Caitlin Dijksrtra parried an attempt from Mary Earps, the England goalkeeper leapt highest to concede the corner, but the prevailing feeling as she fell to the ground in a vain attempt to slow the pace was one of desperation.
England took advantage of their luck, but playing like that is always untenable: the Dutch opener was long overdue when it finally came.
Georgia Stanway dawdled at the back and took too long to pass the ball forward, Jackie Groenen took the opportunity. She pounced and dispossessed England midfielder Danielle van de Donk – she was offside in the replay but the lack of VAR gave her a reprieve – collected and spotted Lieke Martens prowling the edge of the penalty area, waiting for her chance. Her precise finish, which rolled into the top right corner, forced the Lionesses into an uphill battle.
At least a slight improvement followed. First Rachel Daly shot a volley at Daphne van Domselaar's goal and failed to hit the post, then Van Domselaar had to show her skills and make a great double save to keep out Lauren Hemp and Lucy Bronze.
But Wiegman knew something was still wrong – even if her usual stoic body language refused to admit any concerns. Something had to change and in moments like these it certainly helps England to have a master tactician at the helm.
Daly made way for Chloe Kelly, the back three were abandoned in favor of a safer back four and from the first moments of the second half it seemed like they had the perfect Sherpa for the English, although England's uphill battle was looking more and more like a mountain task.
Hemp began to bombard the defense in a way she hadn't been able to, while Kelly repeated that intention on the opposite flank. The game returned to balance and Alessia Russo, back in the team after overcoming a problem that kept her out against Scotland, came to the rescue – or at least that's what the Lionesses had hoped.
Stanway was played by substitute Kelly, she shot the ball over the goal and when Dominique Janssen deflected it slightly into the air, it found Russo. These opportunities are everything to her and she was on hand, charging into the same corner where Martens drew first blood.
England found their way back, but little more could come of it. They couldn't capitalize and had to pay. Andries Jonker reshuffled his Dutch team and got the better of his country's former coach as England tired.
Again the opponent was careless and Alex Greenwood passed the ball sloppily to Martens. She fed Renate Jensen and Earps was beaten at her near post. Within 90 minutes, England became the architects of their own downfall.
After the first two games, England is level on points with the Netherlands in their Nations League group. They must not revert to their increasingly erroneous ways when they welcome Belgium to Leicester next month.
There were warning signs at the World Cup when England were sloppy, but for the most part the Lionesses were able to capitalize on their luck on the big stage. The problems have been resolved by reaching the final, but it is clear that these tendencies still exist.
Experimenting with a back three was a double-edged sword and the formation question remains largely unanswered: both have their advantages, both have their disadvantages.
The particular way Wiegman sorts through the problems on this site is less important than the quick fix. They managed to stop the rot that had begun before the World Cup; Team GB's Olympic hopes rest on preventing it from leaking out again.