Toews scores winner, Avs rally to tie series with Kraken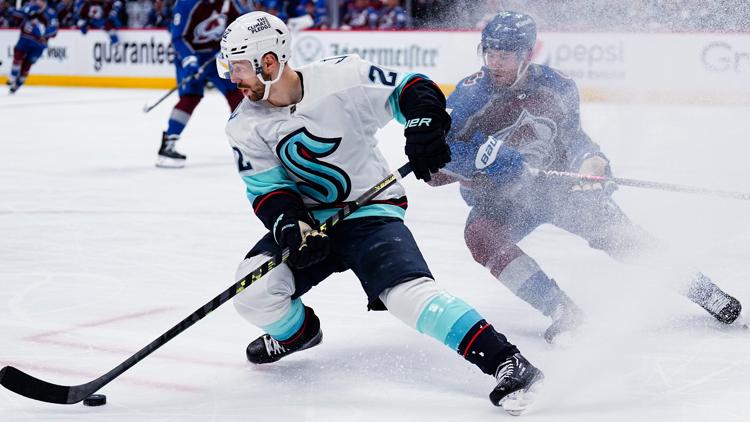 Game 3 of the best-of-seven series takes place in Seattle on Saturday.
DENVER — Devon Toews scored with 7-01 left to end Colorado's rally two goals down as the Avalanche defeated the Seattle Kraken 3-2 on Thursday night to even their first-round streak at one game apiece.
2-0 down in the second period Artur Lehkonen and Valeri Nichushkin scored 48 seconds apart to level the game. It set the stage for Toews, who scored a rebound for the defending Stanley Cup champion.
Justin Schultz and Brandon Tanev scored for a Kraken team that got off to a flying start again after a 3-1 win in Game 1.
Alexandar Georgiev was tested all night and ended up with 27 saves. One of his top stops was in the Final seconds of the second period with Seattle in a 3-on-1 break. A pass was sent to Jordan Eberle, but an outstretched Georgiev prevented the hit with his outstretched right leg.
Game 3 of the best-of-seven series takes place in Seattle on Saturday.
Philipp Grubauer stopped 38 shots against his former team. He spent three seasons in Colorado before signing with Seattle ahead of the 2021-22 season.
The Avalanche vowed to play more intensely and decisively. But it was the Kraken that controlled the early pace. The Seattle defense found a way to contain Nathan MacKinnon and his speedy cast — until the second half.
That's when Colorado made its move. Lehkonen and Nichushkin revived the sell-out crowd by scoring 48 seconds apart. Last season, Lehkonen played a part in a two-goal sprint over a 15-second span when he and Josh Manson scored in Game 2 of the Western Conference Finals.
MacKinnon almost scored on a mini breakaway midway through the third. Grubauer stopped his shot and stumbled into goal as the puck trickled down the side of the net.
For the second game in a row, the Kraken scored early. This time it was the result of a 2-for-1 break, with Schultz sending the puck through Georgiev's cushions. The Kraken were 32-7-3 in the regular season when they scored the first goal.
Injuries continue to pile up for the Avalanche, with defenseman Jack Johnson and forward Andrew Cogliano sidelined for a second straight game. In the middle of the third third, Lars Eller slammed into the gang and fought his way onto the bench.
Colorado fielded 43 different players in the regular season, the most in a season since the Avalanche moved to the city prior to the 1995–96 season. One of the biggest absences was captain Gabriel Landeskog, who has not played all year due to a knee injury.