Toni Morrison's wisdom guides "The Bluest Eye" from A Noise Within
Toni Morrison's unwavering wisdom brings not only meaning but drive to the stage adaptation of her first novel, "The Bluest Eye," now available from Pasadena's An inner noise until September 24th.
Morrison conceived her story in novelistic form, jumping back and forth freely between past and present. Playwright Lydia R. Diamond's dramatization does not force the book into a dramatic formula. Instead, she respects the fluidity of the story and maintains an openness of form that allows director Andi Chapman to powerfully bring the novel's essence to the stage.
"The Bluest Eye" tells the story of a kind of friendship between teenage schoolgirls, two sisters and a fellow student whose private life is turbulent. Pecola's self-esteem is irreparably damaged by the abuse she suffers in a society that promotes racist beauty ideals that have made her feel like an unlovable person. This retrospective story, a memoir, is largely set in 1940s Ohio.
Claudia (Kacie Rogers) and her sister Frieda (Mildred Marie Langford) were asked to welcome Pecola (Akilah A. Walker) into their home after Pecola's house burned down. Pecola's parents are constantly arguing. Her mother, Mrs. Breedlove (a powerful Julanne Chidi Hill), has run out of patience with her husband Cholly (Kamal Bolden), who drunkenly lies around the house all day and behaves unpredictably abusively.
The outside world no longer welcomes Pecola. Everyone seems to shy away from this young woman, who is dark-skinned, and she has internalized the rejection. She prays that God would give her blue eyes and believes that if she looked like Shirley Temple, she would be treated with loving-kindness instead of indifference.
Not even the neighborhood grocer will acknowledge her greeting when she comes into his store to buy her favorite sweets. Claudia, acting as narrator (handled expertly by Rogers), comments on the moment for us: "It's a complete lack of human recognition, a glassy disconnect just behind his eye. Pecola has seen interest, disgust and even anger in the eyes of grown men. But this vacuum has an advantage. A hint of disgust lurking in the eyes of all white people. The dislike is for their blackness."
Claudia and Frieda remember Pecola to find out what happened to their lonely, ostracized friend who was impregnated by her alcoholic father. Claudia knows that before the why of the story can be considered, the how must be recorded in all its seemingly trivial, yet crucially relevant, details.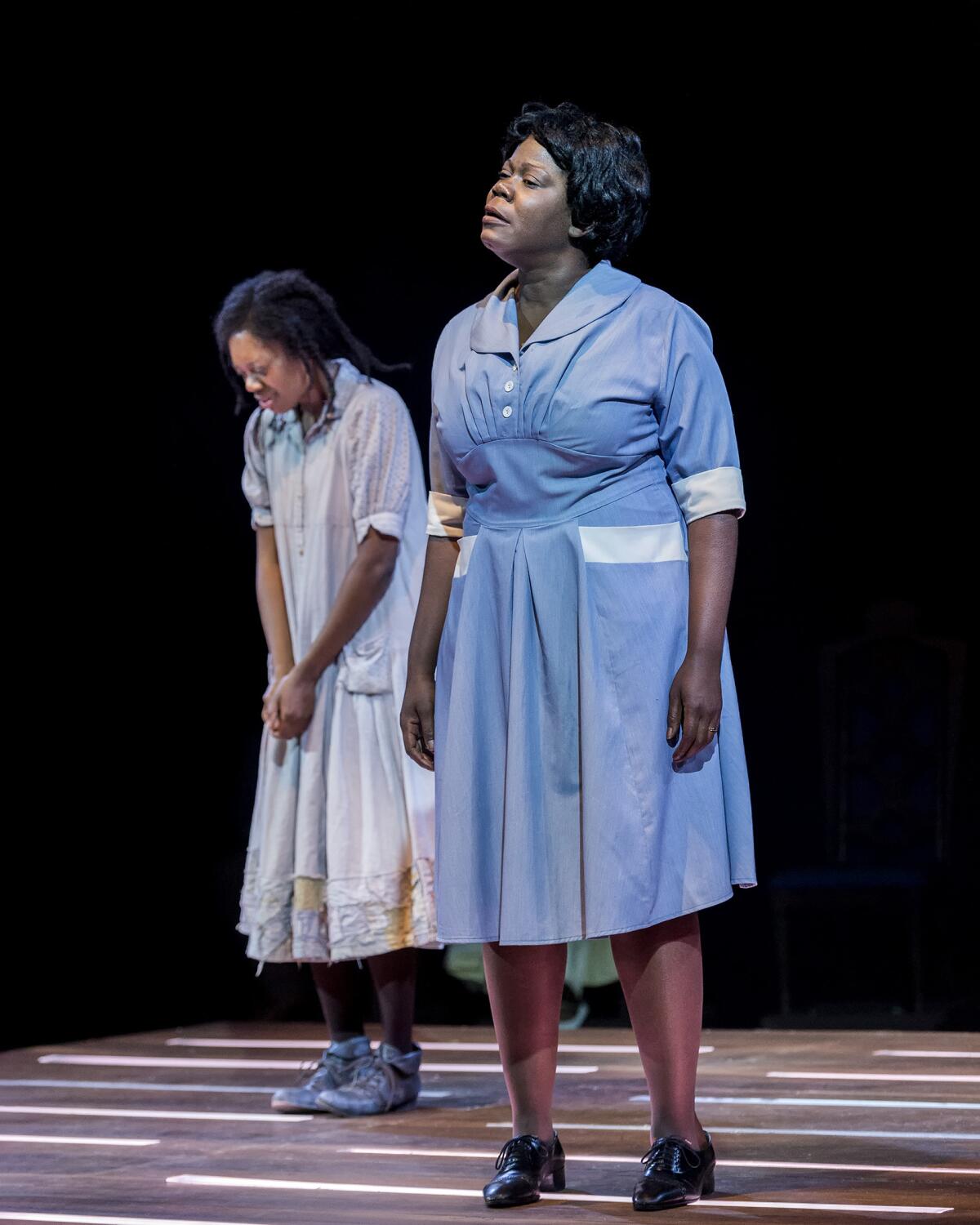 "The Bluest Eye" traces insidious interpersonal racism with a microscopic focus. Morrison connects the dots between a black girl's casual dismissal in a grocery store and a mother's rejection of her daughter whose face reminds her too much of her own.
The play, like the book, unfolds in scenes of raw, unforgettable liveliness. A scene is devastating not only for its psychological cruelty, but also for its forensic analysis of how the poison of white supremacist thought trickles down.
We've already seen the girls at school confront Maureen (Alexandra Metz), the pretty, light-skinned girl whose superficial kindness barely disguises arrogant privilege and superiority. But when Pecola shows up with Claudia and Frieda at the house where her mother works, the racial and class hierarchies collapse on her.
Pecola is amazed not only by the wealth and opulence of this white family that employs her mother, but also by the care her mother gives to the white child, portrayed on stage by a creepy doll. After Pecola accidentally knocks over the lovely blueberry pie her mother made for the family, her mother scolds her mercilessly, angering the white child, who comforts Mrs. Breedlove as she would never comfort her own child.
Who were these girls, the white child asks anxiously. "Nobody" is the devastating answer.
The production asks us to engage with Morrison's radioactive words and insights and reflect on the story in a public forum. Schools have banned the book, but those who make such stupid decisions should be forced to go back to school to get the education that apparently never existed the first time.
I reread the novel shortly after Morrison's death in 2019 and was grateful for a renewed encounter with this American classic, as harrowing as it can be in its resolute truthfulness. Experiencing "The Bluest Eye" with an audience forces a different kind of reckoning. There is no hiding from the social shame that Pecola's story brings.
The episodic nature of the work extends the ending. But then Pecola's unfortunate story is not allowed to receive any relief. Exploitation and manipulation follow abuse. Walker's performance preserves Pecola's trusting innocence. The world keeps saying no to her, but she still turns her face in the hopeful expectation that one day she will be greeted with compassionate humanity.
"The Bluest Eye"
Where: A Noise Within, 3352 E. Foothill Blvd., Pasadena
When: Fridays 8 p.m., Saturdays 2 and 8 p.m., Sundays 2 p.m. (Note exceptions.) Ends September 24th.
Tickets: Start at $29
Contact: anoisewithin.org or (626) 356-3100
Duration: 1 hour, 45 minutes (no break)