Travis Ikeguchi spewed anti-LGBT+ hate online. Then he murdered Laura Carleton over a Pride flag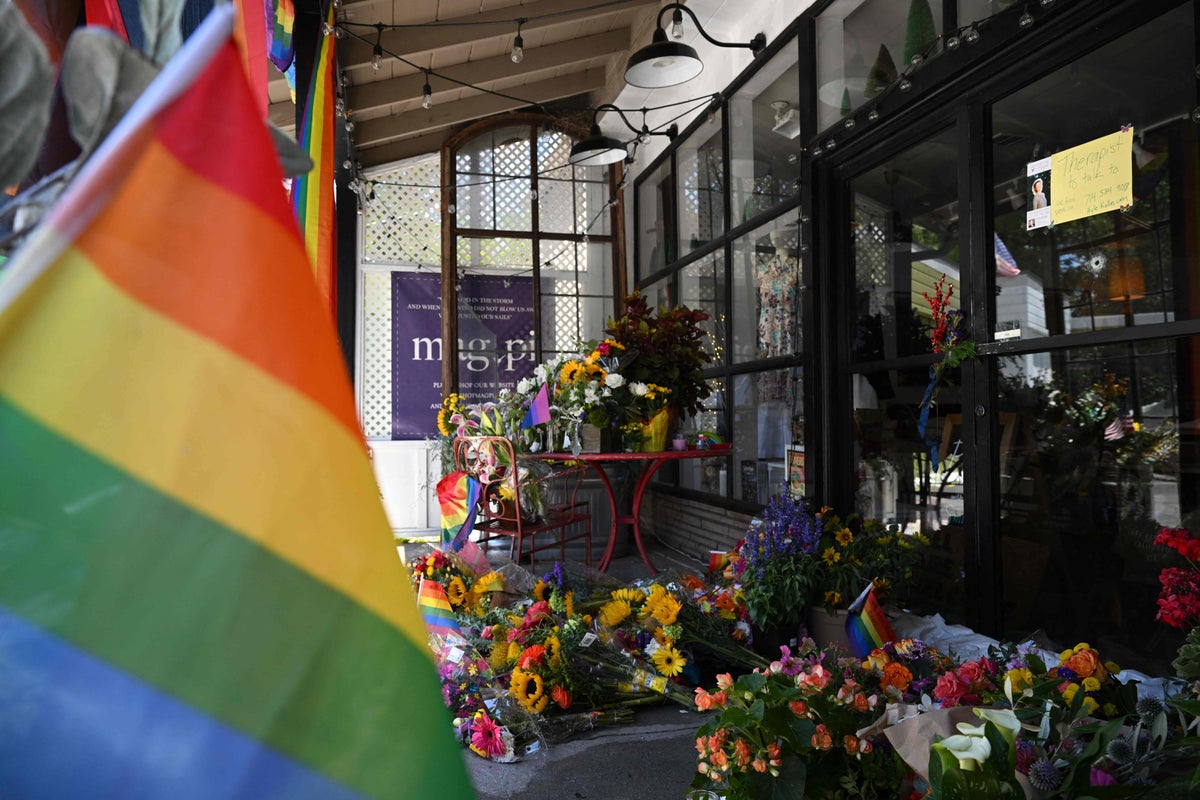 TRavis Ikeguchi has been posting anti-LGBT+ content on social media for quite some time.
Behind his keyboard, the 27-year-old Californian published images of burning Pride flags and violent attacks on the LGBT+ community and law enforcement agencies.
He then emerged from behind his online persona and murdered a fashion entrepreneur, mother of nine, over the Pride flag she dared to hang outside her own store.
According to San Bernardino police, Ikeguchi went to the Mag.Pi store on Hook Creek Road, which was owned by Laura "Lauri" Ann Carleton, on Friday.
He confronted her with the rainbow flag, tore it down and shouted homophobic slurs at her. He then pulled out a gun and shot the 66-year-old.
When officers arrived at the scene, they found that Carleton had sustained a single gunshot wound before dying in the street.
By this time, Ikeguchi had fled the scene before being tracked down by police.
A standoff ensued and he opened fire on the officers before being shot dead by police forces.
Carleton's senseless murder has since prompted an outpouring of grief and anger from her children and family members, Hollywood stars and members of the LGBT+ community, who have warned that her killing is a sign of the anti-LGBT+ hatred currently rampant in the US is spread.
Now officials have confirmed the killer made anti-LGBT+ comments on social media.
At a news conference Monday, the San Bernardino County Sheriff's Department said that Ikeguchi — from Cedar Glen, California — has written many posts online critical of the LGBT+ community and law enforcement.
Public Relations Officer Mara Rodriguez said the posts were made on several different social media platforms, including X, formerly known as Twitter, and the far-right platform Gab.
"The content of Ikeguchi's social media posts included posts that were critical to the LGBTQIA community," the official said.
Accounts on X and Gab under Ikeguchi's name, verified by the independent, appear to be consistent with the hate posts that the authorities are referring to.
In a June 13 post pinned to the top of the X account, Ikeguchi appeared to post a picture of a flaming rainbow flag.
"What to do with the LGBTQP flag?" The creepy post had a caption.
In another June 28 post, the user targeted same-sex marriage and abortion.
"Abortion and same-sex marriage are both immoral and aim to gradually destroy humanity," the tweet reads.
"So if someone is pro-abortion and pro-LGBTQP, they are at war against the foundation of family values. —Travis Ikeguchi 6/23/2023 6:39 am."
In a post the same day, he revealed an ingrained paranoia about law enforcement.
"Don't follow their traps, they want to know everything about you in order to catch you and use you against you in court and spread lies about you. Watch out for their sociopathic machinations," the post reads.
Over on Gab — the site popular with far-right figures — the account believed to be owned by Ikeguchi regularly peddled anti-LGBT+ and anti-law enforcement rhetoric.
A harrowing post shared on Friday — the day of Carleton's assassination — said: "America needs to repent for many things we allow; Abortion/baby killing, sexual immortality, pornography, same-sex marriage, LGBTQP/pedophilia, Freemasonry, religiosity, politics, wars, colonialism, the Federal Reserve."
The anti-LGBT+ content already stretched back two years, with a 2021 post stating: "We must stop compromising on this LGBT dictatorship and not allow it to take over our lives!" "
In another violent post, also from 2021, the user spoke of the killing of police officers.
"I know it's controversial for me to mention the possibility of killing a cop, but these cops are not servants of the people, they are servants of the law," the post reads.
The Independent has asked the San Bernardino County Sheriff's Department for comment on the accounts.
A sheriff's spokesman told NBC News that Carleton's murder is currently under investigation as a hate crime.
The California community has been rocked by the murder of the mother of nine, at a time when right-wing anti-LGBT+ rhetoric is mounting.
Friends said that since the store opened two years ago, Carleton has faced people tearing down the Pride flag that hung outside her clothing store in Cedar Glen.
But the well-known LGBT+ ally didn't give up and just bought a new flag and hung it right back up.
Nobody expected that her bravery in the face of hate would end with her brutal murder.
Their daughters Ari and Kelsey posted a statement on Instagram, saying their mother – who was married to husband Bort for 28 years – was "murdered because of a Pride flag she proudly displayed on her shop front."
They remembered her as a "fearless, cool and compassionate" person.
"Make no mistake, this was a hate crime," they wrote.
"We find peace in knowing that she passed away quickly in a place she cherished, doing what she loves while fiercely defending something she believes in. She was fearless, cool and compassionate — she always put others first," the post reads.
"We are overwhelmed by the love and support our family has received from loved ones and strangers alike. She has brought hope and light to our darkest days. We will continue to stand for love, equality and acceptance in everything we do. Love will always triumph over hate."
Many other friends and Hollywood celebrities shared her feelings.
Hollywood director Paul Feig, whose works include bridesmaids And The heatHe posted a tribute to his very close "wonderful friend" on Sunday.
"We are all devastated for her husband Bort, her family and the LGBTQ+ community for which Lauri has been a true ally," he wrote.
"This intolerance has to end. Anyone who uses hateful language against the LGBTQ+ community needs to realize that their words matter and that their words can lead to violence against innocent, loving people.
"Let us all keep moving forward with tolerance and love. Let's not let Lauri's tragic death go to waste."
Sex and the City Actress Kristin Davis, Star Trek actor George Takei and Jamie Lee Curtis also echoed those words.
Meanwhile, outside the shop where she was killed, family, allies and community members showed their own defiance in the face of hatred.
Several rainbow flags are now proudly displayed alongside flowers, cards and photos of the popular shop owner and mother of nine.