Truex Jr. wins NASCAR's return to Los Angeles Memorial Coliseum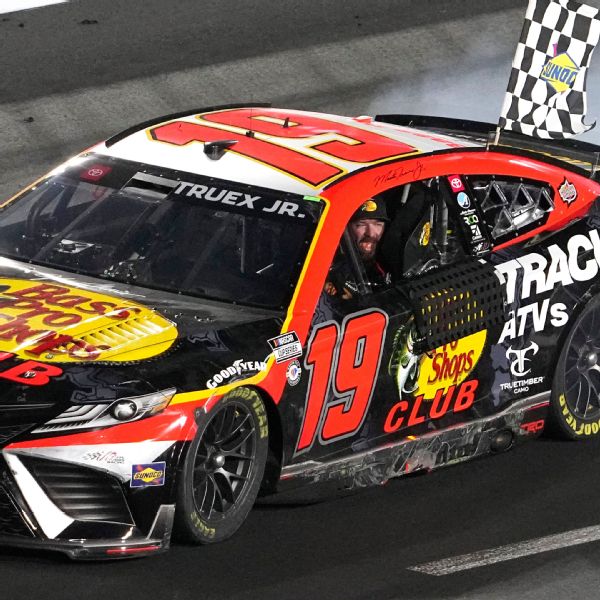 LOS ANGELES — Martin Truex Jr. won NASCAR's return to the Los Angeles Memorial Coliseum for the season-opening exhibition race — a sloppy Sunday night extravaganza where Wiz Khalifa's halftime show might have been the most entertaining part of the event.
Truex took the lead with 25 laps to go in the Busch Light Clash, a 150-lap race that was moved from Daytona International Speedway to the Coliseum last year. NASCAR built a temporary quarter-mile track inside the iconic venue in a bold attempt to try something radically different.
Last year's race was seen as an overwhelming success due to the new fans drawn to the event and excitement at the progressive approach to creating a brand new type of race.
NASCAR knew it would be difficult to repeat that success on its return, and Sunday's race wasn't great – there were 25 cautions and laps under yellow didn't count. In last year's race there were only five warnings.
"Last year's show was relatively clean in my opinion and good racing, some hits, some hits, but we were able to go green flag for long stretches," said Kyle Busch. "Today was, I would call it a disaster, with everyone's disrespect just getting mixed up.
"But it's a quarter mile. It's a close quarter race. Actually, that's how it should have been last year, so we were treated to a good show the first year. Maybe that was just normal."
Truex, who was contemplating retirement in last year's winless season, put Joe Gibbs Racing on the winning track to start 2023 after a terrible end to last year. Coy Gibbs, who essentially ran his father's racing team, died in his sleep the night before the November season finale. Gibbs' death came just hours after his son Ty won the NASCAR championship in the second-tier Xfinity series.
"Last year was a pretty tough season for us with no wins and to come out here and start it like that makes me really proud of all these guys," Truex said.
Austin Dillon and Busch finished second and third for RCR on his debut for Richard Childress Racing. They joined Truex on a podium for a NASCAR inaugural medal ceremony held beneath the Colosseum's famous peristyle.
Alex Bowman and Kyle Larson finished fourth and fifth for Hendrick Motorsports and Tyler Reddick was sixth on his debut for 23XI.
Ryan Preece was leading 43 laps in his debut race for Stewart-Haas Racing until a late electrical issue sidelined him. Before Sunday evening, Preece had led a total of 25 laps in 115 cup races in five seasons. Preece was seventh.
Bubba Wallace was dominant early on for 23XI but spun off Dillon late and then rammed him to show his displeasure. He finished 22nd after leading 40 laps.
The format of the Exhibition Clash included heat races and two 50-lap last-chance qualifiers to help the drivers reach the 27-car field. Three drivers from each of the LCQs advanced: Michael McDowell, Christopher Bell and Todd Gilliland advanced from the first race, and Chase Elliott, Ty Gibbs and AJ Allmendinger advanced from the second.
Those unable to compete in the main event were Brad Keselowski and RFK Racing teammate Chris Buescher, The Wood Brothers' Harrison Burton, Spire Motorsports' Corey LaJoie and Ty Dillon, Rick Ware Racing's Cody Ware and JJ Yeley, Ricky Stenhouse Jr from JTG Racing and BJ McLeod from Live Fast Motorsports.
The Cup Series opens a week beginning Wednesday at Daytona International Speedway to begin preparations for the season-opening Daytona 500 on February 19.
https://www.espn.com/racing/story/_/id/35596444/truex-jr-wins-nascar-return-los-angeles-memorial-coliseum Truex Jr. wins NASCAR's return to Los Angeles Memorial Coliseum