Turang drives in go-ahead run, Brewers defeat Mariners 5-3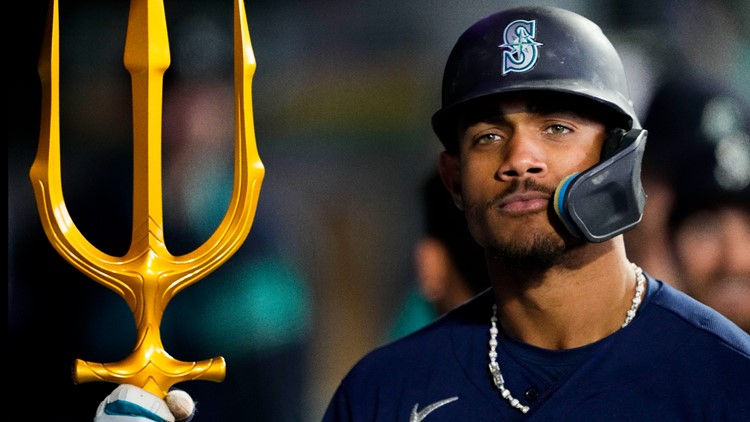 Mariners starter Marco Gonzales also had a strong showing, with nine strikeouts and four hits allowed over six innings in his first start since April 8.
SEATTLE (AP) — Eric Lauer allowed just four hits over 7 2/3 innings, and Brice Turang hit a go-ahead single and scored in a five-run seventh as the Milwaukee Brewers clinched a three-game Sweep completed Wednesday's 5-3 win over the Seattle Mariners.
Julio Rodríguez hit a two-run homer against Lauer (3-1) in the third inning, but that was all Seattle could muster against the Brewers left-hander, who didn't give up another hit until the eighth.
"We got a really great pitching performance from Eric Lauer," said Brewers manager Craig Counsell. "There are days when you get into the park where you really need your starter and the length of it is really important. (Lauer) delivered a jewel, I thought. He made a lot of pitches today. Getting so deep into the game was definitely sorely needed."
Mariners starter Marco Gonzales also had a strong showing, with nine strikeouts and four hits allowed over six innings in his first start since April 8.
Gonzales was drawn after allowing William Contreras and Jesse Winker back-to-back singles to open the seventh inning. Right-hander Matt Brash (1-2) came on in relief, allowing back-to-back singles for Brian Anderson and Luke Voit to give Milwaukee its first run.
Turang put Milwaukee ahead with a two-run single and scored on a pinch-hit two-run single by Rowdy Tellez to give the Brewers a 5-2 lead.
"(Gonzales) played well but it wasn't the end of the game," Turang said. "We went out there and competed. You can't get at-bats into at-bats and I thought we did a phenomenal job after obviously struggling a bit. We came back and competed and we won."
Jarred Kelenic rode a base-loaded single in a run for Seattle in ninth place, but Matt Bush grabbed the final two outs for his first save of the season.
Lauer was credited with the win, and Brash was credited with the loss.
"Really disappointing run," said Mariners manager Scott Servais. "I thought as we got into the series, we started to turn the corner and play better baseball. But consistent offensive, pressure on the starting pitcher, that was the key to the game today.
The win marks the Brewers' first win in Seattle since September 1989, when the Mariners played at the Kingdome.
"Obviously it's fun when you win, but I think we have such a tight-knit group in this clubhouse that I think we're definitely going to have fun," Lauer said. "I think we're good enough to win a lot, so hopefully we'll continue to do that."
Jose Caballero's third-inning double was the first of his major league career. … Brewers rookie Blake Perkins made his major league debut as a seventh-inning pinch runner … Left-handed reliever Tayler Saucedo threw a scoreless inning on his Mariners debut.
Brewers: Placed by Garrett Mitchell on the 10-day IL with a left shoulder subluxation and recalled by Blake Perkins of Triple-A Nashville.
Mariners: RHP Andrés Muñoz (shoulder) was feeling fine after a bullpen session on Tuesday and will soon be returning to rehab. Servais expects Muñoz to complete two to three rehab trips before rejoining the team.
RHP Freddy Peralta will play for the Brewers against Boston on Friday. Peralta is 2-1 with a 3.18 ERA in three starts.
The Mariners start Friday with RHP George Kirby against St. Louis. Kirby allowed two earned runs over 6 1/3 innings against Colorado on Saturday to earn his first win of the season.