Two Houston Cougars wide receivers fight on sideline during home loss to Kansas Jayhawks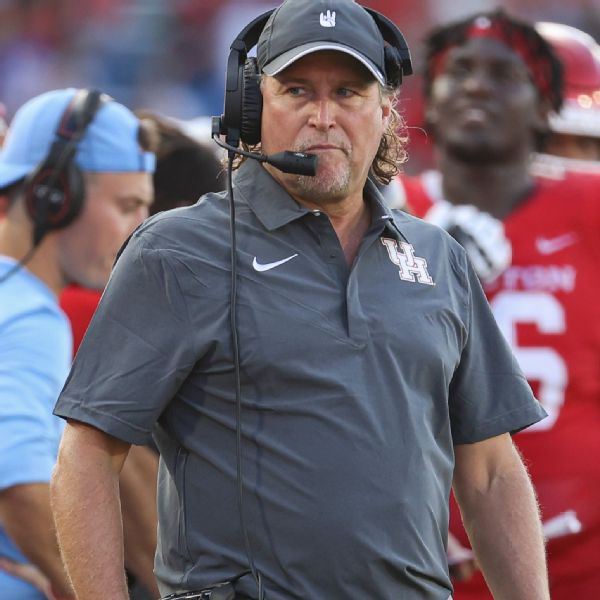 HOUSTON — Two Houston Cougars were involved in a fight on the touchline Saturday during a frustrating, penalty-filled 48-30 loss to the Kansas Jayhawks.
"It's unacceptable and you're not going to win games like this if you do that," said Houston coach Dana Holgorsen, whose team had 10 penalties for 73 yards. "And it's my job to keep harping on that."
At 11:45 in the third quarter, following a Houston penalty, wide receiver Joseph Manjack IV approached Sam Brown Jr., also a wide receiver, on the touchline and pushed him to the ground as Brown grabbed Manjack's face mask. Teammates and employees rushed to quell the commotion. The Jayhawks were leading 28-14 at the time.
"Manjack took it upon himself to go there and confront Sam, which is not the right thing to do," Holgorsen said. "He was absolutely wrong and shouldn't have done it and knows it and felt bad about it."
Houston (1-2) ended up in the loss by 446 total yards but let slip a 14-0 lead at home against a team that will be conference rivals in the Big 12 next season.
"There's a lot of finger pointing," said Holgorsen. "I was substituted. We were substituted offensively and defensively. Put it on me. We have a lot to do."
Manjack had three catches for 25 yards in the loss. Brown recorded no reception.
"Two minutes later (Manjack) hugged it with Sam, and those guys are buddies," Holgorsen said. "And he apologized."
The Cougars went into the season with hopes of reaching a Six Bowl by New Year's Eve, but that achievement looks small after back-to-back losses. Houston will host Rice next Saturday.
The Associated Press contributed to this report.
https://www.espn.com/college-football/story/_/id/34614036/two-houston-cougars-wide-receivers-fight-sideline-home-loss-kansas-jayhawks Two Houston Cougars wide receivers fight on sideline during home loss to Kansas Jayhawks