Two women harassed while walking dogs at Seattle Center within 24 hours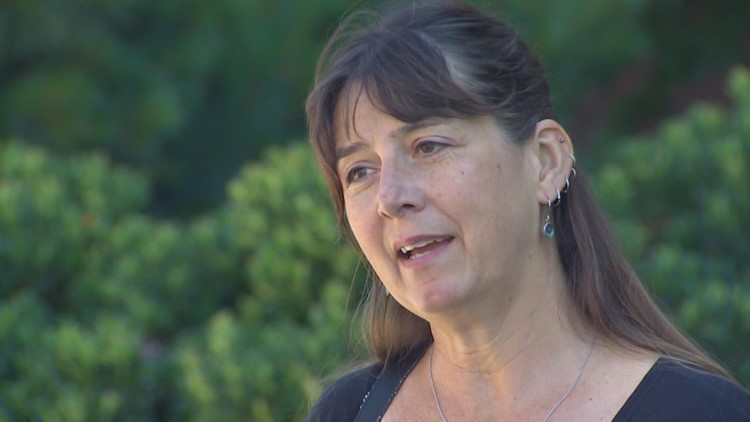 In less than 24 hours, two different women said they faced a frightening encounter at the Seattle Center.
SEATTLE — In less than 24 hours, two different women said they faced a frightening encounter at the Seattle Center. Both were walking their dogs when they said a man approached them and started yelling at them derogatory.
Police confirmed they are aware of and are investigating these two separate reports.
The Seattle Center grounds are packed with people strolling and children playing while the iconic Space Needle watches over them.
"You kind of rely on it. You know there's a bunch of people. They're safe," said Anna McAlister of Seattle.
For McAlister, who walks her dog an average of 5 miles a day, walking has always been peaceful.
That sense of security was shaken for her on Tuesday morning when a man first exposed himself to her.
"I quickly looked away and walked up the path," she said.
The man followed her and whispered something to her. She said she tried to get to safety and even put her hand in his face to tell him to stop. He exposed himself again for no reason.
"He yelled a really scary sexual threat behind me and called me a B—-," McAlister said.
McAlister was eventually able to ask a young couple to go with her and called the police. She also posted on the Nextdoor app. There she saw a post from another woman from the previous evening.
"She described the exact same man who was attacked by him and physically assaulted the night before," McAlister said.
On Monday night, a woman wrote that she was walking her dogs and a man started shouting derogatory comments about her perceived sexual identity and slapped her in the face. The SPD informed me that someone has been identified in this second case and that charges of assault are to be brought soon.
The two women believe they were assaulted by the same man, but SPD says it's too early in the investigation to say.
The SPD and Seattle Center said reports of assault and harassment show the same trend as 2021. The Seattle Center said they are also investigating these incidents and they appear to be isolated. The center averages 1.2 attacks per month, and most of these are attacks on their security officers.
Police said it's important, like McAlister, to try to find safety and call 911 immediately if anyone is in a similar situation.
TIED TOGETHER: Watch KING 5's Top Stories playlist on YouTube
https://www.king5.com/article/news/local/seattle/two-women-harassed-at-seattle-center/281-4163ffc5-e088-42f2-85e2-eaf12b81dfef Two women harassed while walking dogs at Seattle Center within 24 hours