Tyre Nichols case: 5 Memphis police officers in custody, charged in man's beating death
MEMPHIS, Tennessee– The five Memphis police officers fired in connection with the death of Tire Nichols during a traffic stop Jan. 7 were taken into custody Thursday and charged with murder, Shelby County, Tennessee jail records show.
The Memphis Police Department last week identified the officers as Tadarrius Bean, Demetrius Haley, Emmitt Martin III, Desmond Mills Jr. and Justin Smith. All five were booked into prison.
Charges against the officers were not publicly disclosed.
The Shelby County District Attorney's Office has announced a news conference at 2:00 p.m. local time.
This is a breaking news update. A previous version of this report can be found below.
Tire Nichols, the black man whose death this month at the hands of five Memphis, Tennessee police officers sparked national outrage, suffered from "profuse bleeding caused by severe beatings," according to a preliminary independent autopsy commissioned by the family became".
"The injuries he observed are consistent with what the family and attorneys saw on video of his fatal encounter with police on January 7," Tire Nichols' family and their attorneys, Ben Crump and Antonio Romanucci, said in a statement. "Further details and findings from this independent report will be announced at another time."
The autopsy was cleared by the family's lawyers, who hired their own "highly respected, nationally renowned forensic pathologist" to complete the report. The independent autopsy was not released publicly.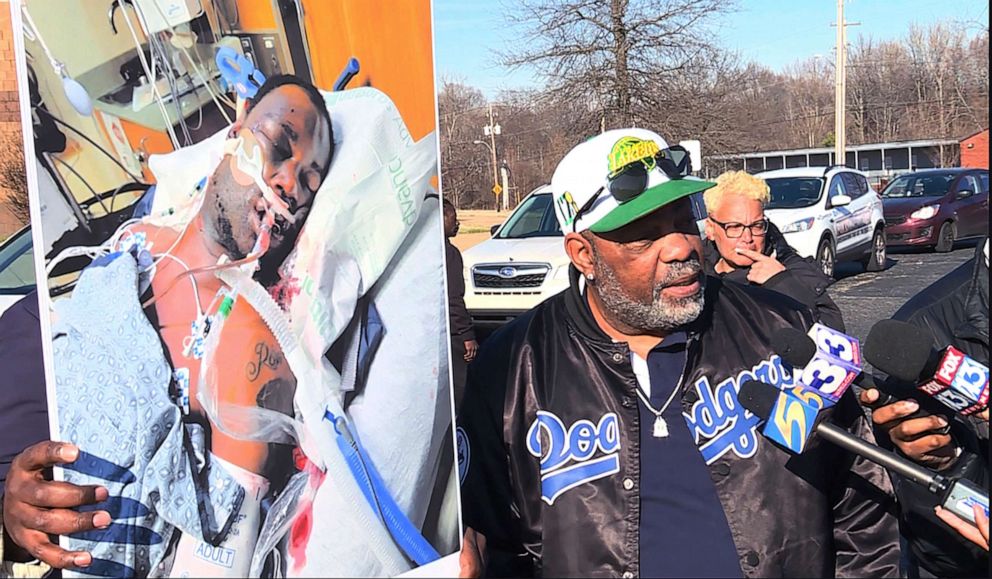 In this photo provided by WREG, Tire Nichols' stepfather, Rodney Wells, right, holds a photo of Nichols in the hospital following his arrest during a protest in Memphis, Tenn., Saturday, Jan. 14, 2023. (Jordan James/WREG via AP)
Body camera footage of the incident has yet to be released, but Crump described the video as "appalling," "regrettable," "disgusting," "violent," and "problematic on every level" during a news conference Monday.
The family is cooperating with an ongoing investigation by the Department of Justice. Police said the bodycam video would be released within the next two weeks.
"Whatever it takes to clear my son's name and get justice for my son," Rodney Wells told ABC News. "If they have to keep the video for two more weeks, let them keep the video for two more weeks."
RELATED: Tire Nichols' relatives claim he died after Memphis police beat; DOJ determined
The Memphis Police Department announced Friday that it had fired the five officers involved in the incident, all black, completing the department's internal investigation.
The officers were identified as Tadarrius Bean, Demetrius Haley, Emmitt Martin III, Desmond Mills Jr. and Justin Smith.
The former police officers and the police union did not immediately respond to ABC News' requests for comment.
Memphis Police Chief Cerelyn Davis said in video released Wednesday night that other Memphis police officers are still under investigation for violating Memphis Police Department guidelines.
After viewing the bodycam video, Davis called the officers' actions "despicable, inconsiderate and inhumane," adding, "When the video is released in the coming days, you will see for yourself."
Chief Davis said she expects those to protest after the video's release, but warns that while she anticipates outrage, "none of this is a calling card for inciting violence."
Nichols' family said he was kicked, pepper sprayed and shocked with a stun gun, while Nichols repeatedly asked, "What have I done?"
"When the video started and I heard my son's voice, I lost my composure. I couldn't stay in the room. All I heard him say was, 'What have I done?' And when I heard that, I lost it," Rowvaughn Wells, Nichols' mother, told ABC News on Monday.
Shelby County District Attorney Steve Mulroy told ABC News his office is reviewing possible criminal charges against the former officers. The family is hoping for murder charges.
Nichols was pulled over by police on January 7 for allegedly reckless driving and was hospitalized in critical condition after complaining of shortness of breath during the arrest. Three days later, Nichols died.
"They handcuffed him and put him down, propped him up on the car. And when he fell down, they said to him, 'Sit back down,'" Rodney told ABC News. "You know, and he kept falling back and they made him get up again. They never gave any assistance."
ABC News' Victoria J. Arancio contributed to this report.
Copyright © 2023 ABC News Internet Ventures.
https://6abc.com/tyre-nichols-death-memphis-police-beating-officers-charged-department/12738254/ Tyre Nichols case: 5 Memphis police officers in custody, charged in man's beating death