UFC Fight Night – Ortega vs. Rodriguez –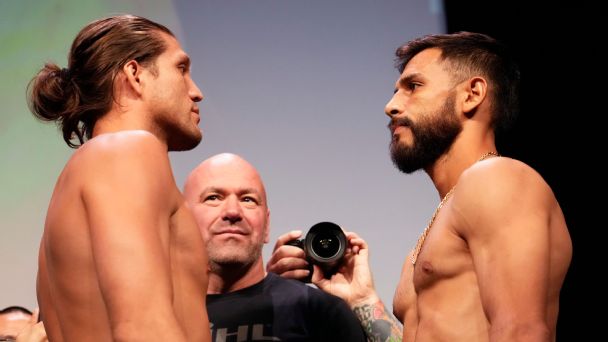 ELMONT, NY — A celebratory featherweight matchup between Brian Ortega and Yair Rodriguez will headline UFC Fight Night at the UBS Arena on Saturday. The main card will air on ABC (2 p.m. ET) and simulcast on ESPN+, with prelims on ESPN/ESPN+ at 11 a.m
Ortega (15-2) is making his first appearance since coming up short in a title fight against Alexander Volkanovski at UFC 266 last September. Rodriguez (13-3) also suffered a loss, a five-round decision loss to Max Holloway, who actually increased his stock based on his performance.
The winner could next challenge Volkanovskl for the 145-pound belt. It will likely come down to Ortega, Rodriguez or Josh Emmett, who clinched a win over Calvin Kattar last month.
In addition to the main event, Michelle Waterson-Gomez (18-9) will look to upset a dangerous new contender in Amanda Lemos (11-2-1) and former bantamweight champion Miesha Tate (19-8) gives her Flyweight debut against Lauren Murphy (15-5).
Follow along as Brett Okamoto and Marc Raimondi recap the action from the cage or watch the map on ESPN+.
---
Strawweight: Emily Ducote (12-6, 1-0 UFC) def. Jessica Penne (14-7, 3-4 UFC) by unanimous decision
Ducote, 28, looked impressive in her UFC debut, posting Penne on the judges' scorecards at 30-27, 29-28 and 29-28.
Ducote worked early on with kicks on Penne's lead leg and maintained it throughout the fight. Penne could barely put weight on it until the third round, which robbed her of mobility and strength. She fought her way through but clearly lost the last loop and was even shaken by a right hand at one point. She was unsuccessful on all eight takedown attempts, according to UFC Stats.
Penne, 39, sees a two-fight win streak broken. It was her first winning streak in the UFC. Ducote has now won three in a row, two of them at Invicta FC. – Okamoto
---
fight in progress
Middleweight: Dwight Grant (11-5, 3-4 UFC, -135) vs. Dustin Stoltzfus (13-4, 0-3 UFC, +115)
---
still to come:
Featherweight Men: Brian Ortega (15-2 1 NC, 7-2 1 NC UFC, -170) vs. Yair Rodríguez (14-3 1 NC, 8-2 1 NC UFC, +145)
Strawweight: Michelle Waterson-Gomez (18-9, 6-5 UFC, +270) vs. Amanda Lemos (11-2-1, 5-2 UFC, -340)
Welterweight: Li Jingliang (18-7, 10-5 UFC, +140) vs. Muslim Salikhov (18-2, 5-1 UFC, -165)
Flyweight Men: Matt Schnell (15-6 1 NC, 5-4 1 NC UFC, +220) vs. Su Mudaerji (16-4, 3-1 UFC, -270)
Featherweight Men: Shane Burgos (14-3, 7-3 UFC, -170) vs. Charles Jourdain (13-4-1, 4-3-1 UFC, +145)
Women's Flyweight: Lauren Murphy (15-5, 7-5 UFC, +180) vs. Miesha Tate (19-8, 6-5 UFC, -220)
Men's Bantamweight: Ricky Simón (19-3, 7-2 UFC, +135) vs. Jack Shore (16-0, 5-0 UFC, -160)
Middleweight: Dalcha Lungiambula (11-4, 2-3 UFC, +190) vs. Punahele Soriano (8-2, 2-2 UFC, -230)
Featherweight Men: Bill Algeo (15-6, 2-2 UFC, -210) vs. Herbert Burns (11-3, 2-1 UFC, +175)
Light Heavyweight: Dustin Jacoby (17-5-1, 5-2-1 UFC, +105) vs. Da-Un Jung (15-2-1, 4-0-1 UFC, -125)
https://www.espn.com/mma/story/_/id/34248314/ufc-fight-night-brian-ortega-vs-yair-rodriguez-live-results-analysis UFC Fight Night – Ortega vs. Rodriguez –