Ukraine and the environment will top the agenda when Biden meets UK politicians and royalty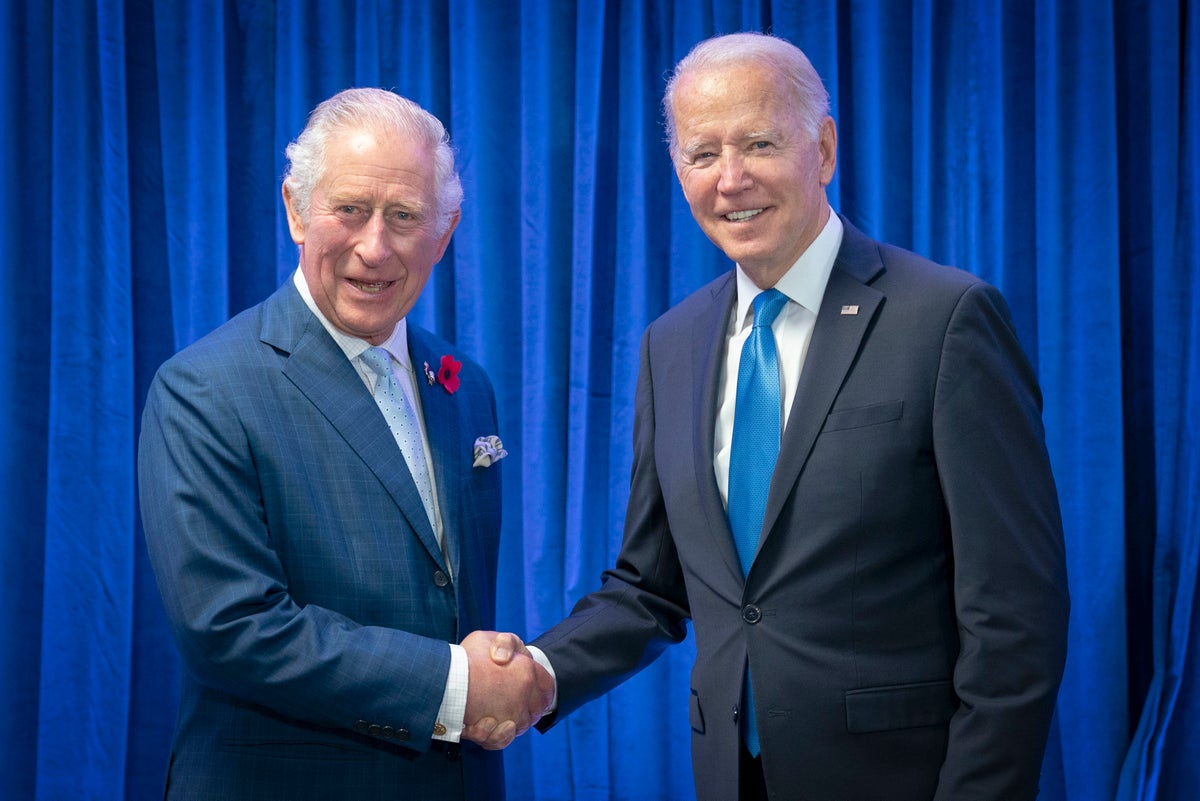 A pinch of pomp and a dose of politics are on the menu for a stopover in the United Kingdom, where President Joe Biden meets King Charles III. on the environment and with Prime Minister Rishi Sunak on the war in Ukraine.
Biden flies to London on Sunday en route to a NATO summit in Lithuania. He is due to hold talks with Sunak at 10 Downing St on Monday before traveling to Windsor Castle to meet Charles for the first time since Queen Elizabeth II's funeral in September.
While this is not a full state visit with military honors and a palace banquet, the royal imprimatur and the backdrop of the 1,000-year-old castle underscore the importance of the transatlantic "special relationship" – tested by Brexit but strengthened by the Agreement on Russia's invasion of Ukraine.
Sunak and the President will hold talks on Ukraine before both attend this week's NATO meeting in Vilnius to discuss how far the military alliance should open the door to Ukraine. NATO leaders said in 2008 that Ukraine would eventually become a member, but have not presented a roadmap despite impassioned pleas from President Volodymyr Zelenskyy.
"It's an area where the US is a bit more reticent than many other NATO allies," said Julie Norman, co-director of the Center on US Politics at University College London. "There could be some closed-door discussion on where the UK stands on this before the full (NATO) meeting."
The United States and Britain are among Kiev's strongest Western supporters. Norman said that "the UK has taken a somewhat pioneering role on some military commitments" and urged the Biden government to go further on issues such as tanks and international efforts to provide Ukraine with F-16 fighter jets .
"I think that has worked in Biden's favor in some ways as he is facing increasing opposition at home from some factions of the Republican Party for not providing too much aid to Ukraine," she said. "The fact that the UK is pushing and leading the way here gives Biden a little nudge and a strong ally to help him move forward."
Biden has met with resentment from allies, including Britain, over his decision to give Ukraine cluster bombs, which are banned under a convention signed by more than 120 countries, including the UK. Sunak said on Saturday that Britain "advises against using them".
The UK is determined to show unity among Ukraine's allies and has refrained from complaining about its failure to secure Washington's support for Defense Secretary Ben Wallace as NATO's next chief. Instead, the term of office of the current Secretary General Jens Stoltenberg was extended by one year.
Transatlantic relations have been strained in recent years by Britain's exit from the European Union, an act Biden has made clear and which he says has damaged the UK
The President, who proudly celebrates his Irish roots, was particularly concerned about the impact of Brexit on the peace process in Northern Ireland. Washington was relieved when Britain and the EU reached a deal in February to settle a thorny dispute over trade rules for Northern Ireland, the only part of the UK that shares a border with an EU member.
Biden briefly visited Belfast in April to celebrate the 25th anniversary of the Good Friday Peace Agreement in Northern Ireland, before spending several days visiting his ancestral hometowns in the Republic of Ireland. He angered some in the UK when he later said he had visited Northern Ireland to make sure "the Brits weren't fooling around".
While some British Conservatives are sensitive to perceived insults to the Democratic president, this is Biden's sixth meeting with Sunak, who has been in office since October. The British leader visited Washington last month and issued an "Atlantic Declaration" promising closer economic cooperation in areas such as artificial intelligence, clean energy and critical minerals.
That was some consolation for Britain's failure to strike a free trade deal with the US, a now-buried dream of Brexiteers.
For Sunak, the US president's side means a brief respite from his mounting domestic troubles over a flagging economy and a divided party. Like Biden, he faces an election verdict next year, with the deadline for calling a national election being the end of 2024. UK inflation of 8.7% yoy to May – twice the US rate – is keeping millions of people under pressure on the cost of living and the ruling Conservatives are trailing Labor in opinion polls.
It's also a notorious moment for 74-year-old Charles. Biden attended the late Queen's funeral in September but did not attend Charles's coronation in May, sending First Lady Jill Biden instead.
Charles doesn't have the star power of his mother, who met 13 American presidents and made more than 100 state visits during her 70 years on the throne. But he built a reputation as an environmental activist working to protect wildlife and fight climate change long before he became popular.
"Charles is an important figure in the world of green and climate energy," said George Gross, a royal historian at King's College London. "He's a very familiar face. So I think there is no downside to having a US President photographed next to him."
Gross said the British monarch has no real political power, but "an enormous amount of soft power" because so many world leaders want to experience the royal mystique.
"There are things that the British Government can get through Charles if they want to, that can be said and discussed in a way that the Prime Minister can't do in the same way," he said.