Ukraine marks anniversary of Russian war with grief, pride
Kyiv, Ukraine —
Church bells rang, weeping mourners hugged and blue and yellow national flags fluttered on Friday as Ukraine marked the first anniversary of a Russian invasion that sparked a devastating war but also sparked a strong sense of unity among the country's people.
"We clearly understood that you must fight for each tomorrow," President Volodymyr Zelenskyy told his compatriots in a video address commemorating the February 24, 2022 invasion that sparked Europe's largest land battle since World War II. "And we fought."
Across the country, Ukrainians looked back on the year with a mixture of sadness and pride.
"No one expected Ukraine to be standing today," said Oleksandr Azarov, a 39-year-old emergency services worker from the northern city of Chernihiv. "We all mourn, but we hope and trust that victory will be ours."
The effects of the war have spread far beyond Ukraine. As the NATO alliance grew in cohesion, inflation worsened and energy problems plagued the United States and Europe, though they have been easing in recent months. Deep fissures have been exposed between the prosperous industrialized democracies and the Global South, which has largely approached the conflict by force of arms.
And Russian President Vladimir Putin's nuclear saber-rattling – most recently exemplified by his announcement that he would suspend participation in Moscow's latest nuclear arms control pact with Washington – routinely stirs fear around the world.
At a rare press conference, Zelenskyy implored Ukraine's allies to "remain united as a fist" and said Ukraine could win the war if the West provided sufficient military support.
Some items on Kiev's weapon wish list are becoming concrete: Poland's President Andrzej Duda said on Friday that the first Leopard main battle tanks delivered by Poland had arrived in Ukraine, but did not give an exact number.
In Washington, the Biden administration announced an additional $2 billion military aid package for Ukraine that will include more rocket launchers and drones. The government also imposed another round of economic sanctions on several Russian mining and metals companies and banks, aimed at weakening Moscow's financial flows.
"The United States stands firmly by Ukraine as she defends herself, and we will continue to do so until Ukraine's sovereignty is respected and the Ukrainian people are able to pursue their elected, democratic future in freedom and peace," Secretary Antony said J. called blinking.
Separately, at the United Nations, Blinken sought to quash attempts by China and others to come up with so-called peace plans that would actually grant Russia the territorial gains it seeks. "Any peace that legitimizes Russia's violent land grab," Blinken said, "will weaken Russia [U.N.] Charter would-be aggressors and send word everywhere that they can invade countries and get away with it."
Later Friday, at a smaller UN Security Council meeting, Russia and Ukraine exchanged harsh words and held competing minutes of silence to honor those who died in the war.
Russia's ambassador, Vassily Nebenzia, was upset that Ukraine's representative, the country's foreign minister, Dmytro Kuleba, was allowed to speak first. Then the two seemed to argue about whose sacrifices were more important.
Kuleba called for a minute's silence in honor of Ukrainians killed in the conflict, and most of the assembly's diplomats rose. Not to be outdone, Nebenzia called for a similar honor for "all" the dead.
After some hesitation and confusion, the diplomats rose again.
"All lives are priceless and that is why we rise to honor the memory of all of them," Nebenzia said, making it a point to include those killed in Russia's illegal annexation of the Crimean Peninsula in 2014 .
Kuleba didn't seem interested in subtleties.
"The longer you attack Ukraine," he told the Russian delegation, "the more humiliating your defeat will be."
In Ukraine, along a battlefront stretching hundreds of kilometers to the south and east, months of hard winter fighting have brought little benefit to either side after a series of Ukrainian victories in late summer and early fall. Ukraine's military said that ahead of the upcoming anniversary, Russia had ramped up battlefield activity in at least two dozen towns and villages along the front lines, but without significant gains — a standoff some analysts warn could last into the second year of fighting .
In cities far from the fighting, many Ukrainians said they were doing their best to give themselves and their families some sense of normal life, however illusory.
In the capital, Kiev, people crowded into coffee houses, hung out laundry to dry, boarded rattling subways, and sped along the city's sidewalks, bundled up against a piercing winter chill. Air raid sirens remained silent despite fears that Russia would unleash a barrage of missiles and drones on the one-year anniversary of its "special military operation."
"We must not be overwhelmed by the situation," said Alina Bavisheva, a 31-year-old fashion designer who was shopping with a friend with equally shiny hair at an upscale department store in Kiev. "We have to recover, we have to live."
The hallmarks of a war capital, however, were unmistakable: sandbag statues, rusted "hedgehog" tank traps, checkpoints on the roads leading into the city. The occasional passerby bears on their faces or bodies evidence of the conflict engulfing their country: a telltale limp from a prosthetic leg, an open scar on the chin.
Zelensky, the 45-year-old president who unexpectedly turned out to be a Churchillian war leader, made it a point to appear at an open-air ceremony in central Kiev to honor fallen troops. Participants observed a minute's silence for civilians and soldiers who were killed, numbering in the tens of thousands.
In Bucha, a garden suburb northwest of Kiev, whose name became known worldwide as the scene of appalling atrocities against civilians during a month-long Russian occupation last spring, city dwellers gathered at the whitewashed, gilded-domed St. Andrew's Church, now a Documentation Museum is the suffering of the city.
"There were so many bodies," said the church's bell ringer, 87-year-old Petro Potapenko, pointing to a former sand ditch where dozens of bodies were dug up after the Russians pulled out of their attempt to seize Kiev .
Many Ukrainians had braced themselves for the possibility of a barrage of missiles and drones on Friday, possibly in the same morning hours the battle began, as Kiev and other cities were bombed and Russian troops moved in from the north, south and east.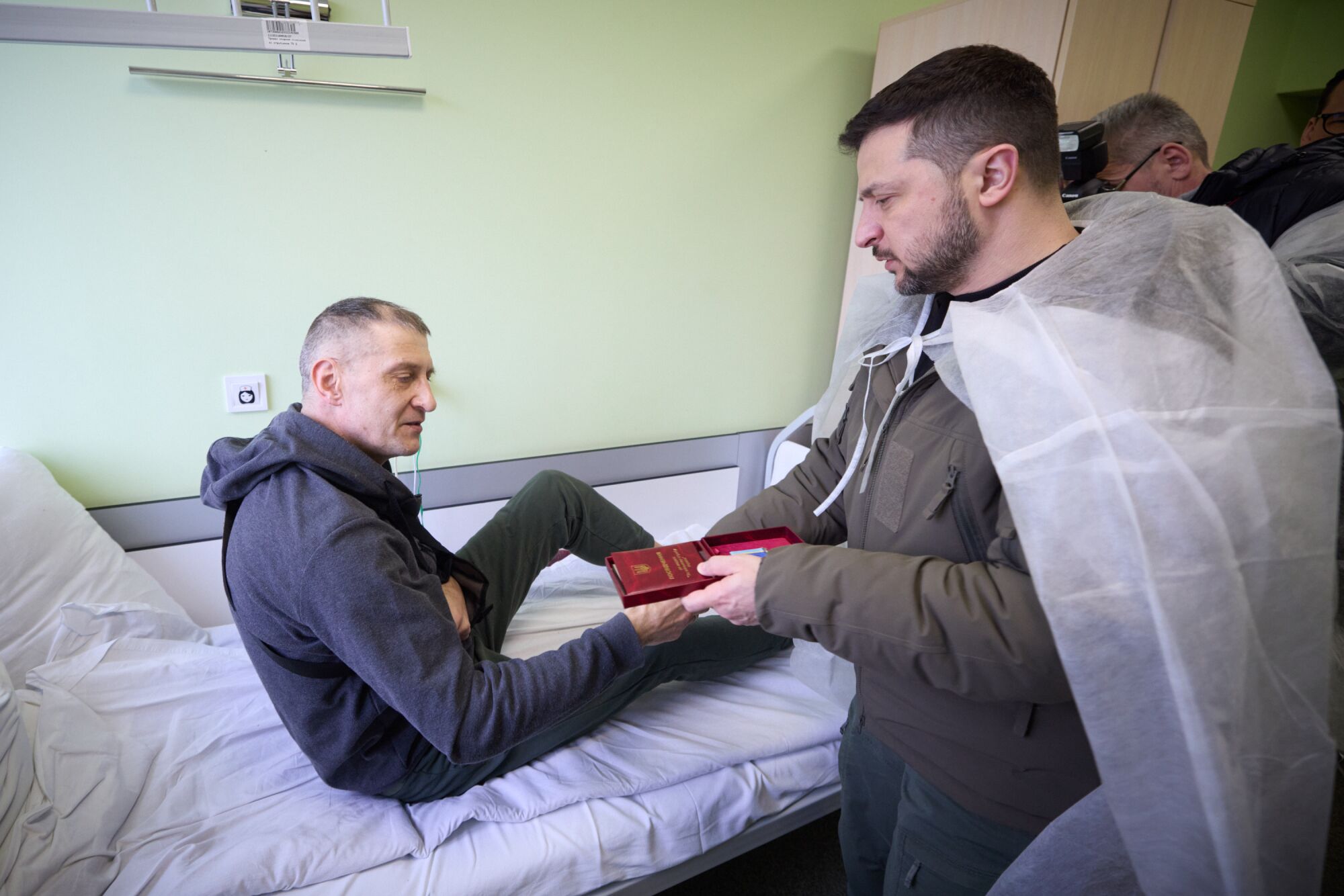 But by late evening there hadn't even been an air alert in Kiev.
Some precautions were taken around the anniversary. Schools have been advised to hold classes remotely and large public gatherings have been discouraged. In particularly dangerous areas like the southern city of Kherson, which was recaptured from Ukraine in November but still faced aerial attacks, people have been advised to stay indoors.
Four days after a surprise visit by President Biden to Kiev, US Ambassador to Ukraine Bridget Brink hailed the country's struggle — sustained by billions of dollars in Western military aid — as an inspiration for the democratic world.
"One year ago today, Russia tried to forcibly change the borders, depriving you of your freedom and breaking your will," she said in a statement. "We refuse to accept a world ruled by fear and violence: we stand with Ukraine."
Other Western allies made gestures of support, with Paris lighting up the Eiffel Tower and Berlin its Brandenburg Gate in the colors of the Ukrainian flag, and candlelight vigils being held in several European capitals.
In Russia, Putin has portrayed the war as a struggle for the nation's existence against perceived neo-Nazis in Ukraine and the assembled forces of the West. Dissent has been virtually eradicated, and hundreds of thousands, perhaps millions, of Russians have fled the country to escape conscription, suppression of free speech, or the economic impact of international sanctions.
Some Ukrainians expressed renewed contempt for the Russian leader, who delivered two high-profile speeches this week, both bitter and bellicose. The Ukrainian Post Office issued a commemorative stamp depicting a mural by British artist Banksy that appeared in the devastated city of Borodyanka last year. It depicts a child performing a judo flip on a figure resembling Putin, who prides himself on his judo skills, along with initials used for an expletive aimed at the Russian President.
"Oh yes, I like the look of it," said Mykhailo Harbunov, 68, of the new stamp.
As he waited in a long line outside the main post office on Kiev's Independence Square, he recalled the fighting outside his hometown of Kherson, the only provincial capital to fall to the Russians before being recaptured by Ukraine eight months later. Despite his age, he joined the fray, fighting alongside the local Territorial Defense Force and narrowly escaping damage from a mortar shell.
"We didn't always win straight away," said Harbunov. "But in the end we will win."
King reported from Kiev and Wilkinson from Washington.
https://www.latimes.com/world-nation/story/2023-02-24/ukraine-russia-war-first-anniversary Ukraine marks anniversary of Russian war with grief, pride