Ukraine revives long-shot dream of retaking Crimea
ODESA, Ukraine —
Beneath a cold, low-lying mist, the Black Sea has turned winter gray. Crimea's rugged coastline, illegally confiscated from Ukraine by Russia nearly nine years ago, is a far cry from this stretch of southern shoreline – but for many here, the strategic peninsula suddenly seems tantalizingly close.
Ukraine's recapture of Kherson, a provincial capital in northern Crimea, this month has revived longstanding hopes of somehow regaining control of the Massachusetts-sized peninsula that the government in Kyiv — and most of the world — always has still considered part of Ukraine.
Long-range weapons, which Ukraine does not possess, would be vital to such an effort, and Moscow has tried to make it clear that attacks on its forces in Crimea, including the main warm-water port of Sevastopol, amount to crossing an explosive tripwire. Nevertheless, the fate of the peninsula, which has a population of 2.4 million, is increasingly becoming part of the war discourse.
"Kherson changed things," said Alexander Babich, a Ukrainian local historian in the Black Sea port city of Odessa. "Now people are saying, 'To the Crimea!'"
Even before Russia's full-scale invasion of Ukraine, which is about to enter its tenth month, Crimea – a coveted prize that has changed hands for centuries – has been a guiding star for both sides in this war.
Russian President Vladimir Putin often recalls the peninsula's imperial history and paints it as an integral part Russkiy me — the Russian world. This construct, ostensibly based on a shared Slavic culture, is in turn presented by the Kremlin as an overarching pretext for attempting to subjugate all of Ukraine, a former Soviet republic that has been a sovereign nation for more than three decades.
As the war drags on, Ukrainians have little patience for Russian nostalgia for symbols of empire.
They shrugged when Moscow-backed officials in then-occupied Kherson got away with the bones of 18th-century Russian princely general Grigory Potemkin – who was used by the Russians for his role in annexing Crimea from the Ottoman Turks in 1783 was worshiped. In Odessa, a statue of Potemkin's lover, Empress Catherine II, is boarded up and set for transport.
In a way, Crimea is at the heart of the current conflict. Many here argue that a less than determined global response to Russia's conquest of the peninsula in 2014 helped set the stage for Putin's invasion that year. Western nations, including the United States, then imposed sanctions and condemned the annexation of Crimea but ruled out a military response.
Now Ukrainian President Volodymyr Zelenskyy has added the return of Crimea to his list of war goals, along with pushing back Russian forces to pre-February positions and regaining control of the other four mainland provinces that Putin mock-annexed at the end of September.
Putin is betting heavily on Western war fatigue rising in the coming months, particularly among energy-starved European allies. Eventually, should Zelenskyy face demands to consider territorial concessions to end the conflict, Crimea's status could be a key diplomatic pressure point.
The Russian leader has already shown his anger at the challenges to Moscow's rule over Crimea, particularly last month's spectacular attack on the Kerch Bridge to mainland Russia, a 12-mile bridge that Putin personally inaugurated in 2018.
Ukraine has not officially claimed responsibility for the massive Oct. 8 explosion that damaged the bridge's roadway and rail line, but days later Russian forces launched a campaign to destroy Ukraine's civilian power infrastructure, using language that hinted at revenge. The biggest rocket fire of the war has hit Kyiv and other cities lately, throwing millions into the cold and darkness.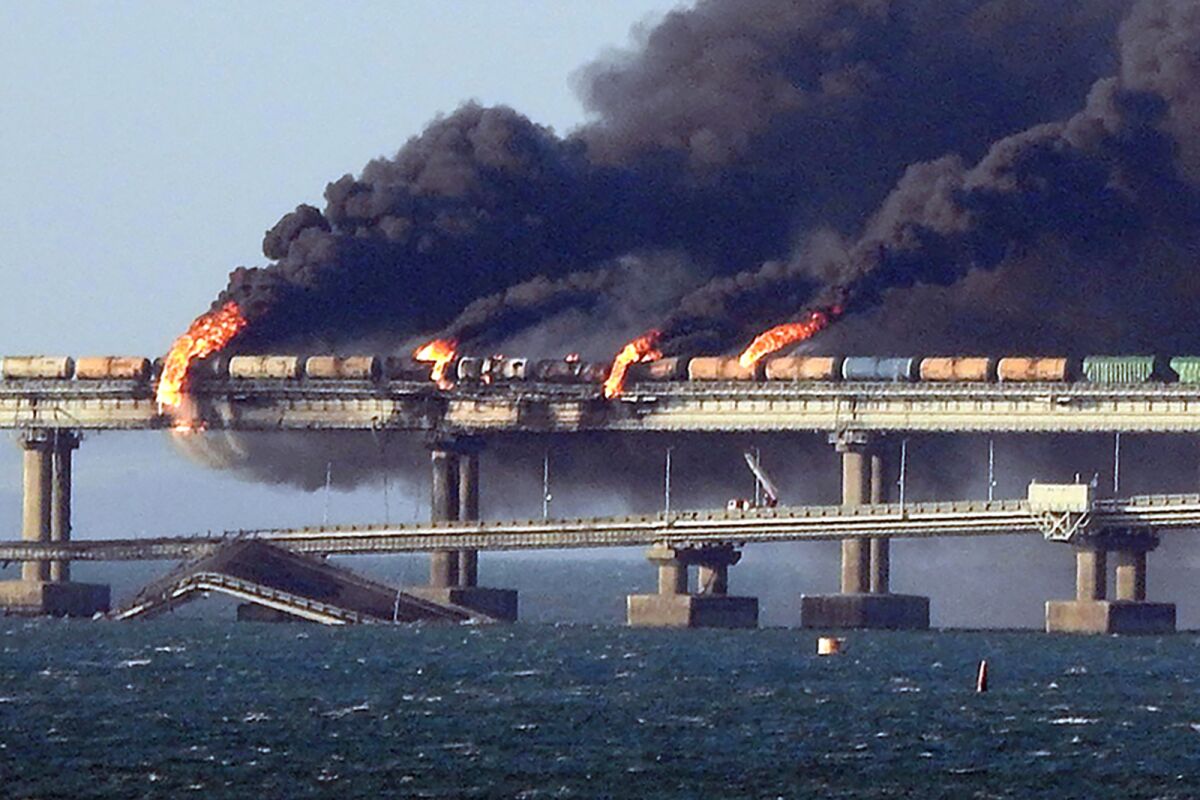 With about 40% of the country's power grid out of service, Ukrainian authorities have begun helping people in recently liberated parts of the country's south – where retreating Russian troops destroyed power plants – to leave voluntarily to avoid another burden to avoid the stalled power supply. Last month, Kyiv city officials raised the drastic possibility of evacuating the capital should the city's power supply fail completely.
Ukraine won a number of important victories on the battlefield over the autumn – recapturing Kherson and, before that, Russian forces fleeing a huge chunk of Kharkiv province in the north-east – and some senior figures in Ukrainian security policy are publicly supportive of the idea that Kyiv is Crimea can be recaptured militarily. So have some Western pundits, including Ben Hodges, former commander of US forces in Europe, while other analysts are more reserved in their views.
Ukraine is already using newly conquered areas in the south as a deployment area to harass Russian troops. Oleksiy Hromov, deputy chief of the army's main operations directorate, said during a briefing last week that Ukrainian forces are "doing everything possible to attack the enemy with the maximum range of our weapons" – which now includes areas near the peninsula.
While Crimea itself is beyond the reach of Ukrainian missiles and artillery, key Russian supply routes – the "land bridge" established when Moscow's forces captured the southern cities of Mariupol and Melitopol earlier in the war – are newly vulnerable. The canal-based water supply of the peninsula is also threatened.
In response, Russia has strengthened ground fortifications, including deepening trenches on the northern edge of Crimea, a Assessment of British Military Intelligence said last week.
Russian military installations on the peninsula have been subject to occasional stealth attacks throughout the war, carried out either by drones or by suspected Ukrainian saboteurs. In September, Ukraine claimed responsibility for a strike a month earlier at a Russian airbase that destroyed at least nine planes and belched thick black smoke in front of Russian vacationers who prefer Crimea's beaches – or at least did .
More serious setbacks for Russia have occurred in the waters off Crimea. Back in April, Ukraine sank the Russian Black Sea Fleet's flagship, the Moskva, with land-to-ship missiles in one of the most striking military feats of the war. And Russian forces were forced to abandon Snake Island, a point of territory 22 miles off Ukraine's Black Sea coast, in late June after repeatedly facing Ukrainian attacks.
Putin watchers say the exaggerated, mystical language the Russian leader uses to characterize Moscow's ties to Crimea stokes anger — and calls for revenge — if Russia suffers a setback there.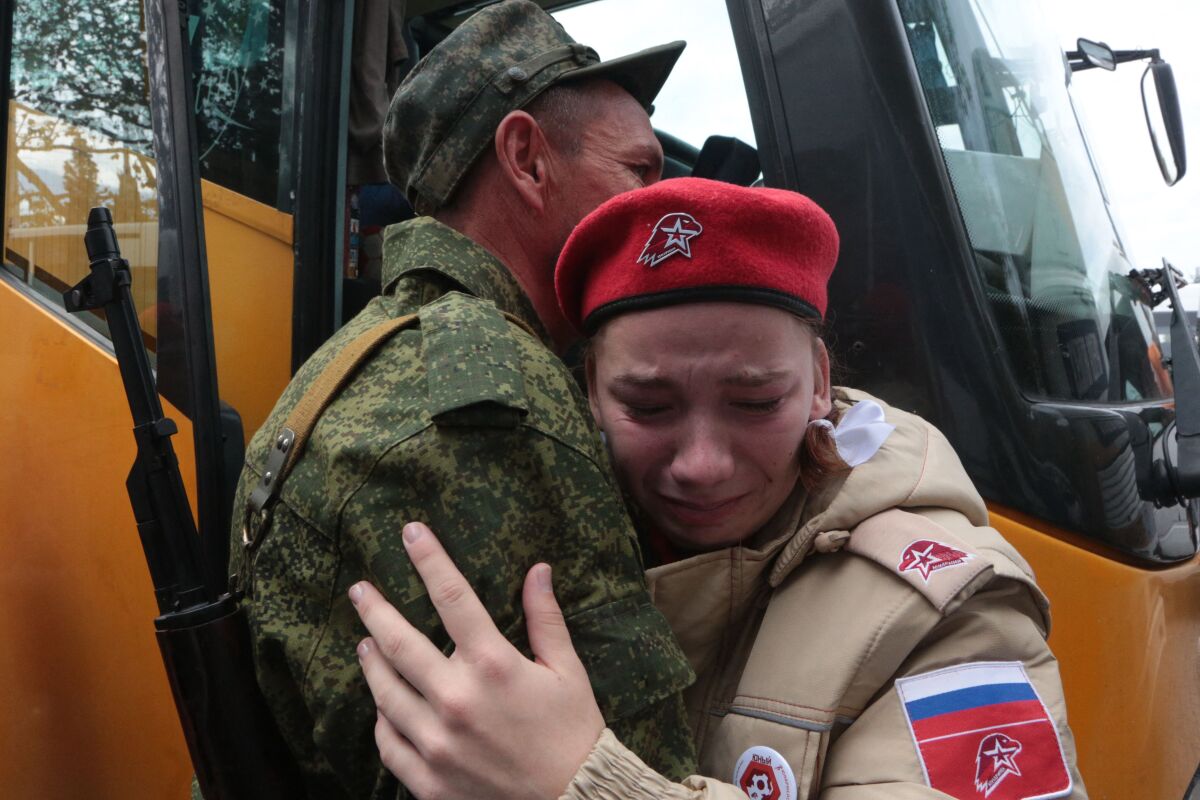 Samuel Ramani, an associate fellow at Britain's Royal United Services Institute, wrote on Twitter over the weekend that the potential threat to Crimea is alarming "even the toughest voices" in Russia. He cited warnings from an influential lawmaker, Andrei Gurulyov, that Moscow must protect itself from a perfidious joint Ukraine-NATO attack on the peninsula.
Zelenskyy's government, meanwhile, is reminding citizens big and small that Ukraine has never stopped treating Crimea as its own.
Virtually every day, a mobile app used by millions flashes warnings of Russian missile attacks in different parts of the country. If the alert is nationwide, the peninsula is said to be "the only part of Ukraine" that is not under threat.
Ukrainian intelligence chief Kyrylo Budanov, who grew up in Crimea, told Ukrainska Pravda news agency last month that retaking the peninsula could happen as soon as next year.
"We'll be going back there soon," he said. "Yes, with guns."
https://www.latimes.com/world-nation/story/2022-11-22/ukraine-revives-its-dreams-of-retaking-crimea Ukraine revives long-shot dream of retaking Crimea