Ukraine's Zelensky in surprise visit to UK to press Sunak for more military support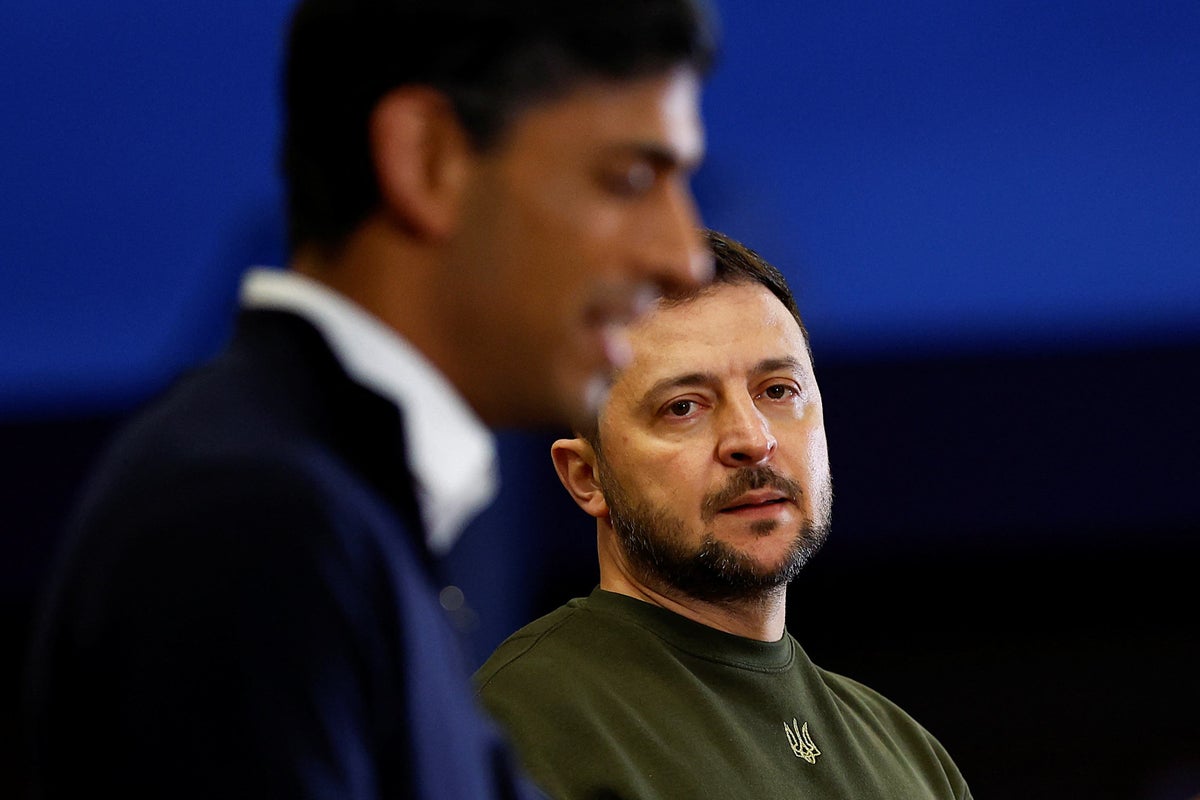 Volodymyr Zelenskyy arrived in the UK on Monday to meet Rishi Sunak for "substantive negotiations" to gain more support for his country's war effort.
The Ukrainian president is set to meet his "friend" the prime minister as part of a tour of Europe to urge leaders for more military aid.
Mr Zelensky said on Twitter: "Britain is leading the way when it comes to expanding our capabilities on the ground and in the air."
"This collaboration continues today. I will meet my friend Rishi. We will conduct substantive negotiations personally and in delegations."
Rishi Sunak said the UK will maintain "our support" for Ukraine as he prepares to meet Mr Zelensky for talks today.
The Prime Minister said: "This is a crucial moment in Ukraine's resistance to a terrible war of aggression which it neither chose nor provoked."
"They need the sustained support of the international community to defend themselves against the barrage of relentless and indiscriminate attacks that have been their daily reality for over a year.
"We must not let them down.
"The front lines of Putin's war of aggression may be in Ukraine, but fault lines stretch across the world. It is in all our interests to ensure that Ukraine succeeds and that (Vladimir) Putin's barbarism is not rewarded.
"That is why the UK continues to support Ukraine – from tanks to training and ammunition to armored vehicles. And this message of solidarity will be voiced loudly in all my meetings with other world leaders in the coming days."
The couple will meet at the Prime Minister's Checkers country home in Buckinghamshire.
Mr Zelenskyy met Pope Francis at the Vatican last weekend after Italy pledged its full support to Kiev in defending against Russian invasion.
He previously met Italian Prime Minister Giorgia Meloni, who condemned Russia's "brutal and unjustified aggression", pledged Italy's support for Ukraine "for as long as necessary" and called on Russia to withdraw immediately.
And Mr Zelenskyj visited Germany for the first time since Russia invaded Ukraine – where he was received with military honors by Chancellor Olaf Scholz.
Berlin announced 2.7 billion euros (£2.4 billion) in military aid to Ukraine, the largest package of its kind to date, and pledged continued support to Kiev for as long as needed.
The President of Ukraine and his team have pushed vigorously for Kiev's 10-point peace plan and called on world leaders to hold a global peace summit based on the proposals.
It calls for the restoration of Ukraine's territorial integrity, the withdrawal of Russian troops and the cessation of hostilities, and the restoration of Ukraine's state borders. Zelenskyy has repeatedly stated that the plan is not open to negotiations.
After Moscow on Friday conceded that its forces had fallen back north of Ukraine's battlefield town of Bakhmut, Britain's Defense Ministry said Russian troops were likely to have withdrawn "in poor order".
The Defense Ministry said Russia's 72nd Separate Motor Rifle Brigade, established last fall, has faced allegations of poor morale and limited combat effectiveness, and that its deployment in Bakhmut reflected a serious lack of credible combat units on Moscow's part.
Mr Zelenskyy's visit comes after two of Vladimir Putin's military commanders were killed in eastern Ukraine, the Russian military said, warning of another attempt by Kiev forces to break through in the front-line town of Bakhmut.
Continue…