Under pressure, Tunisia takes back hundreds of migrants trapped in a border zone with Libya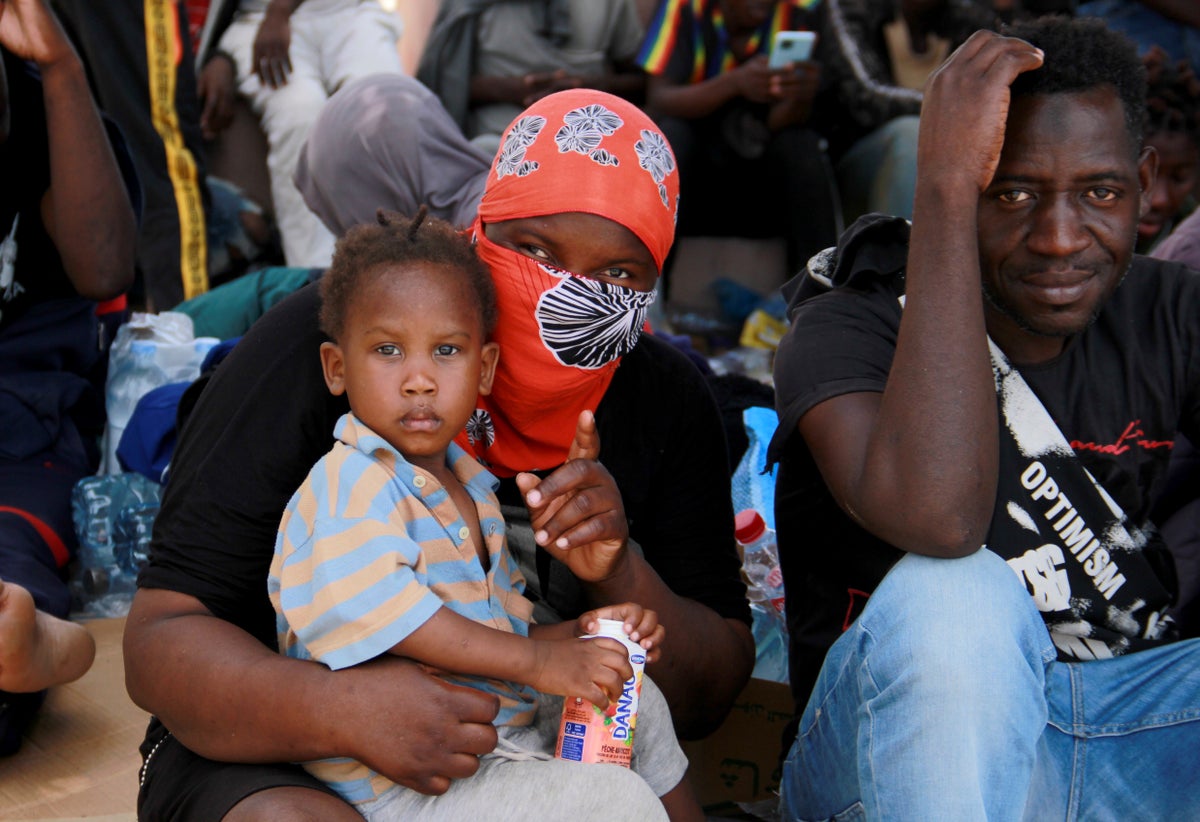 Aid agencies say hundreds of migrants from sub-Saharan Africa are being sent back to Tunisia after being pushed into a dangerous no-man's-land on the Libyan border and detained there for a week without access to basic needs.
The group was evicted earlier this month as anti-immigrant and racist tensions rose over a killing in the Tunisian port city of Sfax, a hub for traffickers who organized risky and sometimes deadly boat trips across the Mediterranean to Italy.
One such boat sank off the Tunisian coast on Sunday. Coastguard officers recovered a body, rescued 11 people and declared 10 others missing, Sfax prosecutors said.
The fate of hundreds of migrants pushed into the Tunisian-Libyan border region has raised concerns among international humanitarian groups and called for action. It also raised questions about Tunisia's migration policy, weeks after the European Union offered Tunisia's increasingly authoritarian government $1 billion to support its flagging economy – and to step up border services to prevent migrant boats from crossing into Europe.
A 29-year-old Ivory Coast man who was among those trapped in the border zone said Tuesday he and 100 others had been moved from the border to the Tunisian city of Medenine, inland, where they now sleep in a courtyard.
Speaking to The Associated Press from the border zone last week, he described about 600 sub-Saharan migrants trapped in the area between the Mediterranean Sea and the Tunisian-Libyan land border near Ben Guerdane.
The man said uniformed men took migrants from their homes in Sfax in the middle of the night in early July and took them to the border. He accused the Tunisian National Guard of beating them "like animals, like slaves" and attacking women in groups. He claimed that Libyan security forces at the border fired shots in the air to keep civilians at bay.
Under pressure from humanitarian organizations, Tunisian President Kais Saied on Sunday ordered the Tunisian Red Crescent to provide aid to the migrants. Saied has fueled racism by slurring black Africans traveling to Europe through Tunisia.
Tunisian Red Crescent leader Abdellatif Chabou traveled to the region to lead an operation designed to bring migrants food and water and enable them to contact their families.
Three people in need of medical attention were taken to a local hospital, including a pregnant woman, Chabou told local radio Mosaique on Monday. He said 195 migrants from sub-Saharan Africa were registered on a Red Crescent list and are to be sent back to Tunisia and then to their countries of origin.
The president of the Tunisian Observatory for Human Rights, Mustapha Abdelkebir, said that a total of 450 migrants detained in the border zone would be gradually transferred to different regions of Tunisia.
The migrants lack access to basic sanitation and are trapped between forces on either side of the border and exposed to extreme heat without protection, Abdelkadir told Radio Mosaique.
The International Organization for Migration said it is working with Tunisian authorities to secure humanitarian aid and called on Tunisia to "respect the dignity and rights of all migrants" and to counter "harmful and negative rhetoric, hate speech and hate crime".
The Tunisian Human Rights League called for the establishment of a crisis center to deal with tensions in Sfax.
Opposition politician Nejib Chebbi accused the authorities of fueling prejudice and deporting migrants "because they are black". It's a shame and this will remain a dark side of our history."
___
Associated Press writer Renata Brito from Barcelona contributed to this report.