USC's Vince Iwuchukwu continues to make strides in his comeback from cardiac arrest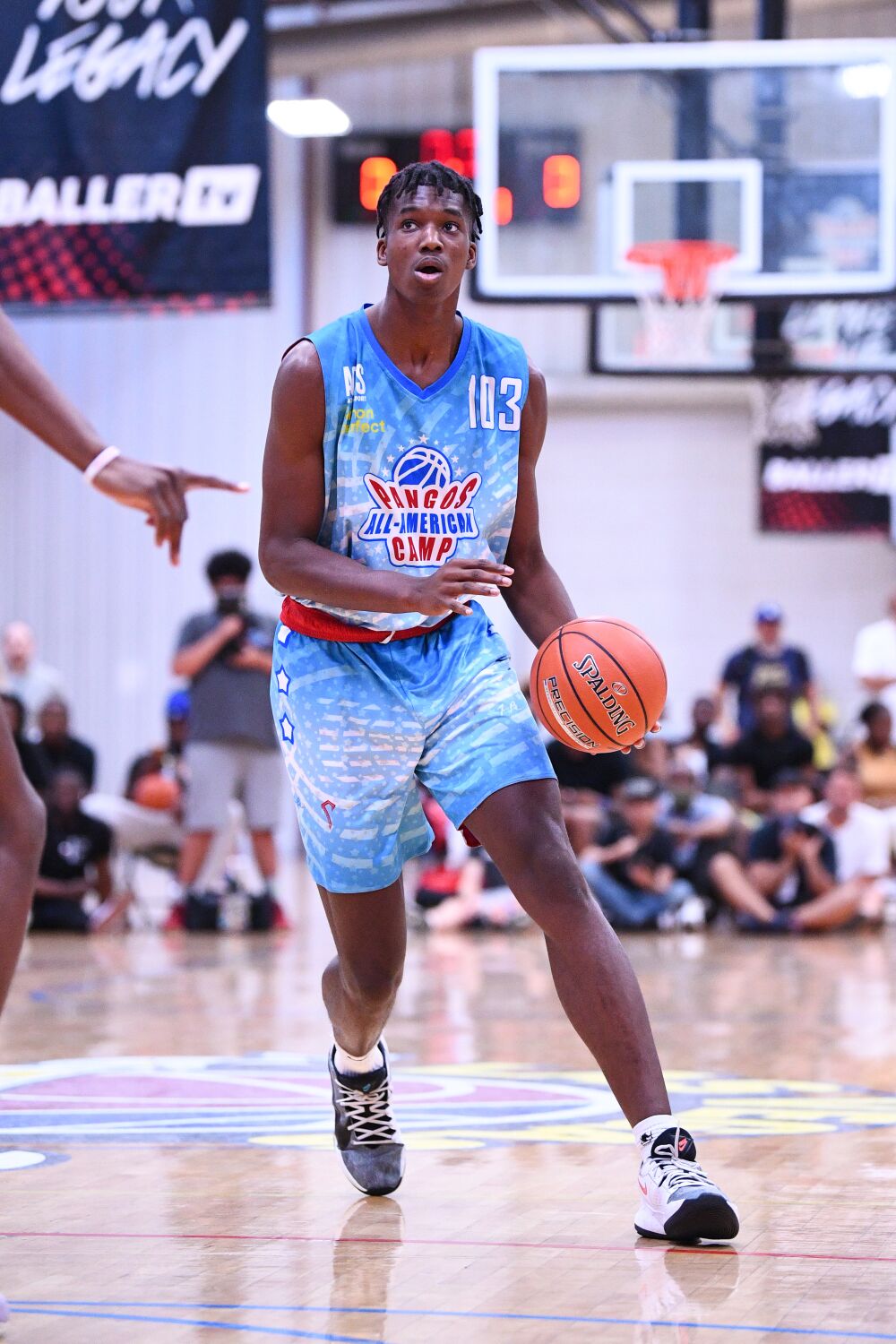 The few glimpses were brief but breathtaking. A put back dunk. A pick and roll layin. A fierce challenge on the edge. All the flashes of a bright future spanned 14 minutes of a blowout win in Tempe.
Vince Iwuchukwu was still finding his footing last Saturday and was still working his way back to full strength six months after suffering cardiac arrest during a summer training session. The fact that the five-star freshman was even playing at this point in the USC season was remarkable given all he'd been through. But in his fourth game back, when he scored 12 points off the bench against Arizona State and set sparks at both ends of the court, the impact of the 7-footer's arrival for USC had become abundantly clear to anyone watching closely. Including the rival bus across town.
"With Vince, they're a different team now," UCLA coach Mick Cronin said of USC this week.
The Trojans will have a chance to prove it on Thursday when they welcome UCLA's No. 8 to the Galen Center, three weeks after their last meeting at Pauley Pavilion went under. UCLA eventually escaped that outing with a late Jaylen Clark three-pointer, extending a winning streak that grew to 14 games. USC, meanwhile, has won three of four since its furious second-half comeback fell short in the first matchup, and the Trojans finally found their stride after an uneven start to the season.
"We've really improved as a team," said USC coach Andy Enfield. "We play much better offensively. We are still strong defensively."
And with Iwuchukwu, the Trojans may have finally found what they were sorely missing beforehand. That discrepancy was evident in the first half of their first meeting, as USC was bullied on the boards and outflanked by UCLA below. The lackluster start saw Enfield bench regular big man Josh Morgan and stretch Harrison Hornery in front 6-10.
Now, USC has a five-star forward round in form, opening up a world of possibilities for its approach to UCLA, which still holds a 1.5-game lead over the Pac-12.
"When he steps into his full stride, you'll see that Vince is Vince," said freshman guard Tre White. "In practice, we're seeing some crazy things from Vince. If it translates to the pitch we will get used to it but you guys will be really shocked."
The Bruins have their own blue-chip freshman, Big Man, who faces a sticking point in his freshman collegiate season. Adem Bona has displayed flashes of brilliance this season mixed with inconsistencies, both of which were evident in his first clash with USC.
After Bona dominated the first half and completely crippled USC on the inside, Enfield's move to use the 6-10 hornery as a stretch five forced Bona out of his comfort zone. He didn't attempt a single shot in the second half as UCLA only scored four points in the paint after halftime.
"They were able to put Harry Hornery on him in the last game," Cronin said. "At Adem, you're always trying to be aggressive by staying out of nasty defensive troubles. On offense we have to throw the ball to him. If he's open deep in colour, we'll have to pass better."
Another star freshman for UCLA could also be close to returning, possibly as early as Thursday. Dynamic first-year warden Amari Bailey is "close," Cronin said Tuesday after Bailey missed all of last month with an ongoing foot problem. The freshman averaged 9.5 points, 3.3 rebounds and 2.3 assists in the first 13 games of the season, establishing himself as a key part of the Bruins' backcourt. With UCLA making its case for a No. 1 spot in the coming weeks, he could play an important role.
USC is still in the early stages of integrating its own Star Freshman. Iwuchukwu, who started with a strict minute limit, played just 14 and 15 minutes respectively in his last two games after making his debut against Colorado the week before. It's unclear how much longer he can play against UCLA — or how much longer his minutes may be limited.
"He's certainly improved dramatically since the Colorado game," Enfield said. "So when he gets his timing back and gets in better shape, he understands the pace of the game and gets his strength [back]you will see him continue to improve."
It's an encouraging thought for USC, who sits third in the Pac-12, firmly in the crowded second row of the conference. Thursday is a critical opportunity to break away from this pack and add to his NCAA tournament resume. Whether it can do that likely depends on how quickly its 7-foot newcomer can grow in its role in the coming weeks.
His teammates have made it clear how excited they are at the pace at which Iwuchukwu is progressing. But in the eyes of the newcomer, his teammates say, the process hasn't progressed fast enough.
"He's hard on himself," White said. "So in the dressing room after the games he's like, 'Damn, I could have done that, that, that.' I'm like, 'Bro, it takes a few games to get used to college. I only started cooking after a few games. You are doing great. You influence the game."
"Now he can get his feet under him. And the proof is in the pudding."
White has seen firsthand how far Iwuchukwu has come since last July. He vividly remembers the day his friend collapsed in the square. Seeing him get this far quickly shook the whole team, he says.
"I'm always watching him now – the whole team – and just making sure he's okay, including off the pitch. Because it's a traumatic experience," White said. "And just to see him pacing as Vince, that's what he's here for. It's crazy to see it come full circle."
https://www.latimes.com/sports/usc/story/2023-01-25/usc-vince-iwuchukwu-continues-make-strides-comeback-cardiac-arrest-ucla USC's Vince Iwuchukwu continues to make strides in his comeback from cardiac arrest