Vancouver bans protests at private residences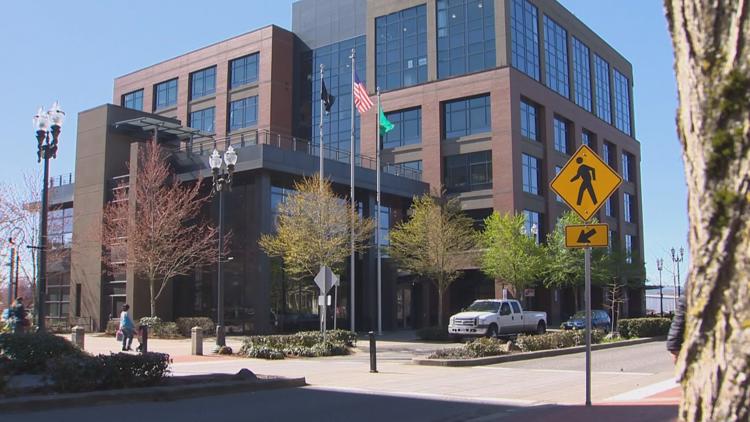 Council members said the ordinance was designed to crack down on "individually targeted" protests against city officials.
VANCOUVER, Wash. — Vancouver City Council voted Monday to pass an ordinance banning "targeted pickets or protests" outside of private residences, in what officials said in response to recent complaints of harassment by city officials.
The ordinance, first reported by OPB, also expands the list of noises and noise sources that may be considered public disturbances and empowers the city to take legal action on behalf of officers or public employees individually affected by protests.
"It would allow the city to seek things like a restraining order or a harassment order against an alleged offender," Assistant District Attorney Nena Cook said during a public hearing at the council meeting on Monday.
She said the ordinance would not ban noisemakers like fireworks and air horns in commercial, industrial or open spaces or at permitted events — only in residential areas.
RELATED: Anti-mask protests put 3 Vancouver schools on lockdown
Cook cited the case of Frisby v. Schultz of the US Supreme Court in 1988, which found that a city's ordinance banning residential picketing is constitutional because it is limited in scope, neutral in content, and violates the government's interest in protecting the privacy of serve residential buildings.
Monday's council hearing drew a large audience, and Mayor Anne McEnerny-Ogle intervened several times during the discussion to tell audience members not to interrupt.
Public testimony was evenly divided, with several participants condemning the ordinance as restricting free speech and peaceful protest, and others supporting it as a means of preventing targeted harassment and bullying, particularly by far-right groups.
Council members Kim Harless, Erik Paulsen and Ty Stober all expressed their support for the regulation during the hearing, and the council voted unanimously to adopt it.
RELATED: Protesters demonstrate at Portland Mayor Wheeler's apartment complex
Paulsen said that the issue of targeted speech is established law and that Vancouver's own rules on the matter are "behind the times" because the city has historically enjoyed a "degree of courtesy."
"And yet we find ourselves here in a new environment that lacks that kind of civility, where, unfortunately, we have to take that extra step to protect our citizens, our employees and our elected officials – one of whom on this podium was affected kind of." speech – and former colleagues who are also affected by this type of speech, and I am absolutely certain that part of their calculus in not continuing public service had to do with their negative experiences with this type of targeted speech ," he said.
Vancouver has faced protests in recent years, including an incident last year in which an anti-mask protest locked down three Vancouver schools, prompting a Clark County judge to issue an injunction that "disruptive protests" Prohibited near campus.
The Colombian reported an incident in 2020 in which demonstrators protested outside the homes of two city attorneys after the city accused a company of violating Washington's pandemic stay-at-home order.
https://www.king5.com/article/news/local/protests/vancouver-city-council-ban-protests-private-residences/283-aef85358-d9ff-41f5-9514-834648249b56 Vancouver bans protests at private residences