Verdict in Oregon wildfires case highlights risks utilities face amid climate change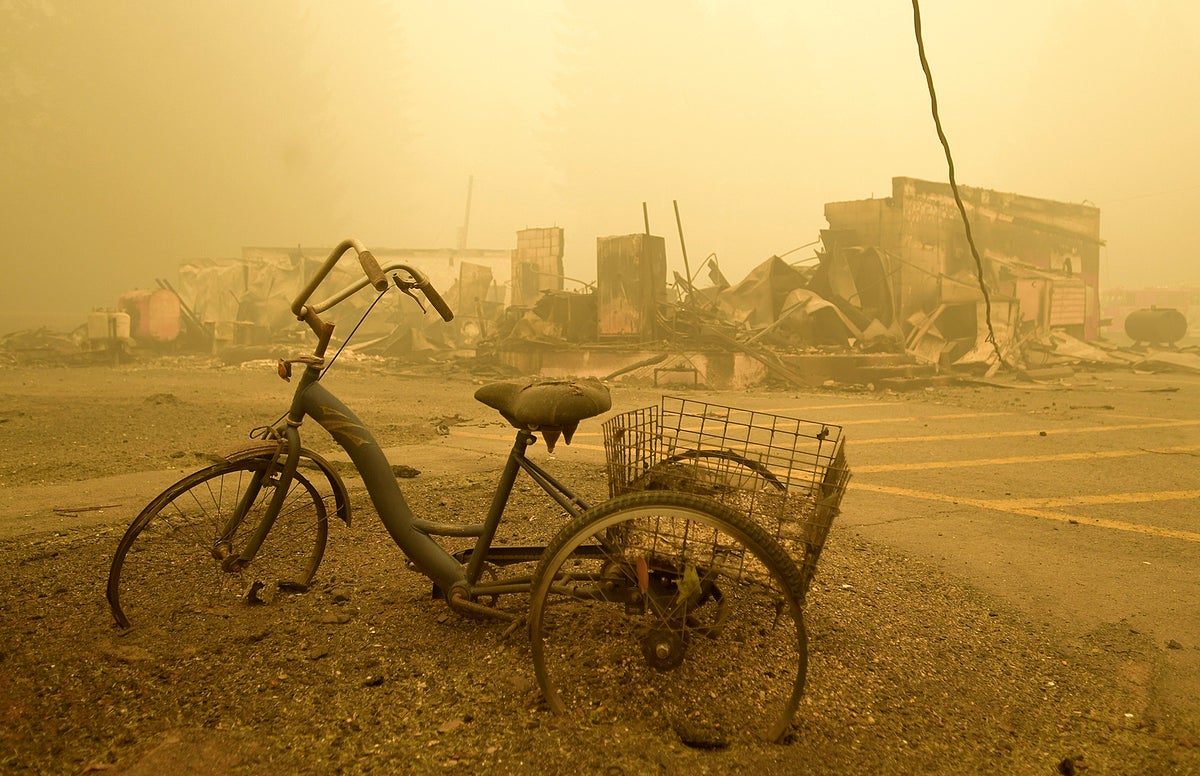 A jury ruling that blamed an Oregon utility for devastating wildfires — and potentially billions of dollars in damage — highlights the legal and financial risks that utilities face when they fail to take proper precautions in a hotter, drier climate.
Experts say utility companies, particularly in the western US, are increasingly finding themselves in a financial bind, in part of their own making. While renewing, replacing, and even burying thousands of miles of power lines is a time-consuming and costly endeavor, failure to start that work in earnest years ago has left it behind as wildfires have become increasingly destructive — and lawsuits Flames sparking from electrical equipment are bloated.
"How are they paying for that while also attempting to do grid hardening at a pace that could prevent constant power shutdowns?" said Josh Hacker, chief science officer at Jupiter Intelligence, a company that provides consulting on managing climate change risks about claims for damages. "It's an enormous challenge. Now it bites her. And in the end it will hit us all because they have to reimburse these costs."
Last week, an Oregon jury found PacifiCorp liable for damages for negligently failing to turn off power to its 600,000 customers during a Labor Day weekend storm despite warnings from senior firefighters, and for blaming its power lines for multiple fires were.
PacifiCorp said it was disappointed with the jury's decision and planned to appeal.
The fires were among the worst natural disasters in Oregon's history. They killed nine people, burned more than 4,856 square kilometers and destroyed over 5,000 houses and other buildings. The total damage has yet to be determined, but it is expected to be in the billions.
Because utilities make money from customers, they often increase revenue for infrastructure upgrades through tariff increases. In California, for example, Pacific Gas and Electric has requested to increase its residential tariffs by about 18% this year in part to bury more than 3,000 miles (4,828 kilometers) of overhead power lines, according to a fact sheet from the state commission for public utilities. The commission, which regulates electricity tariffs, said it expects to make a final decision on the application between July and September.
PG&E's planned upgrades come amid a heightened audit of the utility that serves more than 16 million people in 70,000 square miles (181,300 square kilometers) of central and northern California. Having suffered billions of dollars in damage from multiple fires, the company filed for bankruptcy in 2019, shortly after its neglected equipment caused a 2018 fire that virtually leveled the town of Paradise in the Sierra Nevada foothills. The Camp Fire was the deadliest and most destructive fire in California history.
PG&E's bankruptcy settlement with the wildfire victims was a staggering $13.5 billion. Only half of the money was paid to the victims in cash, while the other half was paid in PG&E stock, which has since plummeted.
PacifiCorp, meanwhile, says it has invested hundreds of millions of dollars upgrading its equipment and expanding its weather stations and weather modeling since the 2020 Labor Day fires in Oregon. But customers also help to finance these investments. The Oregon Public Utility Commission approved rate increases for PacifiCorp in 2023, in part to allow the utility to cover "non-energy" costs, including wildfire containment and vegetation management.
The utility companies' revenue model — and the way some have settled previous wildfire claims — has raised questions about the extent to which such companies are actually held accountable for their role in causing wildfires.
"Where are public safety and the sustainability of the entire system in the foreground of the fundamentally profit-oriented companies? That's the big question being addressed here," said Scott McNutt, a part-time lecturer in bankruptcy law at the University of California, Davis, who also served as advisor to the fee controller in PG&E's bankruptcy proceedings.
Utilities, meanwhile, say the growing threat of wildfires to public safety is being caused by forces beyond their control, such as climate change and population growth at the wildland-urban interface — the frontier where development in encroaches on natural areas.
"These systemic issues affect all Oregonians and are bigger than any single utility company," PacifiCorp said in a statement earlier this week after the jury returned one of its verdicts.
Some experts agree to some extent, saying that strengthening the power grid is just one of many crucial steps that need to be taken to protect people and their homes from wildfires.
"Energy companies … should always work to reduce potential ignition risks," said Michael Gollner, associate professor of engineering at the University of California, Berkeley. "But you also want to make sure that when there are those fires, those fires don't cause death and destruction."
Changing the materials homes are made of is one way for communities to protect themselves from wildfires, Gollner said. Fire-retardant roofs made of asphalt or brick instead of wood, covering vents with fine mesh to keep embers out, and non-combustible siding can help prevent houses from burning down. It's also important to create what is called a "defensible space" around one's home – a buffer area with less vegetation that will help slow the progression of a fire. Mandatory burns and depletion of fuels in forests are also important, he said.
"We haven't taken a more holistic step to harden our communities from leading to fires," he said. "We didn't do the hard, different work."