Videos, 911 calls capture frantic response to deadly New Mexico rampage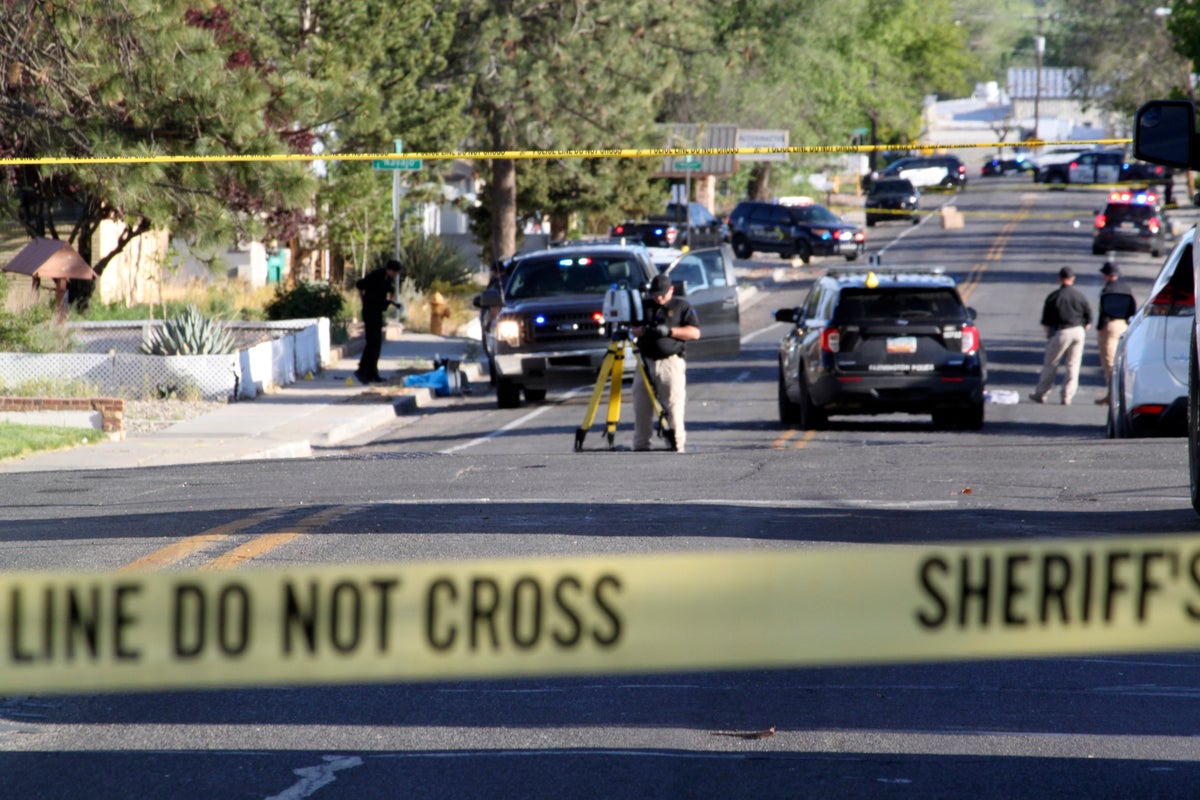 Hundreds of frantic calls reached dispatchers over a spate of gunshots and bloodied victims along a busy street during this month's deadly Farmington shooting, prompting authorities to rush to the chaotic scene, unaware of what was in store.
Breathless and with drawn weapons, the officers rushed towards the shooter. More shots rang out and an officer yelled, "Subject down! Stop fire, stop fire!" Another officer who was shot in the leg was put in a squad car and taken to a nearby hospital.
For the next few minutes, confusion reigned as authorities searched the neighborhood for a possible second gunman, while other officers scrambled to work out the extent of the crime scene and which vehicles had been hit by gunfire.
Hours of police body and dashboard camera video released Friday, along with hundreds of operational footage, paint a vivid picture of the May 15 shooting that rocked the northwest New Mexico community. Three women were killed and six others injured – all by a single 18-year-old gunman who was killed by officers.
The 911 calls highlight the mounting chaos as residents called the location of shot vehicles, including an abandoned car with the door ripped open and the windshield shattered. Others helped a woman who was hit by flying glass in her car.
"A lady is in the car. And it looks like a bullet went through the windshield and she's bleeding profusely," a caller told an emergency dispatcher.
As officers gathered on a street corner, they tried to understand what they were hearing from dispatchers and witnesses, and to take stock of their colleagues and the victims who had been taken to the hospital. Deputy Chief of Police Baric Crum asked if it was a traffic stop that failed.
"No, only shots were fired," Detective Christopher Stanton replied. "People started yelling, 'Hey, we're getting several shots down here — 30, 40 shots, and then they just poured in."
He spoke about the woman who was believed to be the first victim. A bullet smashed through her windshield as she drove down a street lined with houses and churches. Shards flew and more shots erupted, and she turned down a side street not knowing where the shots were coming from.
Meanwhile, dispatchers juggled 911 calls in quick succession, eliciting details from insecure callers in trembling voices.
"There's a lady here, she's bleeding," a caller said to a dispatcher who was providing first-aid instructions.
Another call came from a house: "We heard screams and crying," the woman said.
In another 911 audio recording, captioned "Suspicious Mom," a woman said her son had been suffering from depression and feared he could be involved in the shooting. The woman's identity could not be immediately confirmed.
"I am just worried. I have a son who is very, very depressed and I am driving over and was wondering if you could give me any information. You know, he could be fine. He was just really depressed and I was really worried."
According to authorities, 18-year-old gunman Beau Wilson fired more than 190 shots during the killing spree, most of them from the home he shared with his father.
Video released on Friday showed officers, guns drawn, entering the suspect's home to evacuate it, shouting, "Farmington Police!"
Family photos hung on the wall to the right of the entrance, with a framed cross in the center. Cases lay all over the porch, where authorities say the gunman had gone outside that morning and started firing indiscriminately at passing vehicles.
Farmington residents Gwendolyn Dean Schofield, 97, her 73-year-old daughter Melody Ivie and 79-year-old Shirley Voita died, according to police.
The audio recordings included a frantic call from a daughter of Ivie after learning in Salt Lake City that her mother and grandmother had been killed.
"You were shot this morning possibly on your way to pick up my nephew from school and I don't know if you can tell me anything at all," said Julianne Hamblin.
Audio calls also indicated the scale of the police response, including coordinating a plane to potentially send more police. Some off-duty officers were called in, while others cut short-notice calls across the city to rush to the scene.
___
Associated Press journalists Scott Sonner in Reno, Nevada and Rio Yamat and Ty O'Neil in Las Vegas, Nevada contributed to this report.