Vigil held to remember rideshare driver who was shot and killed in SODO: 'An angel on Earth'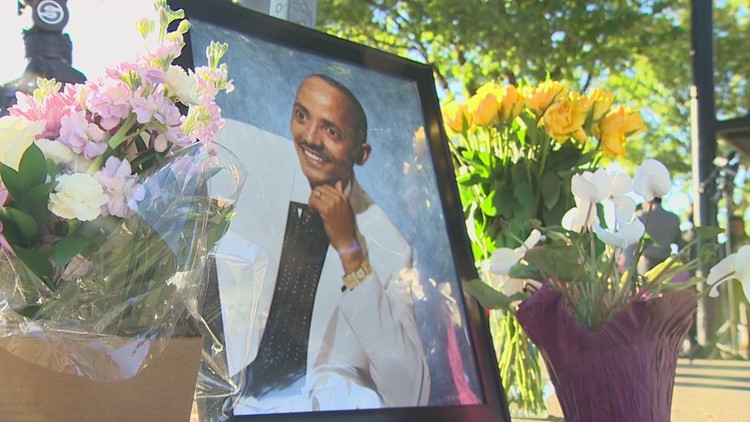 An 18-year-old woman is on $2 million bail in connection with the fatal shooting of a shared driver in Seattle.
SEATTLE – Dozens of family, friends and community members gathered less than a block from where Amare Geda was killed to pay their respects and honor a life taken too soon.
Geda was shot dead in the SODO district of Seattle on August 11.
He is remembered as a loving and caring family man and pillar of his church community who left behind a wife and two children.
"Not only are we left deeply saddened by the loss of Amare, but we live with the pain of losing him to such a brutal and heinous murder. Daniel Negash Ajema, representative of the Geda family, said the trauma, pain, anger and helplessness we feel today will never go away.
A candlelit vigil on Friday night gave those who knew and loved Geda a moment to remember him.
"He was a wonderful person, an angel on Earth and now we all have him as an angel," said one community member.
Geda's wife spoke to the community wanting them to know that despite an arrest the fight is not over and is grateful for the community's support and asking people to pray for them.
The vigil was attended by city leaders including Seattle City Councilor Sara Nelson, King County Councilmember Girmay Zahilay and Seattle City Councilor Tanya Woo.
Geda's friends and community members are calling for an end to gun violence and ensuring the safety of carpool drivers, so another family won't have to go through this.
Bizuayeahu Haile, a friend of Geda, said: "There are about 65,000 Amare working in Seattle, we don't know who will be next unless we do something about them.
An 18-year-old woman suspected of fatally shooting Amare Geda, 52, is being released on $2 million bail after a judge found probable cause for first-degree murder. on August 11.
The suspect, who has not been formally charged, will appear in court on August 15.
Around 3:30 a.m. on August 8, a 911 caller reported someone walking down near the intersection of South Walker Street and First Avenue South and not moving, according to probable cause documents. The Medics arrive and declare Amare Geda dead at the scene.
A witness to part of the incident told police officers he was at the front of his workplace when he heard the only gunshot to the north, the documents said. He saw a white car stop on First Avenue and told police he saw a man near the vehicle. The car left, leaving the man in the middle of the road.
Detectives obtained pictures of the sedan from a nearby bank and linked the victim to the vehicle through the Washington State Department of Licensing database.
Detectives went to the victim's home in SeaTac, where Geda's wife said he worked as an Uber and Lyft driver in his Toyota Prius. She said he worked overnight and was expected to be home around 4am
Detectives were able to trace the suspect from the scene where Geda was shot dead. Surveillance video eventually showed the suspect "in great detail", according to the documents as to the probable cause.
On August 10, officers were dispatched to Ninth Avenue North and John Street to complain about parking of a vehicle parked in a no-parking zone in a closed block for a street fair. city. Plainclothes detectives monitored the vehicle and eventually arrested the woman.
Interview of the suspect
During the interview, the suspect said she bought the car on Offer Up but changed her story to say she was walking through the city center when she was harassed and assaulted. She told detectives she was punched and then continued on into SODO, where she eventually met Geda.
The suspect said she found Geda lying on his head as if sleeping. She knocks on his window and asks if he is okay. She said she then asked if he could take her to the hospital – during the interview, she had no visible injuries, according to cause documents. may happen.
The suspect said Geda got out of the car and put his hand on her shoulder and arm. She said she raised her shirt to show her gun and he continued to grab her shoulder. She said then pulled out her gun and dropped it. She picked it up and shot Geda, she said.
Geda said nothing to her and did not attack her, the suspect told detectives.
"She said if she didn't shoot [Geda]she probably could have gotten rid of him," documents the probable cause.
The suspect said the interaction lasted about two minutes.
Surveillance video obtained from a nearby bank shows Geda being outside his car for about seven seconds before falling to the ground.