'Villain' label played role in ejection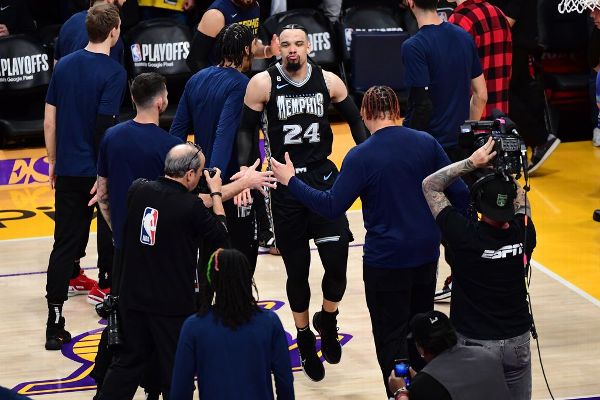 LOS ANGELES — Memphis Grizzlies forward Dillon Brooks believes the perception of him as a "bad guy" contributed to his being called out for a flagrant foul 2 and ejected early in the third quarter of Saturday's Game 3 loss to the Los Angeles Lakers became.
Brooks, who declined to comment after the game, explained after Sunday's practice at the USC Galen Center that his left handshake on LeBron James' groin was an accident while trying to steal the ball during the Lakers- Star dribbled across the court.
Brooks said he never received an explanation for the flagrant 2 call from umpire Marc Davis, the crew chief, but speculated that his reputation influenced the decision, as well as that Philadelphia 76ers star James Harden was ejected after he hit the groin of Brooklyn Nets forward Royce O'Neale in Game 3 of that series.
"The media makes me a villain, the fans make me a villain, and that just creates a whole different personality for me," Brooks said. "So now you're thinking I intended to punch LeBron James in the balls. I play basketball. I'm a basketball player so you think I'm that kind of person."
Brooks will not face a suspension or additional penalty for the foul following an NBA review, sources told ESPN's Adrian Wojnarowski. The league reviews all blatant fouls.
"I knew it wouldn't be me," Brooks said. "You can't dictate this series like that. Marc probably had to call it that because what happened [in Game 3] with James Harden, and that's just unfair. I'm being punished and I can't help my team to come back in the second half."
It was Brooks' third throw this season, tied most with Boston Celtics' Marcus Smart and Sacramento Kings' Malik Monk in 2022-23, including the playoffs, according to ESPN Stats & Information Research. Another ejection from Brooks this season was hitting Cleveland Cavaliers star Donovan Mitchell in the groin during a Feb. 2 loss, which also resulted in Brooks being suspended for a game.
It was also Brooks' second career postseason ejection. He committed a flagrant 2 that injured Golden State's Gary Payton II in Game 2 of last season's Western Conference semifinals and was suspended by the NBA for the next game.
"I've dealt with it [for] two years," Brooks said. "It is what it is. The fans can s—speak whatever they want. I do not care. I'll keep playing my game and getting better and better every day as long as my career goes on."
Brooks welcomed the ire of Lakers fans with outspoken comments about James following the Grizzlies' Game 2 win when he had a verbal confrontation with James in the third quarter.
"I don't care – he's old. Brooks, 27, said of James, 38, at the time. "This is what I've been waiting for. I expected him to make Game 4, Game 5. He was going to say something when I got my fourth foul. He should have said that sooner. But I'm toasting bears. I don't respect it nobody until they come and give me 40."
When asked about his verbal provocation from James after practice on Sunday, Brooks gave short answers. But he definitely didn't take back any of his words.
"Am I saying something that is not a fact?" Brooks said.
James, a four-time champion and four-time MVP, has averaged 24.7 points on 50.8% shooting, 10.7 rebounds and 4.3 assists in the series to help the Lakers take a 2-1 lead . Brooks has struggled offensively in the series, averaging 11.3 points per game on 32.5% shooting, including 5-of-20 from 3-point range.
Brooks had a particularly bad Game 3, going off the floor 3 of 13 as the Lakers defensively planned to bag him, and fans booed Brooks every time he touched the ball. He insisted the atmosphere had no bearing on the poor performance of Memphis, who trailed by 26 points after the first quarter, the widest first-quarter deficit in NBA playoff history.
"I've been talking all year," Brooks said. "We just didn't take any shots early in the game."