Volunteer firefighter shortages spur improved junior firefighter training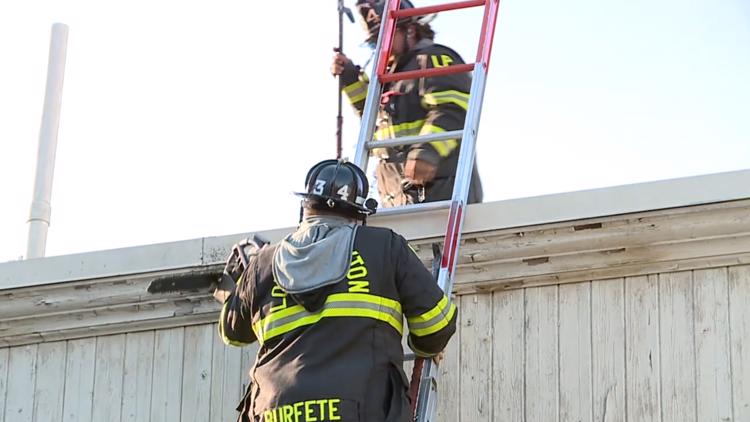 Firefighting companies try to build a pipeline of young firefighters by training high school students.
HARRISBURG, Pa. – To attract more volunteer firefighters, Pennsylvania legislators are working to pass a bill to improve firefighting education for junior firefighters.
The action comes amid a massive drop in the number of people joining volunteer fire departments, which make up two-thirds of all firefighters, according to the National Volunteer Fire Council.
In 1975, Pennsylvania had about 360,000 volunteer firefighters, according to the council. In recent years, that number has fallen to around 36,000 to 38,000 — a 90 percent drop.
Fire companies attempt to build a pipeline of young firefighters by training high school students to become junior firefighters.
Children as young as 14 can enroll in junior firefighting programs, but are mostly limited to training, basic first aid, and post-fighting cleanup. At the age of 16, they can start training to become a professional firefighter. The final training, Interior Firefighting Module with Live Burns, is restricted to those aged 18+.
Fire chiefs said waiting until students are 18 is forcing education to compete with other time commitments that come after high school.
"They go to college, they can drive and all the other things that come with age. So the benefit here would be that they get the training at a younger age and are ready to go," said John Fogg, chief of the Colonial Park Fire Company.
HB 2268 would lower the minimum age for this training to 17 years. That would allow high school students to complete their education and be ready to work as firefighters once they graduate.
The bill was introduced by State Rep. Torren Ecker (R-Adams/Cumberland), who volunteered himself as a junior firefighter in high school.
"I started my community service as a kid with the Jefferson Service Fire Company, as a junior firefighter," Ecker said. "So that's my passion for juniors; that's why I have this interest."
Fire chiefs support the measure, saying even an extra year of training could make a difference in the number of qualified volunteer firefighters.
"If they lowered the age to 17, that would help a lot because if they go through the mods, they could complete the entire course and be ready," said Carl Nace, leader of the Landisburg Volunteer Fire Department.
Fire chiefs recognize that young firefighters are minors. There would still be restrictions under the bill, as both fire chiefs and trainees' parents would need to give permission for more advanced training, such as entering burning buildings.
"I think giving younger people a little more responsibility will help them mature a little bit faster so they understand the meaning of things," said Douglas Snyder, chief executive of the Millersburg Fire Company.
Separate versions of the bill were passed in both the State House and Senate. The legislature must now decide which one to send to the governor for signature.
Download the FOX43 app here.
https://www.fox43.com/article/news/local/volunteer-firefighter-shortage-junior-training/521-582da4b1-d5b7-42de-8d19-5ff2adc6cce3 Volunteer firefighter shortages spur improved junior firefighter training