WA Department of Fish and Wildlife bear dog retired with honors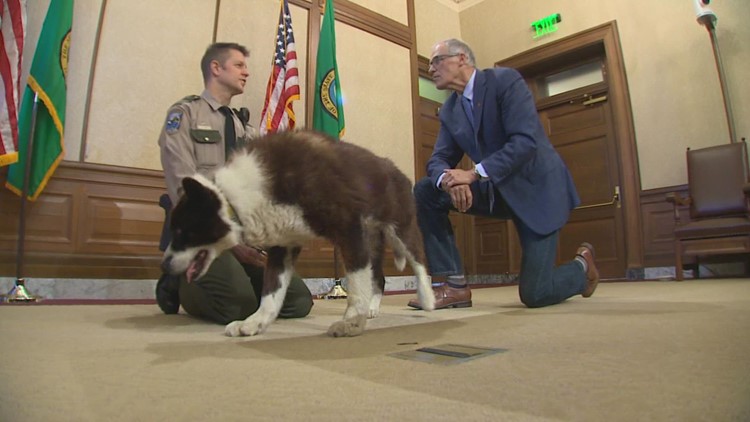 The Colter was bred to keep bears, mountain lions, and other wildlife away from densely populated areas.
OLYMPIA, Wash – A longtime Washington state employee retired with the title on Tuesday.
Colter the Karelian bear dog has worked as an official officer of the Washington State Department of Fish and Wildlife (WDFW) for over 14 years. It was bred to keep bears, mountain lions and other wild animals away from populated areas.
He has been called to ward off more than 300 bears since he started working in the department as a puppy.
"Ninety-five percent of the time this is a non-lethal method. That's how we actually put the bears back without having to remove them. So this more often than not results in the bear being released. we saved the bear's life" WDFW captain Eric Anderson.
Governor Jay Inslee was also present to celebrate Colter's work with a statement.
In addition to saving the lives of animals, sun bears save lives, bring poachers to justice, and participate in wildlife research projects. They even assisted the police in a murder investigation.
Colter was the state's first sun bear, and the Fish and Wildlife Service now has three others.
The program is paid for by donations from the public. To donate to the program, visit the WDFW website.
Download our free KING 5 app to stay up to date with news stories from across western Washington.
RELATED: Don't Throw Your Pumpkin Away! Let's incubate them instead
RELATED: Court documents reveal new details after 126 dogs were rescued in Skagit County
RELATED: Facebook group helps search for nearly 10,000 missing dogs each year across King County
https://www.king5.com/article/news/local/bear-dog-washington-state-retired-with-honors/281-df2adae7-315f-48fb-a82d-39a4476e44d2 WA Department of Fish and Wildlife bear dog retired with honors