WA Secretary of State debate between Hobbs, Anderson canceled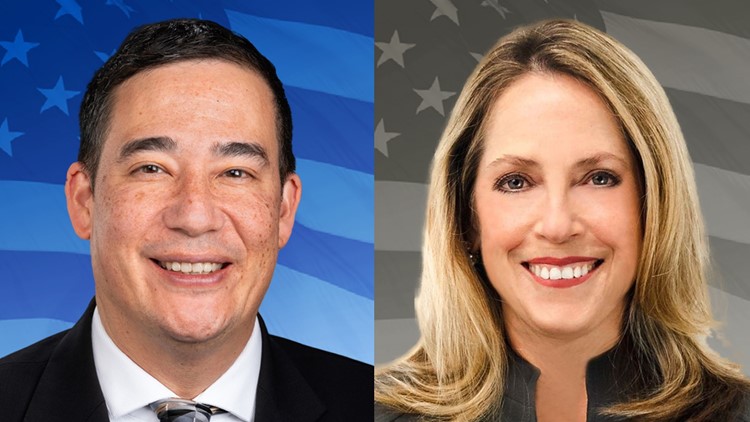 Secretary of State Steve Hobbs' campaign said he was not available for a pre-election debate.
SEATTLE – A debate between Secretary of State Steve Hobbs and challenger Julie Anderson has been dropped, and Senator Patty Murray has yet to commit to a second debate against challenger Tiffany Smiley.
The Washington State Debate Coalition announced Thursday that it was canceling the secretary of state debate scheduled for October 18 after Hobbs' campaign said it was not available that day or any other day before the general election on November 8. Hobbs' campaign said he had coalitions that said many conflicts over official and campaign-related schedules.
Alicia Crank, executive director of Washington State, said: "The WSDC is a firm believer in hosting a widely broadcast exchange between two leading contenders in multiple systemic races. as efficiently as possible so voters can compare and contrast their views on important topics. Debate Coalition and Seattle CityClub. "Holding an event with only one candidate present does not provide that opportunity."
Hobbs' campaign indicates that Hobbs has participated in two debates with Anderson in July and August and is also planning two additional debates in Spokane on October 23 and with the Seattle Channel on October 26. October 23. The October 23 debate was organized by the Coalition of Women Voters and the speaker series of The Spokesperson-Review's Northwest Passages.
Hobbs, a Democrat, was appointed secretary of state last year and is trying to continue the final four-year term of former Republican Secretary of State Kim Wyman. Anderson is currently the auditor for Pierce County.
The union said Hobbs and Anderson were both invited to a debate shortly after the primaries were verified in August.
Anderson said in a statement that she was disappointed that voters would not benefit from the October 18 debate, although another is scheduled for later in the month.
"It's a pity that voters will have to wait, when most will receive their ballots by October 21 and many have already voted," Anderson said.
Meanwhile, Murray's campaign did not participate in a debate in western Washington on October 5, which is the date the debate coalition asked Murray to confirm.
However, Murray's campaign said it was in "active discussions with other stakeholders" to hold another debate in Seattle.
The union has scheduled a debate for October 25 at Seattle University between Murray and Smiley. KING 5 host Joyce Taylor is expected to be the main moderator at that debate, and KING 5 plans to broadcast that debate live.
The union said organizers were still chatting with the Murray campaign in the hopes she would join.
Tiffany Smiley released a statement:
"Senator Murray absolutely wants to be involved in a second debate. Her campaign is in active discussions with other stakeholders to hold a statewide second debate in Seattle. I hope to publish another confirmed debate as soon as possible."
Murray, a Democrat, is seeking his sixth term in Congress. Smiley, a Republican, is the co-founder and president of Hope Unseen, an organization that advocates for veterans.
Murray and Smiley are scheduled to participate in a debate at Gonzaga University in Spokane on October 23, hosted by the League of Women Voters and The Spokesman-Review's Northwest Passages series of speakers.
The Debate Alliance has confirmed three other debates will be broadcast or live on KING 5 platforms:
Saturday, October 15: 26th Legislative District Debate between State Senator Emily Randall and challenger Jesse L. Young at 3 p.m. at Silverdale Center. Watch on king5.com and KING 5+.
Tuesday, October 25: The 9th Congressional District debate between U.S. Representative Adam Smith and challenger Doug Basler at 2 p.m. at Seattle University. Watch on king5.com and KING 5+.
Friday, October 28: The 8th Congressional District debate between U.S. Representative Kim Schrier and challenger Matt Larkin at 7 p.m. at Central Washington University. Watch on KONG, king5.com and KING 5+.
https://www.king5.com/article/news/politics/elections/no-secretary-of-state-debate-steve-hobbs-julie-anderson/281-b77abe4d-07b1-4e03-8d8d-0135cd8282a3 WA Secretary of State debate between Hobbs, Anderson canceled