Wagner crash: Prigozhin 'onboard' plane that's crashed near Moscow that killed all passengers and crew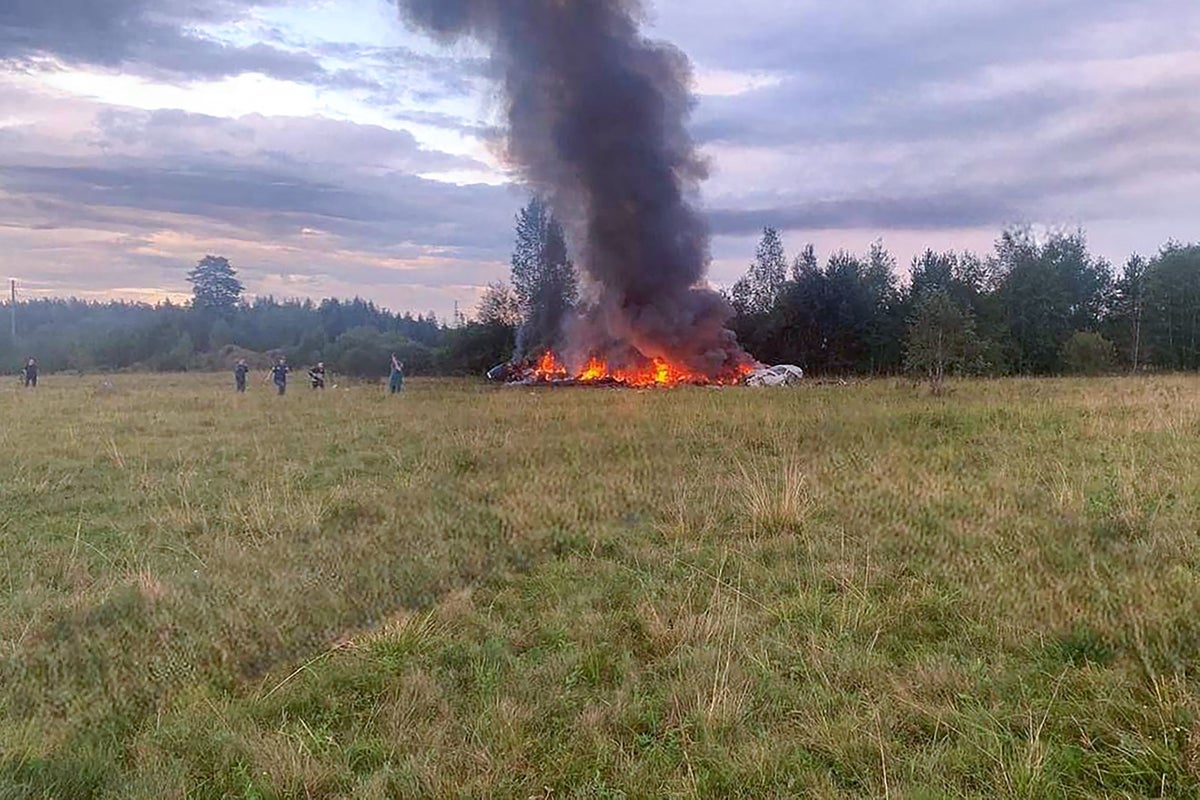 Yevgeny Prigozhin, the leader of the Wagner mercenary group who led a failed unit against Moscow, is presumed dead after being named among passengers on a private jet that crashed into a field near Moscow with no survivors.
The 62-year-old warlord who assumed Vladimir Putin's authority in an uprising 23 miles north of the capital, according to civil aviation authority Rosaviatsia. Also on board is Dmitri Utkin, the co-founder of Wagner and a former officer in a special unit of the Russian military intelligence service.
The other passengers on board were Sergey Propustin, Evgeniy Makaryan, Alexander Totmin, Valeriy Chekalov and Nikolay Matuseev, according to Rosaviatsia. The regulator also said pilot Aleksei Levshin, co-pilot Rustam Karimov and flight attendant Kristina Raspopova were on board.
Flightradar24's online tracker showed that the Embraer Legacy 600 (plane number RA-02795) carrying Prigozhin disappeared from radar at 18:11 local time (15:11 GMT).
Seven passengers and three crew members are said to have been on board the plane, which flew from Moscow to St. Petersburg. The bodies of all ten people who were on board the crashed plane were recovered from the scene of the accident and the search operation was completed, the Interfax news agency reported, citing rescue services.
The cause of the crash was not immediately clear, but a video showing a plane spiraling into a nosedive was circulating on the Baza Telegram channel, which is closely linked to Russian security services. Flight tracking data gave no indication of a distress call or an in-flight emergency, and the aircraft was still climbing when it disappeared from radar. Media outlets linked to Wagner were quick to claim that a Russian anti-aircraft missile shot down the plane, without providing any evidence.
British security forces assume that the Russian secret service FSB shot down the plane on the orders of Vladimir Putin. The Telegraph reports.
Prigozhin's long-standing feud with Russia's beleaguered military and its failed uprising would give Mr Putin's state apparatus ample grounds for revenge. The mutiny, which ended when a deal between Prigozhin and the Kremlin fell through, posed the greatest threat to Putin's authority during his decades in office.
When news of the crash broke, the President attended a concert commemorating the Battle of Kursk in 1943 and praising troops from Russia's invasion of Ukraine in 2022.
Mikhail Podolyak, chief adviser to Ukrainian President Volodymyr Zelenskyy, said the reported death of Prigozhin showed "it is obvious that Putin does not forgive anyone his bestial terror". Prigozhin's deal to end the uprising is a "death sentence," he added.
Britain's Foreign Office said it was "monitoring" the situation closely, while US President Joe Biden said he was not surprised by the reports, adding that "not much is happening" in Russia, which Putin is not behind.
A Telegram channel linked to Wagner said Prigozhin was dead. The Gray Zone report said he was "killed as a result of the actions of traitors to Russia."
A partial tail number, consistent with the jet, could be seen in an image posted by another pro-Wagner social media account showing burning wreckage. Prigozhin reportedly used the plane before, including shortly after the aborted armed uprising.
A second private jet linked to Prigozhin, which also appeared to be flying to St. Petersburg, returned to Moscow and landed, flight tracking data showed.
Once a low-key businessman, Prigozhin benefited from Mr Putin's patronage and earned the nickname "Putin's Chef". He amassed a fortune through government contracts and later built a paramilitary army that became a key extension of Russian power abroad.
Moscow has repeatedly denied any official connection to the Wagner Group, founded in 2014. Fighters from the private military company have been deployed in support of Moscow's allies in countries including Syria, Libya and the Central African Republic. The United States sanctioned it, accusing it of atrocities that Prigozhin denied.
Prigozhin had admitted that he founded and funded the Internet Research Agency, a company Washington has described as a "troll farm" that meddled in the 2016 US presidential election. In November 2022, he admitted to interfering in US elections and doing so again.
He rose to prominence after Russia's invasion of Ukraine in February 2022, where his militants – including thousands of convicts he recruited from prisons – spearheaded the Russian assault on the eastern city of Bakhmut. This battle became the longest and bloodiest battle of the war and gave Prigozhin a boost in power in Kremlin circles and among the Russian military elite. It would also have made him many enemies. Prigozhin used social media to glorify Wagner's achievements and waged a months-long feud with the military establishment, accusing it of incompetence and openly questioning decisions made on the Ukrainian front.
In June, Prigozhin led the mutiny in which Wagner militants seized control of the southern city of Rostov-on-Don, shooting down several military helicopters and killing their pilots en route to Moscow. In a televised address, as Prigozhin's forces marched toward Moscow, Putin called it an act of treason that would provoke harsh reactions. The deal ended, the march would take place hours later.
Under the terms of the agreement, Prigozhin and some of his fighters would leave for Belarus and a criminal case against him for armed mutiny would be dropped. But there is confusion about the implementation of the agreement and the future of Prigozhin. The Kremlin said it attended a meeting with Mr Putin five days after the mutiny ended.
Then, on July 5, Russian state television said it was still under investigation and broadcast footage showing cash, passports, weapons and other items confiscated in a raid on one of his properties. In late July, Prigozhin was photographed in St. Petersburg during a Russia-Africa summit in the city. Prigozhin was apparently able to move around relatively freely, which came as a surprise given the anger Mr. Putin showed during the mutiny.
On Monday, Prigozhin appeared in a video implying he was in Africa, where Wagner is recruiting.
Also this week, Russian media, citing anonymous sources, reported that General Sergei Surovikin was dismissed from his post as commander of the Russian Air Force. Mr. Surovikin, who once led Russia's operation in Ukraine, has not been seen publicly since the mutiny, recording a video address urging Prigozhin's troops to withdraw.