Washington Commanders move Chase Young to reserve/PUP list; DE out at least first four games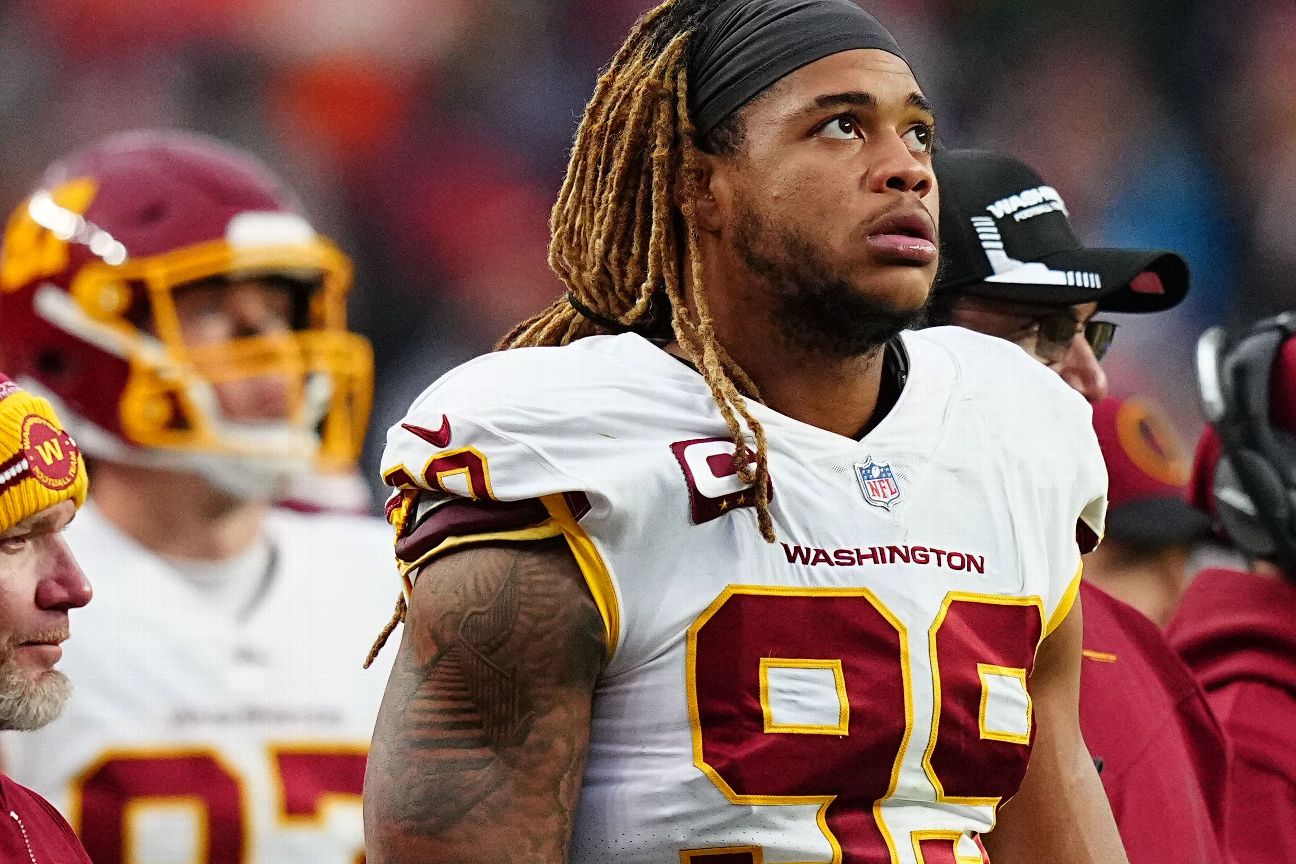 ASHBURN, Va. — The Washington Commanders placed defensive end Chase Young on the reserves/physically unfit list Tuesday, making him unavailable for the first four games of the season.
Young opened camp on the active/PUP list after torn his right ACL and MCL in a Nov. 14 game against the Tampa Bay Buccaneers. Young underwent reconstructive surgery, which prolonged his recovery time.
Washington took the step to get to the required 80 players by Tuesday's 4:00 p.m. ET deadline. The commanders also put backup center Tyler Larsen (Achilles) on the same list as Young.
The move with Young came as no surprise as Washington coach Ron Rivera mentioned the possibility earlier in training camp and previously announced that Young would not be ready to return until Week 1 when the Commanders host the Jacksonville Jaguars.
Young may not return until October 9 against the Tennessee Titans.
"As we're going through this, it's hard to predict recovery time," Rivera said Tuesday. "This injury is a bit more severe than average and that's why the timeline is a bit longer. How is this timeline? I can't tell you."
Young, the second overall pick in the 2020 draft, recorded 1.5 sacks in nine games last season. As a rookie, he finished with 7.5 sacks, four forced fumbles and three recoveries, one of which resulted in a touchdown, and was named NFL Defensive Rookie of the Year.
Without Young at the end, Washington will field James Smith-Williams and Casey Toohill in his place.
The commanders also released receiver Kelvin Harmon and attacked Rashod Hill and placed linebacker Nathan Gerry on the reserves/injured list.
https://www.espn.com/nfl/story/_/id/34447038/washington-commanders-move-chase-young-reserve-pup-list-de-least-first-4-games Washington Commanders move Chase Young to reserve/PUP list; DE out at least first four games