Washington, led by Elle Ladine, knocks off No. 2 Stanford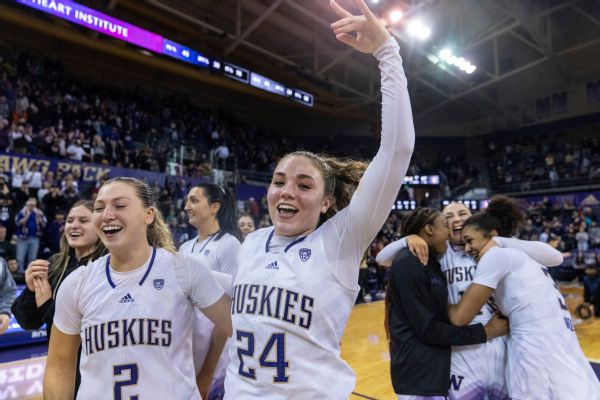 SEATTLE — Elle Ladine scored 21 points and Dalayah Daniels made two crucial free throws with 8 seconds remaining, helping Washington beat No. 2 Stanford 72-67 on Sunday.
Washington (13-9, 5-7 Pac-12) ended the game on a 9-2 run. Lauren Schwartz had two fouls before Ladine put the Huskies in front with a layup at 1:41 left.
Daniels had 15 points in Washington's first win over a ranked opponent this season. Haley Van Dyke scored 14.
Haley Jones had 18 points for Stanford (22-3, 10-2) and reserve Brooke Demetre had 15. Cameron Brink finished with 14 points and six rebounds.
The Cardinal led 17-8 after one quarter, but the Huskies rallied in the second.
Washington ended the first half with a 10-0 run. Ladine started the sprint with a 3 with 2:03 to go. Schwartz hit a 3 and Daniels converted a layup on the buzzer, giving the Huskies a 38-34 lead at the break.
Washington also scored the first six points in the third quarter. But Brink's layup started a 9-0 run for Stanford. Brink's three-point game in the dying seconds gave the Cardinal a 54-53 lead in fourth place.
https://www.espn.com/womens-college-basketball/story/_/id/35595439/washington-led-elle-ladine-knocks-no-2-stanford Washington, led by Elle Ladine, knocks off No. 2 Stanford