Sports
Washington Nationals open to listening to Juan Soto trade offers after $440M contract rejected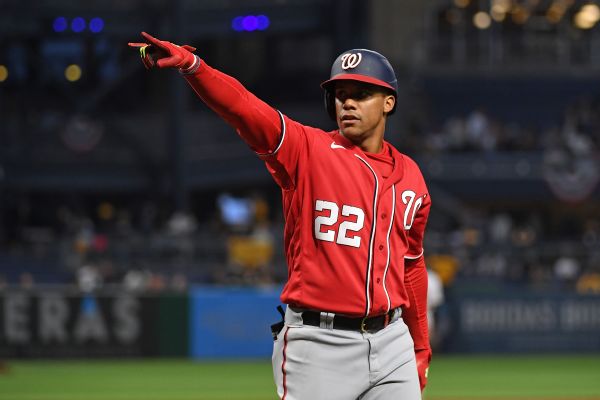 The Washington Nationals are ready to hear trade offers for Juan Soto after the star outfielder turned down their recent long-term offer, league sources confirmed to ESPN on Saturday.
Sources say Soto turned down a 15-year, $440 million offer that would have been the largest contract in baseball history.
Soto had told ESPN earlier this year that he turned down a 13-year, $350 million bid before the off-season lockout. He is eligible to become a free agent after the 2024 season.
The decision to hear potential trades for Soto would mark a change of plan for the Nationals after baseball operations president and general manager Mike Rizzo said last month the team would not move the 23-year-old star.
"We're not trading with Juan Soto," Rizzo told 106.7 The Fan on June 1. "We've made it clear to his agent and the player."
But according to The Athletic, which first reported on the Nationals' recent rejected contract offer and the Nationals' openness to potential trades, some team officials no longer believe they will be able to secure a long-term deal with Soto.
The expected rate of return in a Soto trade would set in motion a Nationals rebuild. They are 30-62 this season, bottom in the National League East with 14½ games and are on track to lose for a third straight season after winning the World Series in 2019.
Soto was named an All-Star for the second straight year and in 2022 he hits a career-low .247 with 19 homers and 42 RBIs in 89 games. He will also compete in the Home Run Derby on Monday.
The MLB trade deadline is August 2nd.
https://www.espn.com/mlb/story/_/id/34253271/sources-washington-nationals-open-listening-juan-soto-trade-offers-440m-contract-rejected Washington Nationals open to listening to Juan Soto trade offers after $440M contract rejected