Watch: Fleeing suspects nearly miss oncoming train in Auburn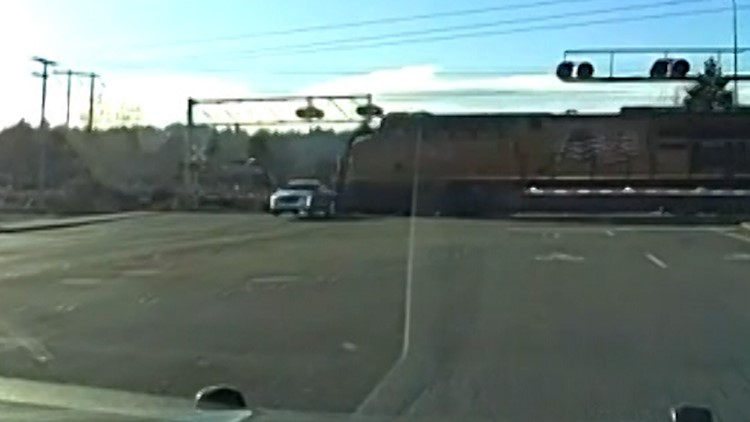 After nearly two hours of negotiations, while the two suspects hid in a tree, the police caught them without incident.
AUBURN, Wash. – The Auburn Police Department released dashcam video showing the suspects nearly missing an oncoming train while fleeing police last week.
Police arrived at Coastal Farm & Supply around 3:15 p.m. on February 9 after an employee called 911, according to Auburn police. The employee reported that a person threatened them with a gun and provided police with a description of the suspect and their vehicle.
When officers arrived at the scene, the suspect fled at high speed, police said.
Two police officers headed west on 15th St. SW stopped at the railroad crossing because of an oncoming train. One of the police's dashcams captured the suspect's car jumping over the tracks, breaking his arms, and nearly sliding off the oncoming train.
>> Download KING 5+, our new Roku and Amazon Fire apps, to watch live news 24/7
Police chased the car to the Pacific Ocean, where it was found in an apartment complex's parking lot. Police said two suspects fled the vehicle on foot and one was found hiding nearby in a tree.
After nearly two hours of negotiations, the police were able to arrest the suspect without incident on suspicion of first-degree robbery.
Download our free KING 5 app for updated news stories from across western Washington.
CLOCK: KING 5 top stories playlist on YouTube
https://www.king5.com/article/news/crime/fleeing-suspect-misses-train-auburn/281-88c1a796-cc96-477d-a02c-004c8ce03ce3 Watch: Fleeing suspects nearly miss oncoming train in Auburn